The child actors of Haami 2 — Shreyan Saha of Class I, Aritrika Chowdhuri of Class II and Ritodeep Sengupta of Class III — feel that the best part of shooting was the friendship that bloomed among the trio,
The latest children's film is an ode to a beautiful friendship in the middle of a murky world of talent contests, competitive parents and an unjust education system.
"It was my first time on a film set and I enjoyed working with my new friends," said Aritrika as the kids dropped in at an exclusive screening of Haami 2 organised by admissiontree.in and The Telegraph at Inox, Quest Mall, on December 22.
Students, principals and educators from around 100 schools attended the special show.
Five-year-old Sanavi Bhattacharya of G.D. Birla Centre for Education was there to cheer her friend Aritrika.
Shreyan's teachers were a happy lot.  "I felt so proud to see Shreyan on screen. We always encourage our children to explore their talents and passion outside studies," said Vivekananda Mission School vice-principal Ananya Datta.
It was the first hall outing for some kids such as Urshita Das of Class I, Ram Mohan Mission School. "I don't get to see many films based on kids. I am dying to share this experience with my friends tomorrow," said the girl.
For educators, the film touched on many relatable issues. "I see the growing competitiveness among my students and their parents. I, personally, am against competition and we don't hold any till Class V. I always tell my students to win hearts rather than prizes," said Sri Sri Academy, Kolkata, principal Suvina Shunglu.
Shikshayatan Foundation CEO and secretary-general Bratati Bhattacharyya was seen in a cameo in the film. "This was my first and an interesting experience," she said.
Most educators loved the way the film defined true talent.
"This film is a must-watch, especially for young parents. Many a time, they become competitive, so do the kids. I like the way the film defines a genius. A genius is one who creates rather than parrots what he has learnt for a competition. Ultimately, the children should be taught to cultivate empathy for each other," said Mahadevi Birla World Academy vice-principal Nupur Basu.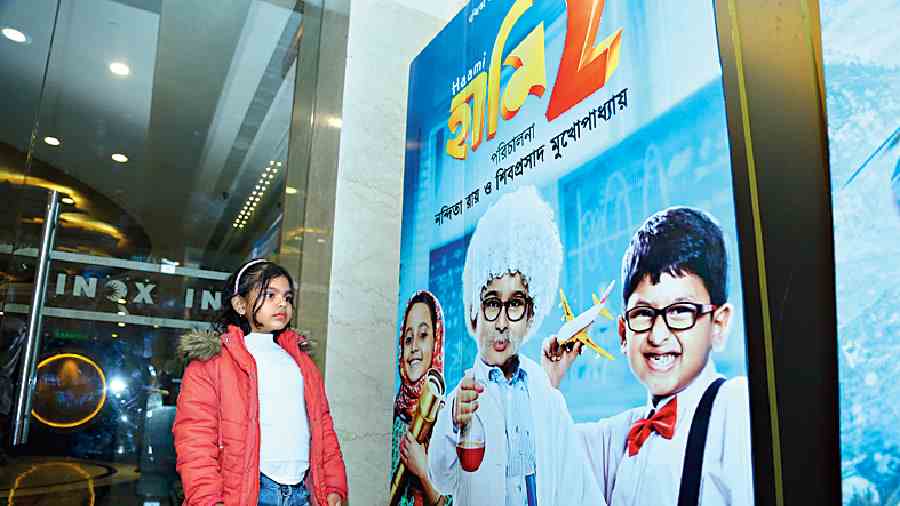 Urshita Das of Ram Mohan Mission School enjoys her first movie theatre experience.
Picture by Koushik Saha
Chipped in Birla Bharati principal Apala Datta: "My heart goes out to children who take part in reality shows. I could relate to the trauma that the film highlighted. I loved the fact that the importance was on empathy, a necessary message in today's world.
According to educators, mindsets are changing and most kids are looking for a shortcut to success. The peer pressure is too much, at times.
"Nobody wants to wait and strive for success. Most are looking for quick-fix solutions. There are students from our class who work on television shows. I see how their parents often push them. It affects the child's normal life, health and education. I'm glad that the dark side of glamour was so well upheld in the film," said Gokhale Memorial Girls' School principal Indrani Mitra.