With less than 48 hours left for the 46th International Kolkata Book Fair (IKBF) or boimela to begin, the Booksellers and Publishers guild president, and honorary secretary, Sudhangshu Sekhar Dey and Tridib Kumar Chatterjee, mentioned the highlights of the fair with Spain as the focal theme.
Chatterjee said, "The chief minister, Mamata Banerjee, will inaugurate the boimela on January 30, 2023 at Boimela Prangan at 2 pm and Maria Jose Galvez Salvador, director general of books, Ministry of Cervantes, Spain; Luis Garcia Montero, poet and director of Institute of Cervantes, Spain; Jose Maria Ridao Dominguez, ambassador of Spain; Shirshendu Mukhopadhyay, Bengali author and member of the guild will be present on the occasion.''
The Metro connectivity has been confirmed with "trains running from Sealdah to Karunamoyee and Central Park, including Sundays during the boimela. The last Metro will leave at 9.45 pm. A special cycle parking space has been allotted at the parking ground,'' said Chatterjee.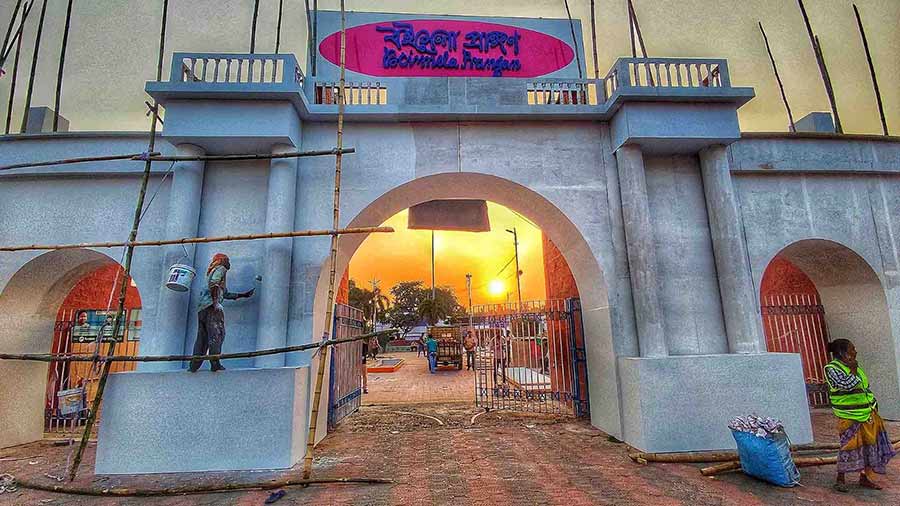 Workers putting last-minute touches to an entrance to boimela prangan
Special mentions were made on guild initiatives for the underprivileged, children and senior citizens. "Celebrating 100 years of Abol Tabol, the book will be distributed to children on the first Sunday of the fair, February 5, at 4 pm from the guild office as a tribute to Sukumar Ray. The guild will also donate books to specially abled and senior citizens during the fair,'' mentioned Chatterjee.
"There will be 950 stalls. Little Magazines which have acquired the status of small publishers, have been given space at the fair," Dey informed.
"In lieu of Spain being the focal country, a special Spanish Film Festival will be inaugurated on January 29, from 5.15 pm at Nandan. Spanish musicians will perform on January 30 after the inauguration.
Bangladesh Day will be celebrated on February 4 with discussions between authors, writers and poets from Kolkata and Bangladesh followed by cultural programmes," Chatterjee added.
The IKBF will open to the public at the Boimela Prangan between January 31 and February 12 from noon to 8 pm. The ninth Kolkata Literature Festival will take place at SBI Auditorium, Boimela Prangan, from 2 pm to 8 pm between February 9 and 11.