Newtown Sarbojanin Durgotsab Samiti, that made a mark in its debut year and made it to the Red Road immersion carnival, roped in actor Abir Chatterjee to launch its 2023 theme at a programme organised last Saturday at Newtown Business Club. The theme, it was announced, would be komolgandhar.
Theme-maker Anirban Das, who is in charge of this year's pandal and idol, was tight-lipped about the details. But with komolgandhar being the soft note of the third musical note (Ga) of the octave, it is understood that music will play a role. "Adaptations of Kangra painting will be used in the pandal," said the resident of Dumdum Park.
"I will start work on the ground on July 1," Anirban told The Telegraph Salt Lake later. The puja takes place in the spacious City Square, next to the Clock Tower. Anirban is also in charge of Dum Dum Park Bharat Chakra, Hatibagan Nabin Palli, Hindusthan Club and Dakshindari Youth Association this year.
Puja president Urmila Sen pointed to two features. "We do not take any subscriptions from individuals. Our entire funding comes from corporate sponsors." She also referred to the importance given to women in every aspect of the puja, from priests to dhakis to the felicitation given to women entrepreneurs. "Last year, our theme itself was narishakti (woman power). This year perhaps we will see the Divine Mother as binabadini (playing a veena) rather than ashurdalani (killing a demon)," she said. While women dhakis played on the occasion, one of the women priest trio who will perform the puja this year as well, Dattatreya Ghoshal, was called on stage.
NKDA chairman Debashis Sen expressed hope that the mistakes of the first year would be rectified in the second. Despite the puja drawing thousands, he pointed to the ease of parking in the vicinity which made the puja easier to access than other big-budget pujas in the city. "This will draw tourists from outside," Sen said.
Abir said though he had heard about the New Town puja, he could not visit it last year. "I was busy promoting my film Karnasubarner Guptadhan so I missed this treasure," said the actor, who prompted the announcer Tapas Adhikary to introduce him as Sonada, the film's adventurer hero, rather than as Feluda and Byomkesh, his earlier screen sleuth avatars. Urged by the organisers to visit the puja this time, he said he would be busy promoting another Puja release, Raktabeej, but promised to try his best.
Chandrasekhar Ghosh, the Bandhan Bank chief, was also present.
Abir was then mobbed by volunteers and other attendees for pictures. As organisers tried to impose order, Dolon Ganguly, a volunteer who failed to get close, was heard lamenting to her neighbour: "Amra ki Abir chharai rong khelbo?"
Another lady, who had managed to click a selfie, was seen jumping in joy on stage. Signing up as volunteer had paid her a rich dividend, admitted Gayatri Rawlani of DJ Block, who had watched Abir on screen in Kahaani and Byomkesh Bakshi.
A surprise element was the unveiling of an array of musical instruments — from ektara to esraj, in front of the stage as soon as the theme was unveiled on stage. They came from the collection of Sukanta Sanyal of BL Block. "I have crafted most of them," said the vocalist who makes and maintains instruments. His grandfather Kalidas Sanyal had founded Sadarang Sangeet Sangsad in 1954 that used to organise the reputed classical music festival, bearing the Sadarang name.
Anirban Roy, a young flautist from Uttarpara, played raga Hansadhwani at the start of the programme.
Fresh start for Tarun Sangha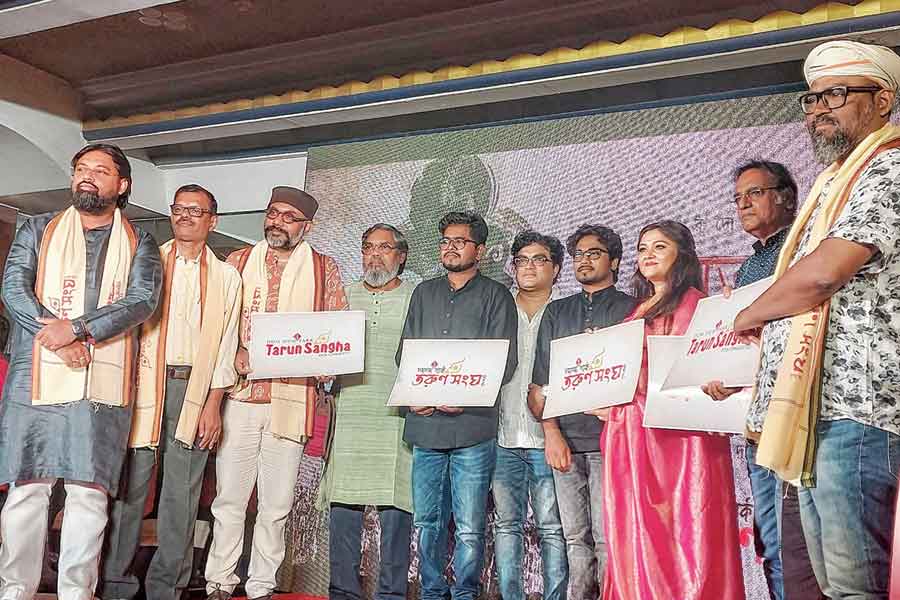 A Dum Dum Park puja booked a five-star address at the heart of the city to introduce this year's creative team. In its 38th year, Dum Dum Park Tarun Sangha puja will be helmed by Manash Das, with the idol crafted by Subrata Mridha (to the right of actress Koneenica) and theme music composed by Subhodip Guha, of Ballabhpurer Rupkatha fame (centre). "After three years of low-key celebrations, we wanted to reboot. The first step itself had to be a stunner. We had been saving money for this, so we decided to do it in central Calcutta," said joint secretary Souro Ghosh. On the stage at The Park were (from left) Dhrubajyoti Bose of Tallah Park, Saswata Basu of Hatibagan Sarjonanin, Puja thememakers Sushanta Paul, Bimal Kundu and Bhabatosh Sutar (extreme right) and artiste Subrata Gangopadhyay (second from right).
Text & picture by Sudeshna Banerjee