Ruby Park Public School
What are the freedoms that The Constitution offers? What is its essence and who gave it shape?
The students of Ruby Park Public School learnt all that and more when they celebrated the birth anniversary of Bhimrao Ramji Ambedkar, the man who helped draft The Constitution, in April.
Students of Classes III and IV presented a cultural programme on the occasion, paying tribute to the social reformer and political leader through music, art and dance.
The children were also told how the day is celebrated as Equality Day in India.
The programme started with a motivational speech by the anchor, followed by lamp lighting. Students of Classes III and IV paid homage to Ambedkar through a short speech, covering his life and work.
Music, dance and songs were performed to celebrate the country's struggle for freedom and Ambedkar's contribution towards it. The students were all clad in traditional clothes and their performance was much appreciated.
The activity taught them many more facts about the pre-Independence era and Ambedkar's vision.
"In order to inculcate strength, will power, courage and determination among our students, we decided to observe Ambedkar's birth anniversary. The students were told how Ambedkar is the epitome of these qualities. Through several activities, we made the students understand this great personality and his contribution towards our nation. Our students paid homage to this great man through their praiseworthy performances," said principal Joyeeta Majumdar.
Swarnim International School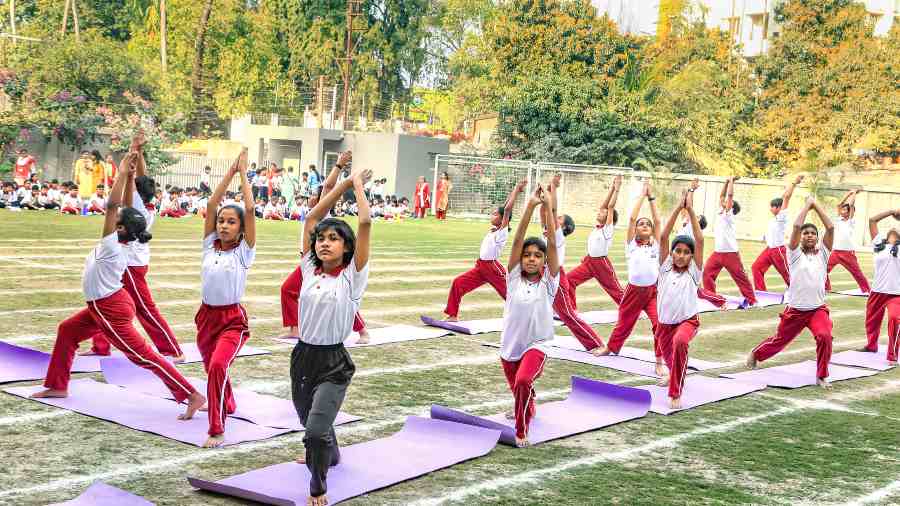 Swarnim International School organised its sports meet on February 4 and 11.
Day I saw the students of Pre-primary section and Classes I and II taking part in a series of fun events. The second day was for the senior classes.
The guest of honour on February 4 was Shatabdi Goswami Bhattacharjee, principal of SPK Jain Futuristic Academy.
Sonarpur-Dakshin MLA Arundhuti (Lovely) Maitra and former badminton player Sekhar Biswas were the guests on February 11.
The student council members led the march past squads and took the oath of fair play. Children from Classes III to VIII took part in several races such as flat race, sack race, memory game and so on.
Classes III and IV presented a drill display. Atri, the yellow house, won the Best House and the Best March Past awards.
"A sports meet not only hones various skills, but also teaches children to accept defeat, try harder if they fail, wait for their turn and learn that even the best have bad days. We are proud that we involve every child in our sports day," said principal Rumjhumi Biswas.
Abhinav Bharati High School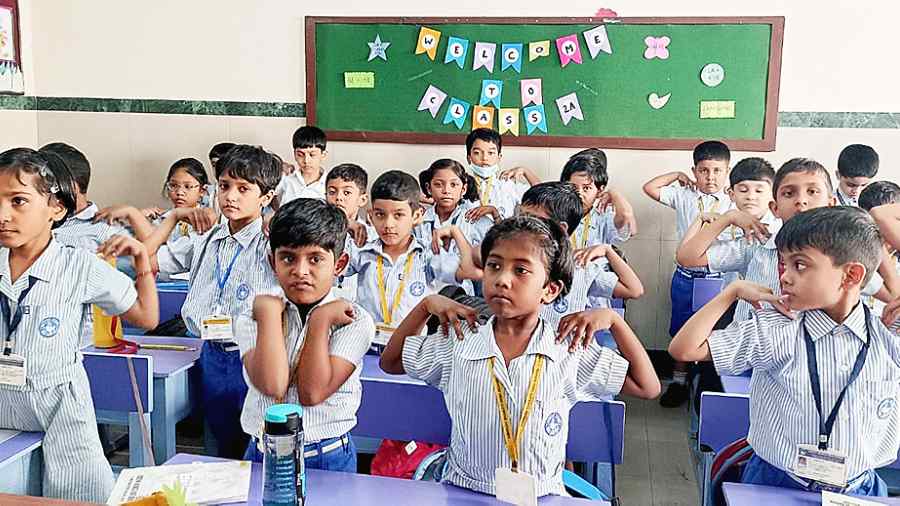 Students of Class II at Abhinav Bharati High School celebrated World Health Day through different activities. The theme was Health for All.
It was a day of fun for the kids. They began by interacting with their teachers about their breakfast. During lunch break, students shared their healthy tiffin with each other. The teacher explained the importance of eating healthy food and why one should avoid eating junk.
Students also showcased a few yoga moves and other stretches.
They made cut-outs of both healthy and junk food. The teacher kept all the cut-outs in a bowl. The students were asked to pick up a cut-out and paste it on a chart. Recipes of healthy snacks such as "Rainbow salad" were shared.
The students also discussed health issues with non-teaching staff members, gifting them ORS and fruits. The students spoke about their healthy practices and took a pledge to stay safe and spread awareness.
"World Health Day made the students aware of healthy food and the importance of physical activity and adequate sleep. All this will help reduce future chances of diabetes and heart disease," said headmistress Moumita Rakshit.
M.C. Kejriwal Vidyapeeth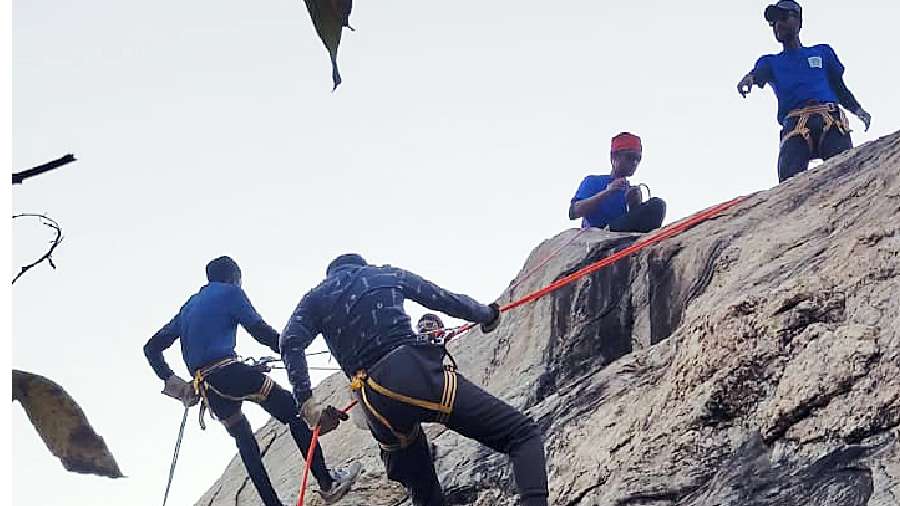 After a gap of two years, M.C. Kejriwal Vidyapeeth resumed the annual excursion for its boys. Last December, the students were taken to the Gajaburu Hills in Purulia for a slice of adventure, nature study and fun.
Fifty-two students of Classes IX to XI got their first taste of rock climbing, hiking and camping in Purulia. They camped at the foothills of the picturesque Gajaburu hills, working and having fun under the supervision of their teachers and certified instructors.
The camping experience fostered in the students a spirit of camaraderie, self-discipline, confidence and courage.
The magnificent view of the Gajaburu hills amidst nature was a treat for every eye. A campfire was arranged to help students make special memories. As the boys tried their hand at rock climbing and doing regular campsite chores, they learnt many life skills.
"Educational trips have been a part of our curriculum ever since its inception. The trip was planned to kindle the spirit of adventure among the students, take them out of their comfort zones, and introduce them to a new way of life. The camping experience fostered in them a spirit of camaraderie, self-discipline, confidence and courage," said principal Mallika Mukherjee.