A dog can be the source of limitless joy but what happens if your dog gets aggressive? What if he runs to bite strangers in the park or snaps at you if you happen touch his dinner bowl? Or is he so attached to you that he raises hell if you so much as leave his side and step into the washroom?
"We get a call or two every day from pet parents worried about their dog's behavioural issues," says Tarun Gupta of Animel Planet pet store that has several branches around the twin townships. "We realised that our job does not end with delivering a puppy to a client or selling them food and toys. We have to help them turn the puppies into good canine citizens."
So the store has started Sunday sessions at their Swapno Bhor branch for pet parents to come in and consult experts for their dog's behavioural issues. On the job is
Sohini Chaki Roy, canine trainer and behaviour consultant and founder of Cognizant Canine Citizens that works on these issues. With her is her shadow worker Aritra Banerjee.
The trainers shared some pointers with The Telegraph Salt Lake about common issues among their furry clients-
Aggression
"Aggression is mostly fear-based and can arise out of a lack of socialisation," said Sohini. "Toy breeds are usual suspects of aggression as they are always on people's laps. If they are not all owed to walk about and explore the environment, they are bound to be suspicious about everything."
A dog's socialisation does not necessarily mean meeting people. It can be exposure to any new environment — your friend's house, the staircase, the park. "Even if you sit with your dog in the park he will observe other evening walkers, cars and dogs and realise that new experiences aren't threats. If the dog is too hostile to take on walks, do so with a muzzle on," she says.
Some dogs snap if one tries to groom them or even apply ointments on their skin. "So do it when he is distracted. Maybe you can keep him facing a window and while he observes birds or people outside, start by brushing him gently," Aritra said. "You could also try a "licky mat". These are rubber mats that stick to walls. Smear some peanut butter on it and while the dog licks it off, groom him."
The trainers also get complaints that a dog isn't friendly. "This is different from aggression and is in fact not a problem at all. Not every dog need be friendly. Some could be introverts and that's fine. There's nothing to change in that," she said.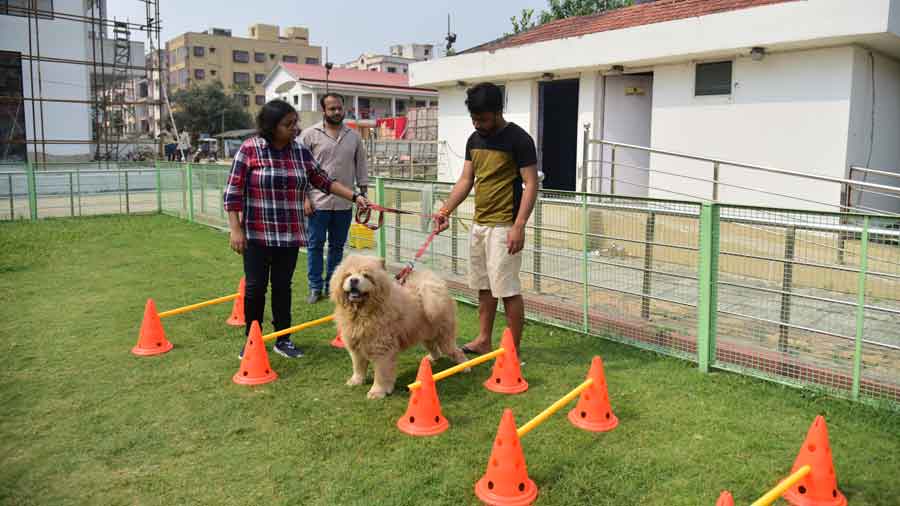 The trainers guide a Chow Chow on how to jump hurdles
Food aggression
A Kestopur-based pet parent had come for a session recently where she complained that her "Indie" was but a biting machine. "No stranger can approach her and even though she loves me dearly, growls if I so much as touch her bowl while she's eating," said the IT sector employee.
To this, the trainers reminded the family that dogs have evolved from wolves and that one of the reasons they came to live with people was for food. "But if your dog is snapping at you it means she thinks you'll steal it. She must trust you," said Sohini.
For this, she suggested pet parents physically touch the food before serving, right from the time the puppy comes home. "You could mix the rice and broth with your hands or pour the food into his bowl in installments, refilling once he finishes it. Let him see that you provide the food and hence will not snatch it away," she said.
Wear out the dog
A dog that is full of energy but has nothing to do will start destroying your furniture out of sheer boredom. "Getting the dog ample exercise is very important. Even if you have space or time constrains, you can give him mental stimulation toys," said Aritra.
For this, pet shops have interesting puzzles to offer. One toy has kibbles inserted and the dog has to twist and turn it in different combinations before the treat falls out. Another is a snuffle mat that allows dogs to search for dry treats hidden in them. Or you can go DIY. Roll and tie some treats in a towel and let him spend good time in trying to retrieve it. "Keep your dog occupied and he'll stay out of trouble," Sohini assured.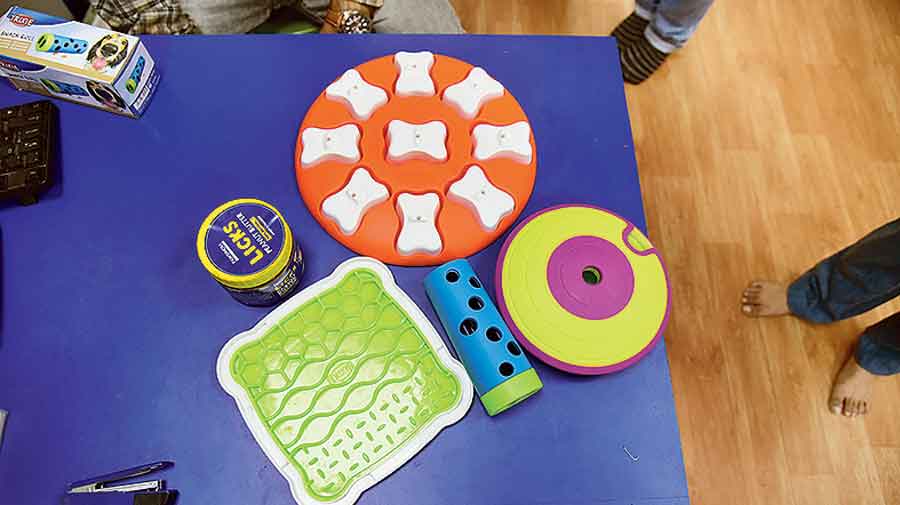 Some mental stimulation games available for dogs
Bond with your dog
The concept of "dog parenting" is still new to India. "Here many people consider themselves owners of their dogs," said Sohini. "Such people buy dogs that they find cute or choose breeds that they consider status symbols and hand the pets over to house staff to raise. If there's no bond between you and your dog why will he listen to you?"
Similarly, one can't send the dog for behavioural classes with one's walker. "We can teach the dog for an hour but how he behaves the remaining 23 hours in the day depends on the pet parents. So we have as many lessons for the dogs as we have for their parents. They have to commit time to learning them," Sohini says.
Write to saltlake@abp.in