Next time you have a train to catch from Howrah station and the cab driver refuses to go beyond the old platforms, just book an electric cart and get dropped right in front of your coach. And if you have an ailing or elderly person with you, then you can book a battery-operated wheelchair as well.
My Kolkata tells you all you need to know about these utility services:
E-cart
It's best to book a cart a few days before the date of journey. There are currently two vehicles operating at Howrah station — one on the old platforms and one on the new platforms. The e-carts can be booked at Rs 80 for 30 minutes. The service is available from the taxi stand till the train coach.
Wheelchair
There are six automatic wheelchairs in operation at the station and the demand is high. So, it's wise to book in advance. Once you have booked a wheelchair, a trained operator will meet you at a predetermined location outside the station and take you to the train. The charge is Rs 50 per use. The operators are trained to use wheelchairs and lift patients.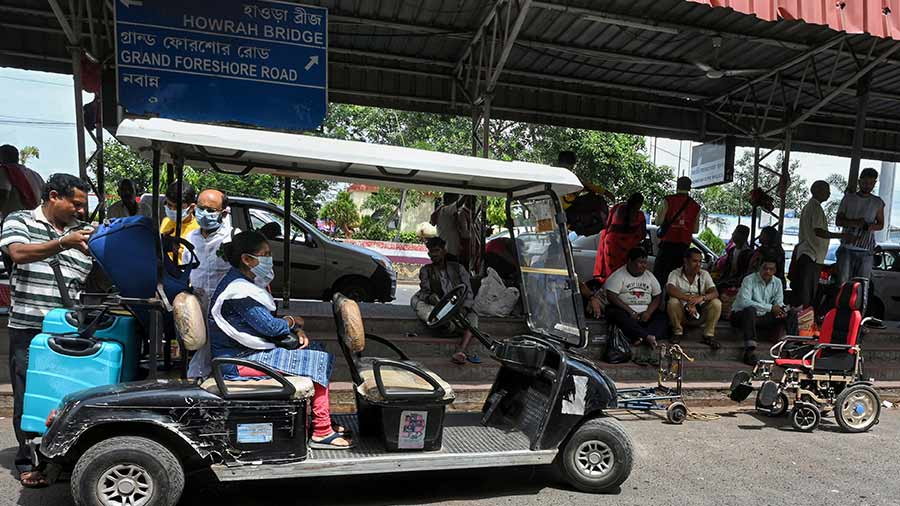 E-cart operator Surojit Patra collects passengers from the taxi stand.
How to book
To book an e-cart, passengers can call 7605036689. For wheelchairs, however, one needs to install an app called 'Wheelchair at Howrah Station' or book it at the station. In case of an emergency, passengers can visit the station deputy master's office for assistance.
High demand
Both the facilities have been outsourced by the railways and are handled by two separate companies. According to Surojit Patra, an operator of the cart, "Each of the two carts does about 25 to 30 trips a day," said Surojit Patra, who operates one of the e-carts. "We work in shifts and the carts are available 24x7."
The demand for wheelchairs is comparatively low. "There are about 15 to 20 bookings every day and we are hoping the numbers will go up soon," said one of the wheelchair operators.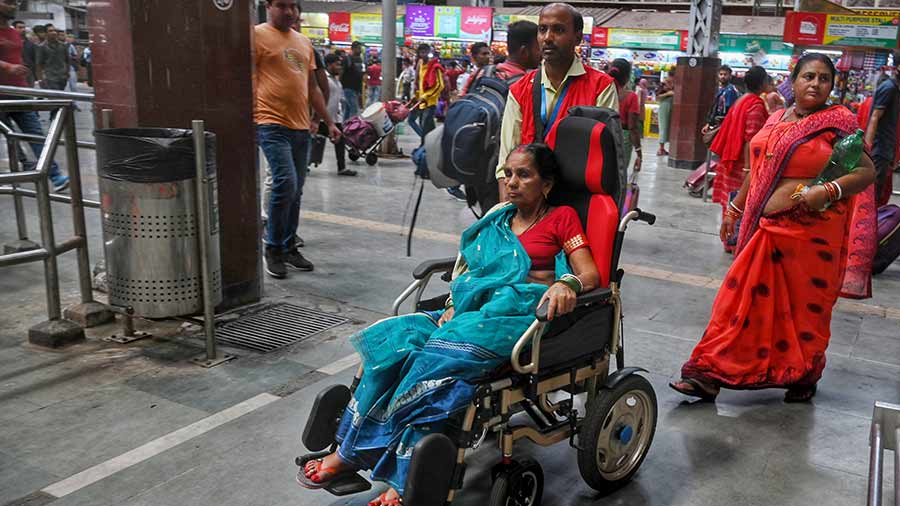 There are currently six automatic wheelchairs in operation at the station wheelchair facility.
Happy passengers  
Sudhir Sharma, a Kolkata-based businessman, was taking his mother to Begusarai, Bihar, for treatment and was happy to be able to book a wheelchair. "A railway porter told me about the wheelchair facility. I was relieved that I didn't have to carry my mother to the train," he said.
Sadhan Banerjee, a retired government employee, booked an e-cart. "I learnt about this service from my son and it proved useful. My wife has arthritis and finds it difficult to walk. More carts would be of help," he said.
More carts
The railways is considering increasing the number of carts and wheelchairs in operation. "The demand has gone up. So, there are plans to introduce new carts as well," an official said.