October is not just about red-bordered-white-saris. It is also about lehengas, ghagras and shararas. Besides Durga puja, 'tis also the season of Navratri.
"This festive season, people are on the lookout for traditional colours like red, yellow, pink and golden. We have traditional lehengas as well as one-piece lehengas with dupatta which women are picking up readily," says Anindita Chakraborty, co-partner of Pink Blush boutique in BF Block which opened recently. "Prices vary from Rs 1,500-8,000 for Indo-Western outfits like a crop top with a palazzo and jacket. Some women don't want the jacket, preferring to style it differently."
The wedding collection at Pink Blush includes shararas, ghararas and lehengas which are also a favourite this time of the year as Diwali is round the corner followed by the wedding season in November. The colours in fashion are yellow, green and also pastel shades of lilac, lavender, brown and grey.
At BD Block's Desi & Dressy, garba nights for customers are about wearing comfortable but trendy clothes.
"Navratri is a traditional festival but people these days don't want to wear the same old chaniya choli with Gujarati mirror-work. They want something more fashionable," says Prabha Jindal, who runs the store with her son Sharad. "Last season monotones were really popular with kurtis, pants and dupattas. This season co-ord (co-ordinated) sets are in."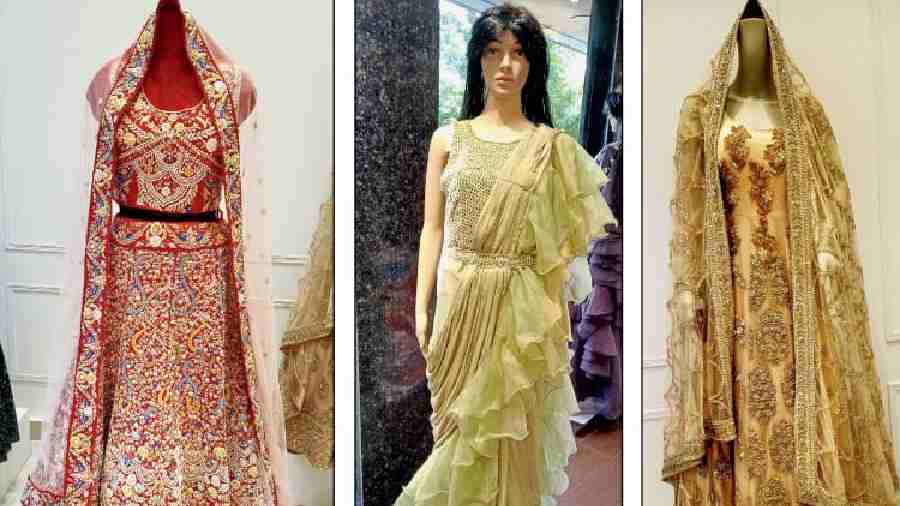 A red lehenga and a golden one (extreme right) from Pink Blush. (Centre) A ready-to-wear stitched sari from Desi & Dressy
Women, she says, want to break away from the monotone, especially the younger crowd aged between 19 and 35 years. "My customers are opting for toned-down shades of turquoise blue, leaf green or sometimes even a mix of blue and grey. Another popular trend is tie and die. That is selling like hot cakes this year," said Jindal.
She believes trends have changed dramatically in the last three to four years when it comes to garba fashion. Now-a-days people will wear a chania choli with a dupatta probably at home while performing a puja or tying a rakhi. But if one has to go clubbing for a garba night out, they will step out in something more trendy like oriental gowns with minakari or gota design.
At The Silver Needle in AE Block, customers are already shopping for weddings in winter, besides Navratri. "The younger crowd is more experimental. They want to go wild with deep pink (rani colour), mustard or sunflower yellow, paired with heavy jewellery. Jackets are also in this season with outfits of unusual drapes. For instance, kaftan on one side and dress on the other side. Sometimes the hem lines at the bottom of the dress have unusual cuts," says Puja Prahladka, owner at The Silver Needle.
When it comes to fabrics, the usual preferences are georgette, chiffon and also a fusion of cotton and silk. Soft silk is also in demand as the flow seems to compliment the body and lend an elegant look. "For accessories, women pair them with light silver jewellery or semi-precious stone-studded jewellery. Indo-western outfits look best with the minimalist look and for the wedding look, you can always go with heavy and traditional stone-cut jewellery. If you go by the trends, garba time is minimalist time," says Prahladka.