Oncology is back in focus in several private hospitals where all investments were directed at ramping up Covid facilities over the past one-and-a-half years.
As Covid admissions dropped, most of the infrastructure created for the pandemic is lying unused at the hospitals. Officials of several private hospitals said they are again focusing on speciality treatments like oncology for which the demand continues to rise.
While some hospitals are constructing new facilities for cancer treatment, others are adding to the existing infrastructure.
Medica Superspeciality Hospital is building a 250-bed cancer hospital in its Mukundapur campus off EM Bypass in east Kolkata. The Rs 300-crore project would become operational by April 2020, said Alok Roy, chairman of Medica group. 
He said the project got delayed by one year because of the pandemic.
"There has been big investments in Covid care in terms of equipment, manpower and infrastructure like building oxygen plants. We have spent Rs  21 crore," said Roy.
Medica Superspeciality Hospital had created 700 beds for Covid patients, many of which are used for non-Covid patients but still 250 beds are lying unused.
"We spent Rs 12 crore to buy ECMO machines for very critical Covid patients," he said. The hospital had purchased 20 ECMO machines most of which are now lying unused.
On the other hand, the demand for cancer treatment has not gone down, said Roy.
"We don't have radiotherapy machines now. So, we have to send around 40 cancer patients every month to other hospitals for radiotherapy," said Roy. The new hospital will have three radiotherapy machines along with PET-CT Scan and other advanced equipment.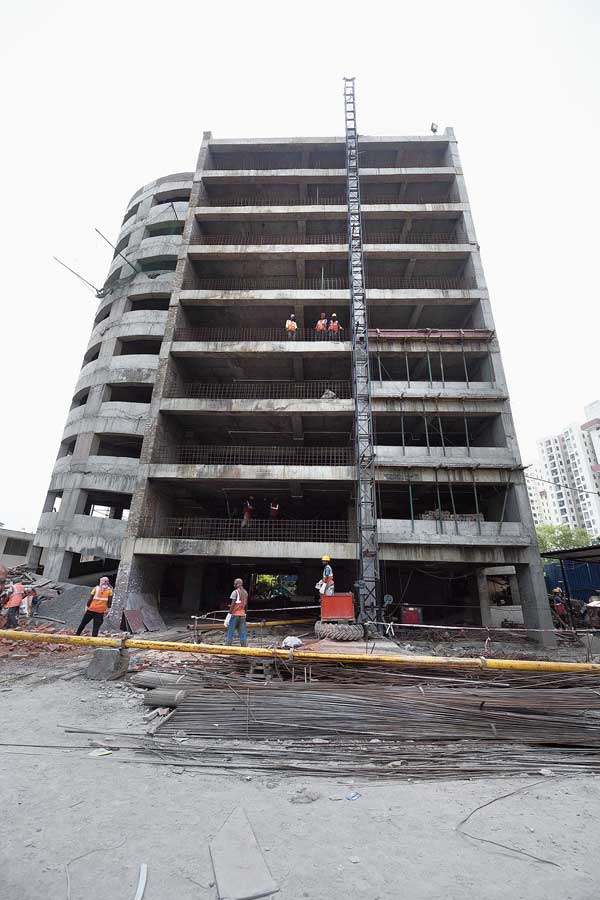 Medica Superspeciality Hospital's new cancer hospital being built on its Mukundapur campus off EM Bypass.
Gautam Bose
"There will be molecular therapy and separate unit for paediatric oncology. Treatment for all other types of cancer would also be done here as we are getting doctors from Kolkata as well as other parts of the country," said Roy.
As part of the project, a separate building is being set up for onco pathology. Roy said a lot of cancer related pathological tests cannot be conducted in the city's facilities and so samples are sent to Mumbai and Delhi now.
Narayana Health group is also planning to expand its oncology facility.
The Bangalore-based hospital group owned by Devi Shetty, has a 360-bed Narayana Superspeciality Hospital in Howrah which would undergo expansion. The group will spend Rs 100 crore to add 140 more beds and several other equipment, said officials.
"The demand for Covid has gone down and the infrastructure created in other hospitals of the group in Kolkata and surrounding areas will be sufficient even if there is a fresh surge. On the other hand, the demand for cancer treatment is continuing to grow but the supply in this part of the country is still inadequate," said R Venkatesh, regional director, east of Narayana Health.
"During the pandemic, patients seeking treatment in most major specialities were reluctant to get treated. But in case of cancer, there was a flow of patients, although less," said Venkatesh. "We already have some advanced cancer care facilities like robotic surgery. Along with the beds, we will be installing more modern equipment," said Venkatesh.
He said the work would start from the first week of December and would be completed in next 15 months.
The expansion would need more doctors, which, officials of the hospital said, would be available from other cities.
Venkatesh said that with travel norms getting eased more patients from neighbouring countries like Bangladesh and Bhutan would be coming in big numbers.