Robots climbed, crawled, raced and played football. Students too built everything from new video games to ECG machines. Innovacion 2022, the annual tech fest of Institute of Engineering and Management (IEM) was three days of 23 action-packed events.
The event was held in association with IEMLabs, their cyber security training institute, and was inaugurated by Prof Satyajit Chakrabarti, president, IEM, in the presence of several academicians.
Three events caught attention in the field of robotics. The first was Tracker, where autonomous robots follow a given track consisting of loopholes, discontinuities and checkpoints. The ability of the robot to cross the hurdles while maintaining the track is what decided the winner. Another event was the X-Race, where a race track was made for two hand-made robots to race against each other. But the twist was that the track consisted of challenges like slopes, sudden depressions, narrow bridges, layers of sand as well as hurdles made of thermocol and bricks.
Robofooties was a robot football tournament. Two robots played with a small ball inside a field and the one to score more goals won.
Scrapyard Wars had participants building solutions to problems with scrap materials and the cyberthon "Capture the Flag" had teams had cracking codes and find its flaws. This event was meant to encourage youths to towards cyber security.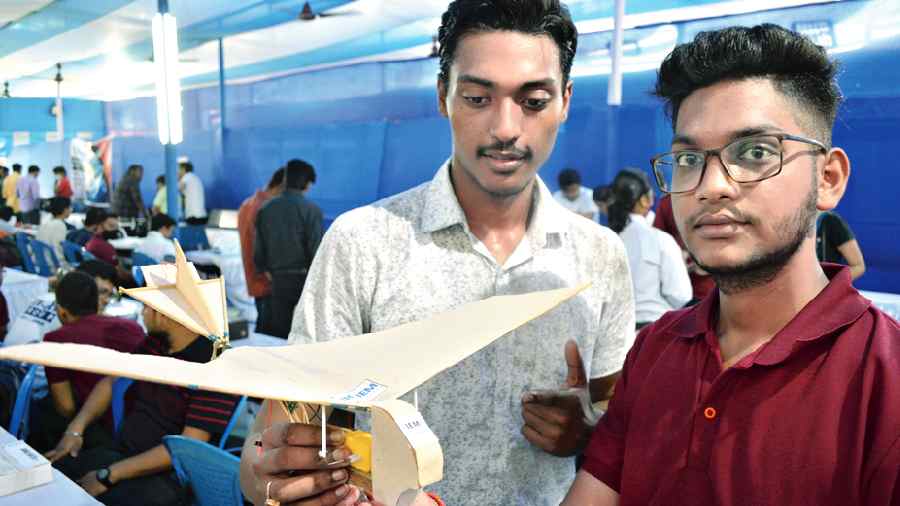 IEM students Dibyadarshi Das and Sameer Anand with their drone.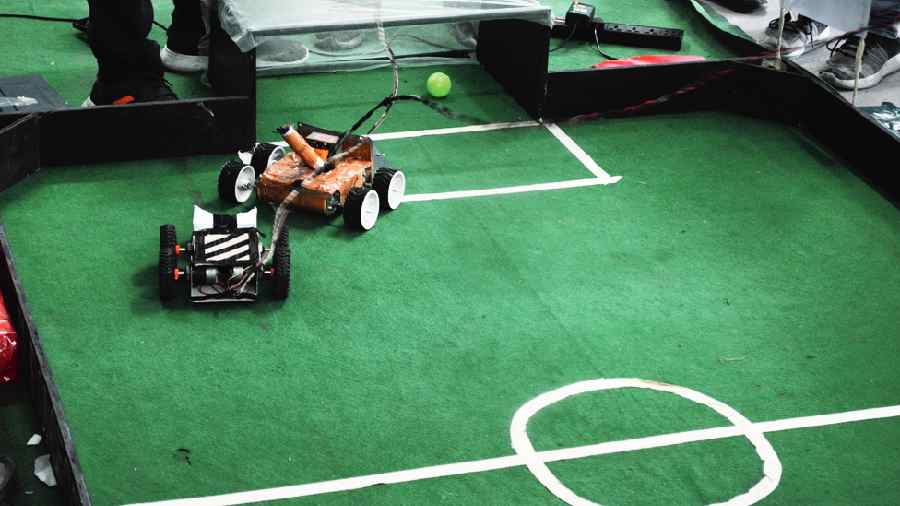 Robofooties under way.
Gaming events like Valorant, BGMI and FIFA had many takers and celebrity streamers like Adarsh Singh, manager of India's the valorant team Velocity Gaming, and Ankkita Chauhan, one of the few female gamers from India, attended the event.
Inspired by the recent success of Shark Tank India, IEM also organised an event named Eureka. Here teams pitched in their business ideas to a panel of investors who, if impressed, would invest in them.
There was an event asking teams to develop video games and Electroslides, an event where the participants presented their research topics in the form of posters.
One of the biggest draws was Innovare, where participants came up with inventions contributing to a sustainable future or the development of the nation. One such project was a low-cost ECG machine, by Ritesh Nandi, first year B.Tech student of IEM.
"This machine is handy, portable and with clinically graded accuracy that can be examined by any health professional to make one aware of their heart condition by reading the report provided on our app CardioSure. We aim to provide this to every household at a cost of just Rs 1,200," said Arkaprava Paul, student head of their innovation cell.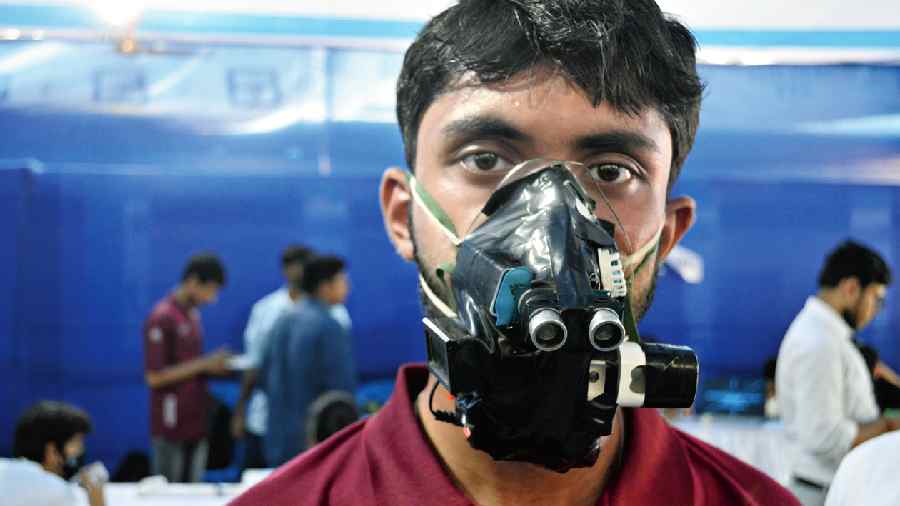 A Covid-19 prevention mask
Inspired by the Garuda drone in the film Uri, Dibyadarshi Das, electrical and electronics engineering student, IEM, and Sameer Anand, electrical engineering student, IEM, came up with the idea to build one in real life. "This remote control flying bird is built to replace drones in the future. It's way cheaper than drones, has a good quality camera and can be used in fields of traffic control, wildlife and military surveillance easily as it can be camouflaged as a bird," said Dibyadarshi.
Prof. Prabir Kumar Das, faculty coordinator of Innovacion, said they had received over 200 entries from all over the globe for Innovare. "Out of which we shortlisted 110. These inventions have the ability to change the future."
There were inventions such as a low-cost electric bike, a counter attack-proof gun, multipurpose Covid-19 prevention mask, solar powered bike, a helmet capable of charging a phone, a thermoelectric fan and more.
"We have received over 22,000 registrations on an international scale. It was tough organising such a huge event after two years but thanks to our strong alumni backup, we did it," said Hrithik Lall, who along with fellow core committee member Ronita Das, supervised simultaneous events.