Engineers and archaeologists have launched fresh efforts to restore some of the tombs at the South Park Street Cemetery.
The cemetery, which has about 1,600 tombs, is one of the oldest non-Church cemeteries in the world and probably the largest Christian cemetery outside Europe and America in the 19th century.
As Ranajoy Bose, the executive member of the Christian Burial Board, said: "It is a heritage cemetery and the only cemetery which does not have crosses. It was started in 1767 by the British. It is classified as the ninth most beautiful cemetery and is a national treasure."
The tombs combine a variation of Greco-Roman and Indo-Saracenic elements, imparting the cemetery its uniqueness.
The cemetery has the tombs of 19th-century poet, educator and principal of Hindu College Henry Derozio, Asiatic Society founder William Jones, Major General Charles Stewart, more commonly known as Hindoo Stewart, whose tomb with its Orissan influence of Reki Deul and other elements make it unique.
Former Archaeological Survey of India (ASI) engineers and archaeologists from Reach Foundation are chipping in to restore 25 tombs in the cemetery through what they say are globally accepted scientific preservation practices.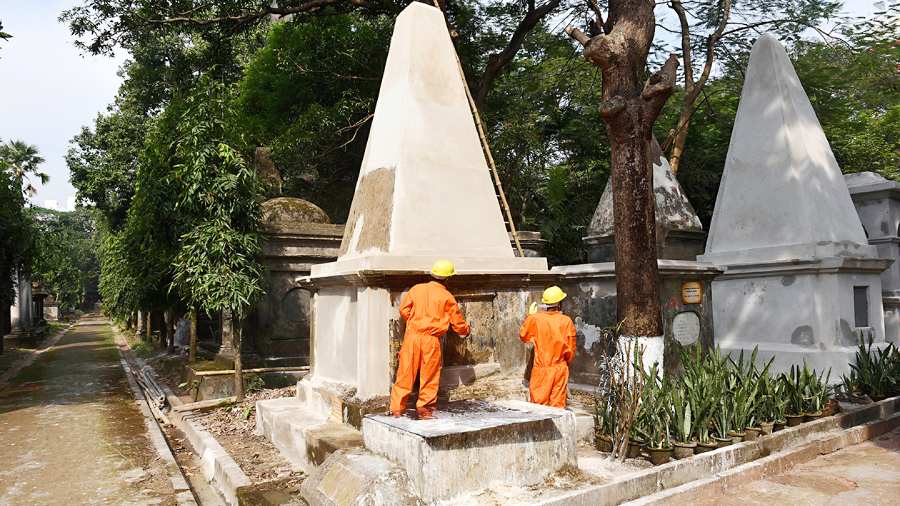 Reach Foundation is a Chennai-based organisation in cultural heritage preservation.
Tapan Bhattacharya, an archaeological engineer, said: "What we are doing here is adopting a scientific preservation method using authentic materials and techniques. I am trying to build a pool of experts to maintain the cemetery."
Surajit Maity, former director (science), ASI, and principal coordinator, of Reach Foundation, said: "The tombs are ageing and a lot of deterioration has happened. We are using a method of restoring them. It involves in the first step, cleaning the tombs using ammonium solution, then if required de-salination with the help of paper pulps. Here de-salination is not required. Then we do a consolidation of the stone and finally apply fungicides."
With this process, a film is formed over the tomb that protects the structure but keeps it breathing too. "It is important for the structure to breathe and have a coefficient of thermal expansion so that the structure does not crumble on the onslaught of natural elements," explained Maity.
Restoration work in this new method started in October.
One of the tombs had its marble headstone covered in Multani mitti. "We have used a mix of Multani mitti, a non-ferrous detergent and ammonium hydrochloride to clean it. This is a non-abrasive way of cleaning marble," said Maity.
Many of the tombs of the cemetery have been earmarked as dangerous with trees taking roots over them. There are over 300 trees in the cemetery.
The cemetery raises its funds for upkeep from advertisement hoardings.