Asian International School
Students of Asian International School paid tribute to writer Munshi Premchand on his birth anniversary by organising a variety of events — plays, reading sessions and a poster-making contest.
Class II students were treated to a digital presentation of stories by the author on July 26. A Class III student portrayed the fiction writer in a role play.
Classes IV and V students performed a skit based on the story, Mantra.
Students of Class V took part in the poster-making competition.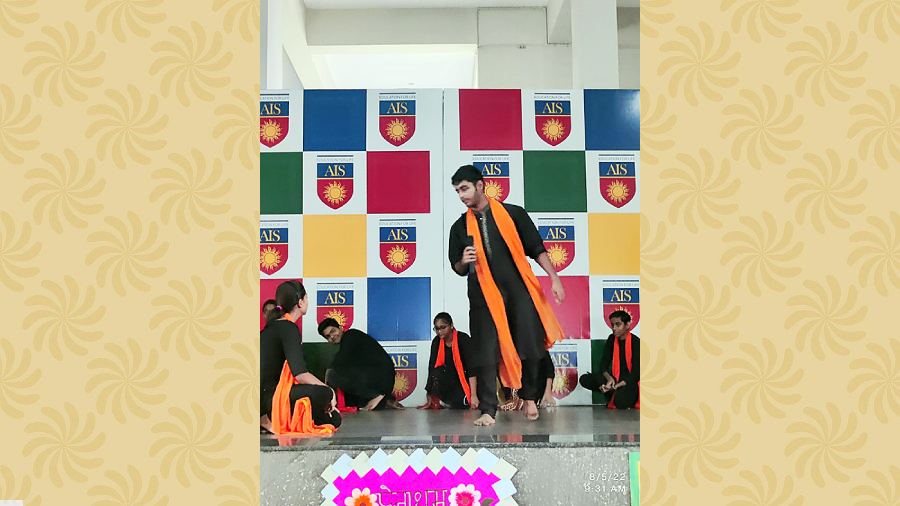 Students of Classes IX to XII performed a play based on Premchand's story, Bade Bhai Sahab, and paid tribute to farmers with Nukkad Natak.
The students also organised a poetry-reading session on the writer's works.
Classes VI to VIII spoke about the writer and his influence on Hindi and Urdu literature.
"Premchand Jayanti celebration is relevant in our school's ecosystem since the stories of the writer set an example for young minds. Our school celebrates the occasion every year. This time, it was even more special as we could hold the cultural programme on the school premises after two years," said principal Vijaylaxmi Kumar.
Ruby Park Public School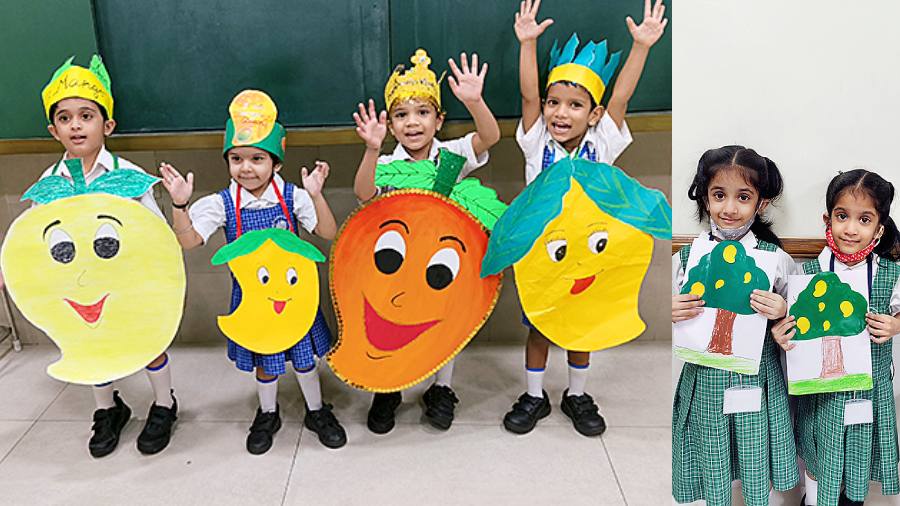 Mangoes for tiffin and mangoes to colour — students of Ruby Park Public School celebrated the mango season with a fun event. Mango Tango was celebrated on the school premises on July 11.
Students from Nursery took part in a cotton-pasting exercise. Some kids were also dressed up as the fruit. During their lunch breaks, the kids made it a point to feast on sliced mangoes.
The little ones of Lower Kindergarten took part in an earbud printing exercise and Upper Kindergarten students coloured a mango tree and pasted its cutouts.
Class I students recited poems on their favourite summer fruit.
The Primary section students also discussed the nutritional benefits of the fruit. 
"Besides being the national fruit, mangoes are an integral part of our culture and history. The students of Ruby Park Public School had great fun celebrating mango day," said principal Joyeeta Majumder.
Bidya Bharati Girls' High School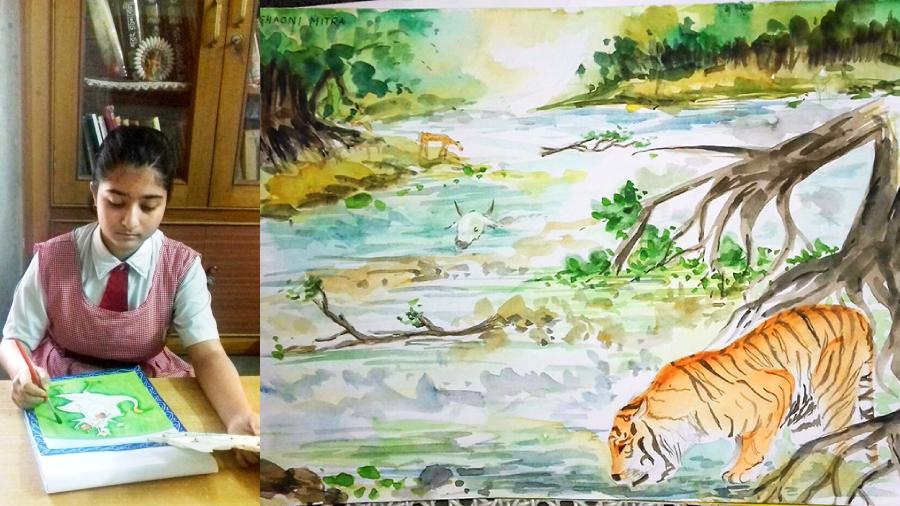 A painting by Shaoni Mitra, a Class IX student of Bidya Bharati Girls' High School, Behala, has ranked sixth nationally in a global competition. She was one of the six students from her school to take part in a contest on freshwater encroachment in the Sunderbans.
The event was jointly organised by Living Waters Museum and Water Museums Global Network, Unesco. "I considered not taking part initially. However, my love for art and the cause pushed me," said Shaoni. "The beauty of Shaoni's painting is the result of what her teachers' taught her. It speaks a thousand words," said headmistress Sharmistha Banerjee.
Purushottam Bhagchandka Academic School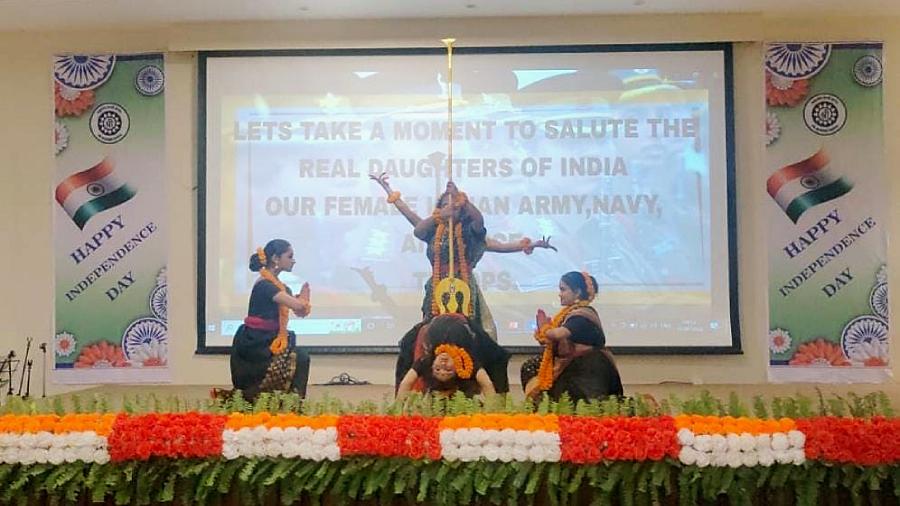 Music, elocution and a live band performance were part of Purushottam Bhagchandka Academic School's Independence Day celebrations that were held on the institute's premises.
The school's annual magazine, Vision, was also launched on the occasion.
The day began with students hoisting both the Tricolour and the Bharat Scouts and Guides flag. It was followed by a march past by students of Classes IX to XII.
The school choir sang patriotic songs such as Aye mere watan. Students of Classes VI to XII took part in a tri-lingual (English, Bengali and Hindi) elocution while students of Classes VI to VIII staged dance recitals.
A newly formed music band, consisting of students of Classes VI to XII, also performed on the occasion.
"Patriotism shouldn't be reserved only for occasions like Independence Day or Republic Day. We should work to uphold our nation's honour every day. As a history enthusiast, it was wonderful to witness the children pay tribute to the nation with their performances on freedom," said principal Madhuparna Andrews.
Gokhale Memorial Girls' School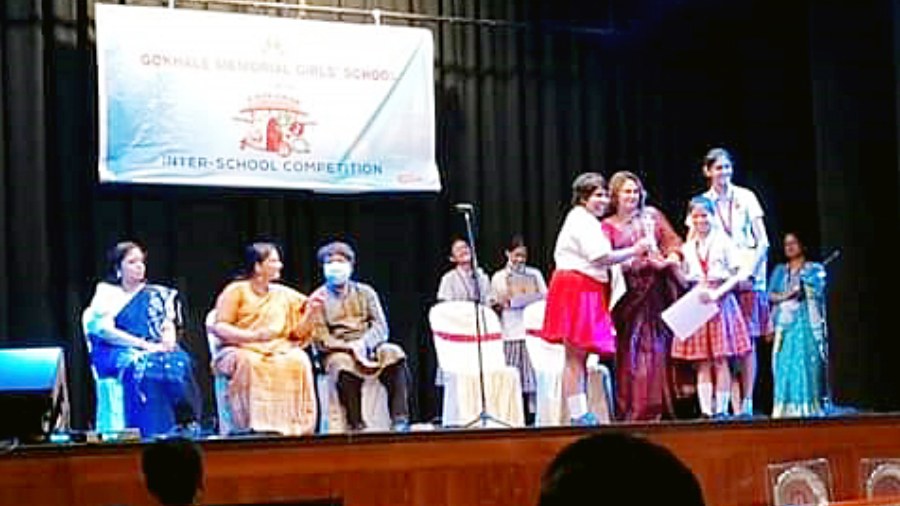 Discussions on Satyajt Ray's films and popular songs from his movies filled the auditorium as Gokhale Memorial Girls' School hosted its annual inter-school fest, Tanjam, on July 28 and 29. Students from over 10 schools paid tribute to the writer-filmmaker on his 101st birth anniversary.
The fourth edition of the fest also had a short film-making contest. Other events included music, science model-making and debate.
Evergreen numbers such as Maharaja Tomarey Selam and Kauto Raungo Dekhi Duniyaye were performed by junior school participants from Classes VI to VIII. Arista Prakash of Class VI, The BSS School, wonin the junior category of the contest.
In the senior category (for Classes IX to XII), the first and second prizes went to the host school's Sriranjini Majumder of Class XII and Bidisha Seth of Class X, respectively, and the third place went to The BSS School's Sreepurna Datta of Class IX.
The topic of the debate was: Satyajit Ray Made Films for Elite and Not Common Folks. The host school won with Pubali Bhattacharya and Sriyadita Ghosh of Class XI bagging the best speakers prizes. The hosts also won the rolling trophy.
"We celebrated Ray's 101st birth anniversary through our fest. It was impressive to see how familiar the children were with his films. Every school performed really well in the events," said principal Indrani Mitra.