Lt Gen Manoj Pande, the General Officer Commanding-in-Chief, Eastern Command, commanders of three services and war veterans paid floral tributes at Vijay Smarak at Fort William on Thursday, remembering the martyrs of the 1971 war on the occasion of the golden jubilee of Bangladesh's war of independence and India's triumph over Pakistan.
When buglers sounded the Last Post and Rouse from the rampart behind the Vijay Smarak, participants observed a 2-minute silence to pay homage to those who lost their lives in the war. The army, which had lined up several programmes over the week to commemorate the golden jubilee of the victory, has cancelled many of them following the demise of the Chief of Defence Staff, General Bipin Rawat, his wife and 12 officers in a chopper crash in Tamil Nadu earlier this month.
Car crashes into flyover guardwall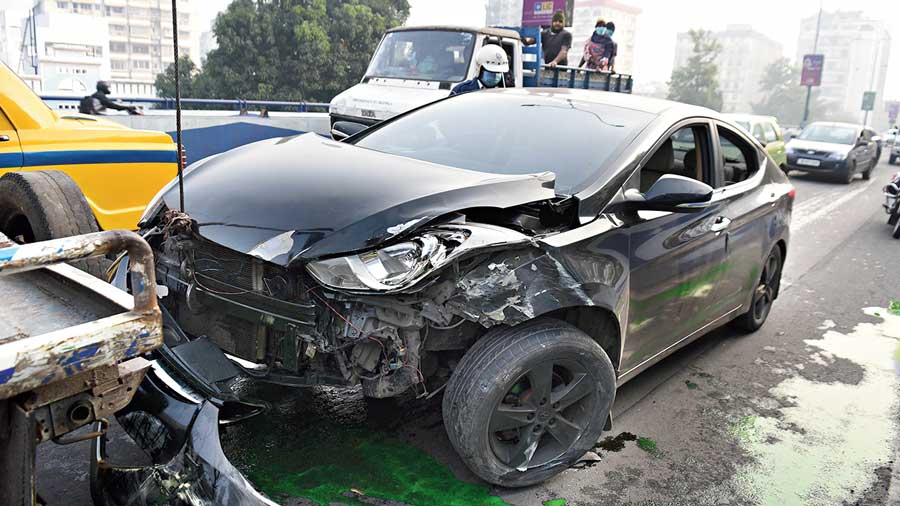 The car after the accident.
Gautam Bose
A private car, headed towards the Race Course from the direction of Science City, crashed into the guard wall of the AJC Bose Road flyover around 7.30am on Thursday.
The bonnet of the car was mangled. There were four occupants, including the driver, at the time of the accident, police said.
The driver suffered minor injuries, the police added.
The crash stalled traffic on the flyover for around 10 minutes, till the car was towed away.