Twelve counters selling delicious food items and six crowd-engaging game counters. These were the highlights as Panache, a housing complex in Mahisbathan, Salt Lake Sector V, organised yet another edition of Christmas Fun Fiesta.
With almost 250 resident families participating in the carnival, the event was set up on the lawns inside the complex with residents pitching in with the stalls.
There was more action this year for children. Apart from the regular favourites Trampoline and Bouncy Castle, this time two new activities proved to be crowdpullers. Kids of all age groups queued up to try their luck in Dodge and Duck, in which two inflated tubes at different heights rotated from a wheel requiring players to jump over or duck under it. The last player standing was the winner. "I am seeing this game for the first time and I am very happy that I could win four times back to back," said 10-year-old Sumair Kansal.
Other children, like Arsh Maheshwari, kept returning to enjoy the Maze run. Some, like Riddhiman and Amrit Bhuwalka, missed last year's Buzz wire and Bull rides, and put in a request for them to be installed in 2023 again. While Bull is a balancing act, in Buzz one has to move a loop from one point to another without touching a live wire that would buzz on each touch.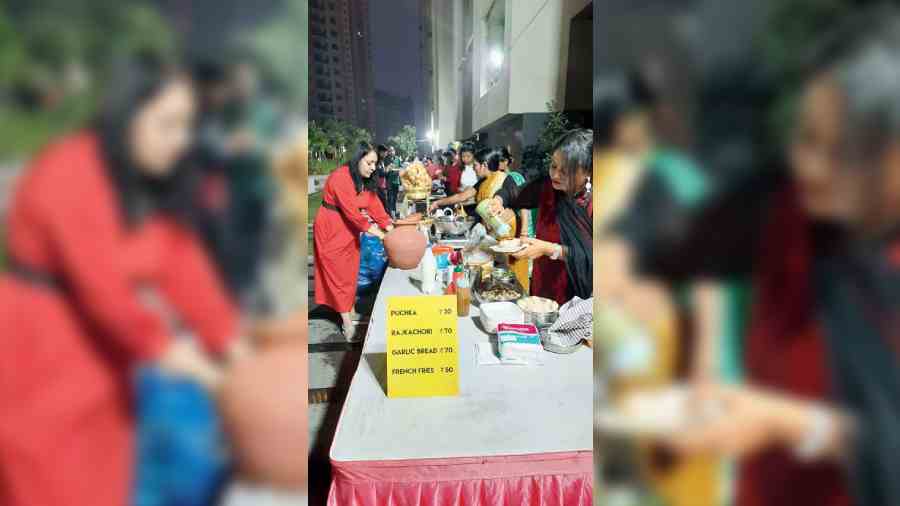 Guests being served at the food stalls.
There was Santa Claus present in person and a delightful performance was presented by young munchkins, aged six and below, to the song Bella Ciao. Even the parents put up a a graceful couple dance routine dressed in formalwear under the guidance of Banita Dugar, a resident who runs a play school at home.
Awards were given after the routine. The best dressed couple trophy went to Rahul and Nita Diwan and the best dancing couple was Sakshi and Sourav Gupta.
From Pizza and garlic breads, to Litti Chokha and Matar Kulcha, there was something cooking for everyone.
"It was a wonderful experience. Our stall did really well. We were completely sold out. But more than great business, what really mattered was the vibe. People were so warm. The occasion is over but the feel-good memory lingers," said Nidhi Sarda, who had put up a Matar Kulcha and Dhabeli food stall with her aunt Manorama Biyani. Another stall which was sold out was Yojana Khakolia's Garlic Bread counter.
Naina Maheshwari and Ankita Biyani were the emcees and kept the crowd entertained with exciting games through the evening.
Laxmi Ganeriwal, who moved in two months back, came forward to organise the event this time with Namita Sinha and Rahul Kanodia. They received full support from Soma Jain, the head of the complex's utsav committee, which was specially formed to organise and bring together families with diverse cultural backgrounds for such festivities throughout the year.
"The event was a great success and was a precursor to the bash to be celebrated on New Year's Eve. Last year, that event was called off on the morning of December 31 as Covid figures were rising. A lot of planning is going on to make it a grander affair this time," said Jain.