A tribal woman who leads a university in Jharkhand said how the recent celebration of history as India turned 75 ignores the contribution of people on the margins.
She also spoke about the lack of diversity in India's educational institutions and the glass walls that exist for a woman in the workplace.
Sonajharia Minz, vicechancellor, Sido Kanhu Murmu University, Dumka, was addressing graduating students and their teachers at St Xavier's College (Autonomous), Kolkata, on the occasion of the college's 16th convocation & valedictory on Saturday.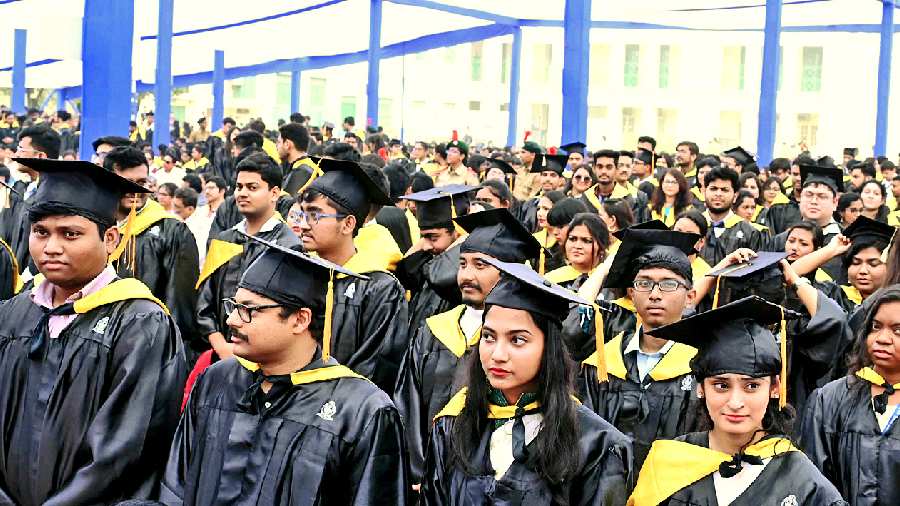 The graduating students at the convocation
"The university (Sido Kanhu Murmu University) is named after two Santhal heroes who led the largest organised armed revolt in 1855, even two years before the mutiny of 1857, a dot that has been missed out in the history books, as we are celebrating India at 75 in various ways, I think. There are many dots yet to be spotted and noted," said Minz, the chief guest at the convocation.
The Oraon tribeswoman, Minz, was appointed vice-chancellor of the now 31-year-old university in 2020.
For a woman who has had to face discrimination that left her "bewildered" and "enraged", these incidents also fuelled her urge to overcome barriers that came her way.
"Barriers and challenges are measures of who you are, your capacity, your talent, your resilience... I was asked by my Sanskrit teacher in school why I scored the highest marks in Sanskrit as it was an Aryan language," she told the audience.
Minz later told The Telegraph this incident was when she was in Class VII and she did not understand it at the age of 12.
What followed was being "forbidden from studying mathematics after Class X because 'racially' it was not supposed to be my cup of tea".
Her family was encouraging and the main reason for her inclination to become a math teacher came from her parents.
"I was told there were no tribal mathematics teachers and therefore we didn't have many tribal students taking up science or mathematics as a subject. Experiences like mine at school and a lack of teachers are a glaring reality in Jharkhand today. Issues of quantity and not quality education is a barrier to many talented students from marginalised sections to take up studies in stem subjects," she said.
Minz graduated from Women's Christian College, Chennai, and completed MSc in math from Madras Christian College. She got her PhD in computer science from Jawaharlal Nehru University. She began working at JNU as an assistant professor of computer science in 1992 and became a professor in 2005 at JNU's School of Computer & System Sciences.
To an audience of around 3,500 students faculty members, alumni and guests from other institutions on Saturday, Minz said had it not been her teachers in school saying the kind of things they did, "I don't think I would be here".
"... Do dare to challenge the barriers rather than only be challenged by the barriers — gender barriers, social barriers, traditionalism of professions — the dividing lines of today await our best not vice versa."
She told the students to face barriers, which may be similar to hers.
"I believe, till such a time when dividing lines are used for selfish motives and not to celebrate diversity, the vision of St Xavier's College and the Preamble of our nation's Constitution will only be texts to be preached and not practised," she said.
Minz appreciated the enrollment of students from marginalised sections at St Xavier's and the work of the second campus of the college in Raghabpur. But, she said, there is one more task: "Would we have the same percentages join the faculty?"
On Saturday, 2,188 undergraduates, 400 postgraduates, 93 BEd students and eight PhD scholars were awarded degrees at the convocation.
In her speech, Minz spoke about the lack of diversity in educational institutions in the country that makes higher education a privilege.
"Neither are the diverse components of our society uniformly distributed across the country nor do we witness the same in our educational institutions. In fact, education, leave alone quality education, is still not a right, especially higher education. In an institution such as this, it is a privilege and a blessing," said Minz.
As the only woman among the group on the dais, she said this was how it was most of the time.
"You also have a path to travel," she told the women in the audience.
"These days, it is not only the phrase 'breaking the glass ceilings' or the glass floors, we are also talking about breaking the glass walls," said Minz.
Father Dominic Savio, principal of St Xavier's College, presented the annual report at the programme and said that the college is going to build a communication hub with modern facilities on the Ajaynagar campus off EM Bypass.
The 'Nihil Ultra' Award of Excellence was presented to Justice Indra Prasanna Mukerji of Calcutta High Court.
"We chart new directions into the future in order to propagate the spirit of Nihil Ultra, which signifies to us that nothing is beyond our imagination, our grasp and our achievement. This vision of limitless academic possibilities began to take shape in 2006 when the college was conferred autonomy. I do believe we have justified that honour over the last 16 years," Father Savio said.
The convocation address was delivered by Asis Kumar Chattopadhyay, vicechancellor of Calcutta University.