Flagging off the first Metro from Sealdah station was not a politician or a film star. It was a common man from AC Block. But Rajib Roy had earned this honour.
Roy happened to the first passenger of the East-West Metro when it rolled out of Sector V back on February 14, 2020 and this time the authorities invited him for the Sealdah Metro station's inauguration.
"It was very crowded but I got to meet minister Smriti Irani briefly. She inaugurated the building and left for Howrah Maidan. As she virtually inaugurated the service from there, I waved a green flag before the train. It was an auspicious occasion so I chanted the Ganesha Mantra."
Roy appreciated that the authorities got a common man to flag the service off as it would be them who would be using it.
The July 11 inauguration was ceremonial, after which the train returned to the car shed. Commercial services would begin on July 14 and Roy was just as eager to be the first passenger once again.
"It was the day after Guru Purnima and we had an elaborate puja at home. Still, I managed to wake up at 2am and woke up my family members too," says Roy. His wife Indira, sons Rishab and Rishan were up for the adventure, even though his teenage daughters excused themselves. "We drove and reached Sealdah by 3am but were searching for parking space for the next 45 minutes," Roy says.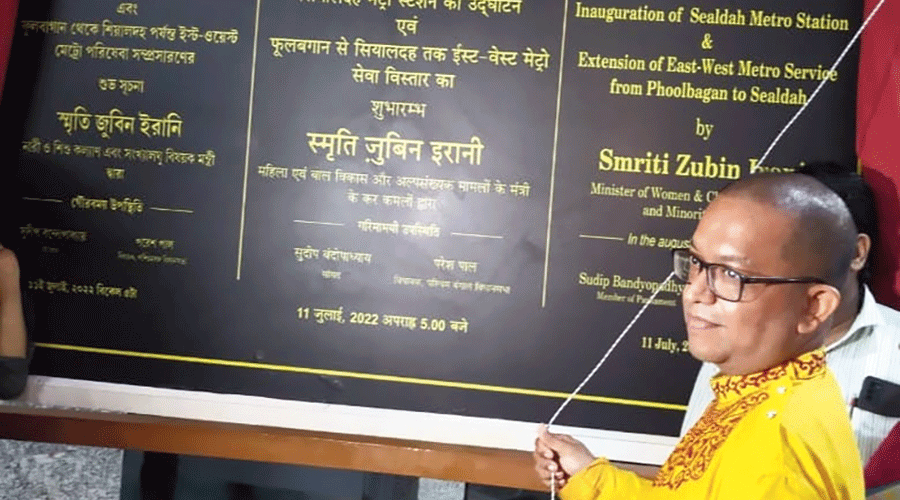 Roy at the unveiling of a plaque at the inauguration on July 11.
The Telegraph
When they finally reached the station they saw they had been beaten by another man, Prabhat Chatterjee who queued up 10 minutes before them. "We chatted, spread old newspapers on the ground and waited till about 6.30, when the ticket counter opened. We took the maiden Metro from Sealdah to Sector V at 6.55am. We were part of history! The kids enjoyed the view from the window and we held up a picture of our guru, Barfani Dadaji, with whom we wanted to share this novel experience." 
Incidentally, Roy was also on the first Metro that plied in Dubai in 2009 and has also taken the TGV (Train a Grande Vitesse) in France. "The Dubai Metro was smoother than the Kolkata one, and driverless too, but ours is also commendable," says the man who looks forward to taking the Metro to Sealdah from now on to get bargains on vegetables.
"Exotic vegetables are way cheaper in the nearby Koley Market and I won't have to worry about parking," says the man who used to take the Metro to drop his son at Sri Aurobindo Institute of Education before the pandemic hit.
"It would have been easier taking the train on the first day from Sector V but I already did that two years ago," explains Roy. "Now, I will wait for the Howrah Metro so I can try to be the first passenger from there too."