Mayor Firhad Hakim on Wednesday asked councillors from Behala in southwest Kolkata to concentrate more on providing essential services like drainage, water and lights over building community halls.
Hakim asked 23 councillors from boroughs XIII, XIV and XVI that cover Behala that they should prioritise essential services in their wards and seek funds for such projects.
In this year's budget, the Kolkata Municipal Corporation (KMC) ended a decades-old practice that allowed funds for the projects in added areas — which include Kasba, Jadavpur and Behala — to be disbursed from the respective boroughs.
Instead, all proposals for projects now go to the KMC headquarters and the funds are released from there. 
Earlier, there were two separate KMC budgets — one for wards 1 to 100 and another for wards 101 to 144, which are also known as added areas because of their later inclusion in the Kolkata municipal area.
KMC officials said councillors used their influence to squeeze out funds for projects they favoured when the money was disbursed from the boroughs.There is greater scrutiny now that the funds for wards 101 to 144 are released from the headquarters like what has been done for wards 1 to 100 always.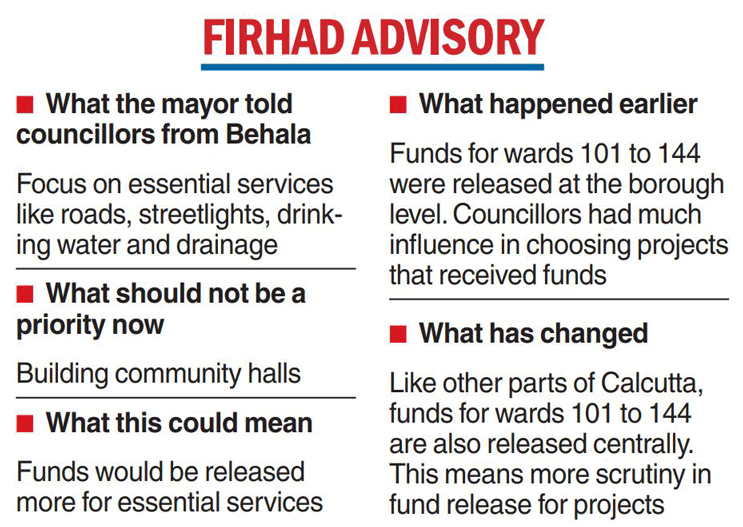 "The councillors should focus on roads, water supply, drainage. Building community halls should not be a priority now," Hakim said after meeting the councillors at the KMC headquarters on SN Banerjee Road. "If there is a kutcha road, we will make it a pucca road....If there is any problem with drainage we will provide funds to improve it."
Chief engineers of several departments were also present at the meeting.
Hakim said he will also meet the councillors from Kasba, Jadavpur and Garden Reach on similar issues.
An official who was present in the meeting said Hakim asked each councillor if they had any essential work in mind.
"Some said there was a water crisis in their wards and they wanted to install deep tube wells. He asked engineers of the water supply department to talk to the councillors and see that the deep tube wells were installed where they were necessary," said an engineer.
Some complained that water supply lines had been broken in places while laying underground drainage pipes.
Hakim asked engineers from the Kolkata Environmental Improvement Investment Programme (KEIIP), which was laying the pipes, and the water supply department to work together and repair the lines. 
Many neighbourhoods in the wards whose councillors mayor met on Wednesday still lack services like other parts of Kolkata. Three wards — 142,143 and 144 — from Joka covering 18.96sq km were merged with the KMC in September 2012.
Many neighbourhoods in these places still lack streetlights, drainage and  pucca roads. 
Some councillors also raised the point of procurement of silver sand that has to be sprinkled on muddy stretches leading to pandals during Durga Puja.
An official said Hakim instructed officials to float a tender so that silver sand could be distributed during the Pujas.
Monkeypox advisory to KMC
The state health department on Wednesday told the Kolkata Municipal Corporation to monitor the health of people with fever and rashes and send for tests those patients who doctors suspect could be infected by monkeypox, a civic official said. The symptoms are fever and vesicular rash.
The National Institute of Cholera and Enteric Diseases (NICED) in Beleghata has the facilities to conduct diagnostic test. Even if someone tests positive, there is no need to get hospitalised. "Need for admission will come only if a patient's health deteriorates. Else infected persons should stay isolated at home," an official said.
The Beleghata Infectious Diseases Hospital and The School of Tropical Medicine can admit patients with monkeypox.