A feast is not a feast without fish. Ask any Bengali. And so the latest offer at Abcos Food Plaza is a Bengali style fish festival, to last till the end of the month.
While it's no surprise that the showstopper is the hilsa, there are several other kinds of fish on the menu, with some age-old recipes making a comeback and some new ones that will keep you guessing.
One such is the Indian salmon. "Most diners have not even heard of this fish, that is called gurjali in Bengali. But the experimental ones are trying it out," says manager Samiran Mitra. "Just the other day I suggested it to a family who loved it so much that they licked the platter clean and ordered another one to take home."
Partha Mallick, the Bengali cuisine chef at the eatery, says bhetki lovers will dig gurjali, that weighs about 550g and does not have too many bones. "And even though I'm preparing it in Bengali styles of jhaal, sorse and kosha, we're serving it in a smart continental format. The gravy is poured into a sauce boat on the side and the fish is served with a portion of Basmati rice, daal, alu posto and chutney on the platter." The dish is priced at Rs 1,049.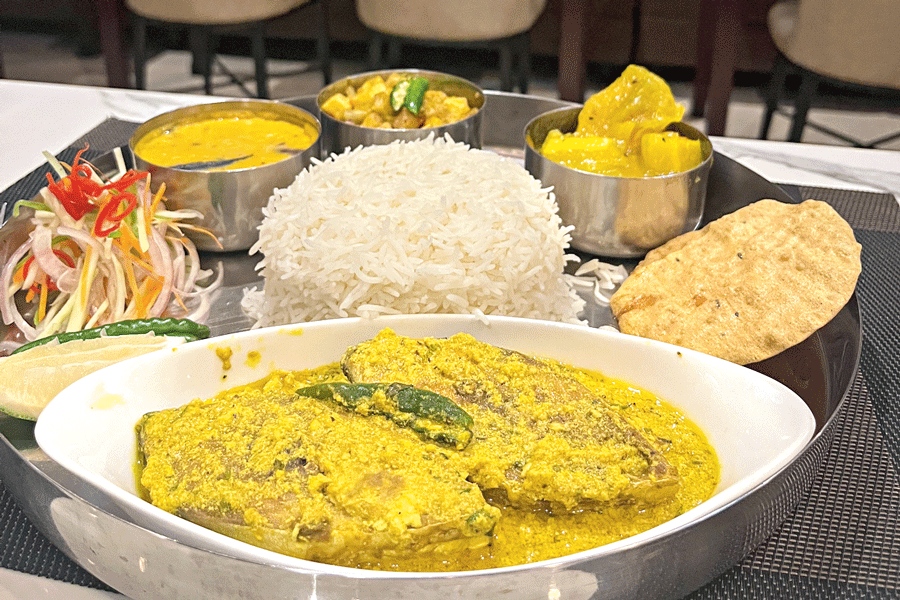 A hilsa dish comes with rice, alu posto, bhaja moong daal and chutney.
The Telegraph
One can opt for thalis of hilsa, koi, parse and tangra. "Of these the hilsa is doing the best, both because it's a delicacy and also because at Rs 1,049, it's a steal," says Mitra. The thali offers two pieces of hilsa and the diner can choose if he wants them fried or cooked in sorse, bhapa, jhol or jhaal styles. It also comes with rice, bhaja moong dal, alu posto and chutney.
If you pick the koi thali, you choose between Koi Jhaal and Tel Koi, and for tangra and parse, among jhaal, kosha and kalia styles. These three thalis cost Rs 552.
There's an assorted fried fish platter designed for those looking to munch something interesting with drinks. At Rs 1,049, this Machcher Bahar comprises a piece of hilsa, a pomfret, a parse, 200g of mourala and two pieces of katla.
All the main course and starter fish can be ordered a la carte too. "The festival's dishes and combinations are the result of surveys and customer interaction. We realised that customers were craving varieties that aren't readily made at home," says Mitra. "So our a la carte menu also offers bata machh, chitol peti and pabda." Whole bhetki platter is available too at Rs 1,049, served with rice, dal and vegetables."