The 3D combination puzzle or Rubik's Cube — invented by Hungarian professor and sculptor Erno Rubik — was unknown to Class XI student Hitesh Bhuwalka till 2019. A chance encounter at his piano teacher's house changed the life of the M.C. Kejriwal Vidyapeeth student forever
"The colourful puzzle intrigued me. My piano teacher introduced me to the world of speed puzzle solving," said the boy from Howrah's Belur, who is now a cube master.
Hitesh was in Class IX when he bought his first Rubik's Cube. "I learnt a little but soon the puzzle was kept inside my cupboard and forgotten," he said. During the pandemic (2020), Hitesh rediscovered his Rubik's Cube while cleaning the cupboard.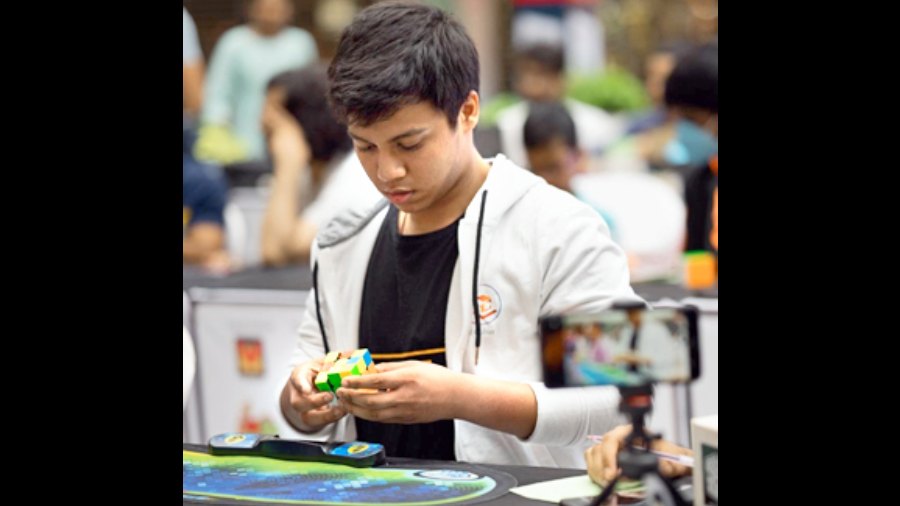 Class XI student Hitesh with his Rubik's Cube
"I started honing my puzzle-solving skills by watching YouTube videos. I began practising and slowly learnt to solve cubes of various sizes," said the boy, who can now solve 10 such puzzles of different dimensions.
Soon he started taking part in various online competitions. This June, Hitesh took his puzzle-solving skill a notch higher when he broke two state records in 5x5 cube category at a competition in Mumbai, recognised by the World Cube Association, US.
Hitesh solved the puzzle in one minute, four seconds and ninety milliseconds. Now officially a young cube master, the boy ranks 33 in India in the Single records category.
Hitesh has also been training online over 100 students, between five and 15 years on how to solve cube puzzles and hone their speed-solving skills.
"I take around five sessions. I have trained children from India, the US, the UK, Syria, UAE, Kuwait and Oman. Less than 5 per cent in the world can solve a Rubik's Cube, but practice helps increase one's focus and mindand-hand co-ordination," said Hitesh, who takes the classes after school. Hitesh is looking at a career in finance, but he wants to continue training students in puzzle solving.
"Hitesh's talent is rare. The school is proud of its wonder boy," said MCKV Group of Institutions chairman Kishan Kumar Kejriwal.