Designs created at a village 12km from Singur in Hooghly district of West Bengal have earned appreciation from Buckingham Palace and an invitation to a "Coronation Big Lunch" in London.
The designer could not take up the invitation because of health reasons but she did attend the coronation reception hosted at Taj Bengal on Saturday, where she got a warm mention from the British deputy high commissioner in his address.
"One of the designers that has contributed to the clothing worn by Their Majesties is from Bengal. Fashion designer Priyanka Mallick from Singur designed a brooch and a dress for this great occasion," acting British deputy high commissioner Peter Cook announced.
Speaking to The Telegraph later, he said: "She reached out to Buckingham Palace with some of her designs. They liked them and they have made them into some of the dresses and materials being worn by Their Majesties today. We are so delighted to have a Bengal connection for the coronation itself."
Priyanka reached the reception slightly late after making the 50km-plus journey from Badinan village.
The red rose is the inspiration behind the dress, hat and shoe she designed for Queen Consort Camilla, replete with petals and butterflies. "I chose this as rose is the national flower of England," she said. For King Charles, she sent the design of a multi-coloured brooch she named the Cosmic Butterfly.
The petite 29-year-old, whose father worked as a pharmacist at a public health centre till his retirement, has entered the world of fashion without stepping out of her village in the Polba-Dadpur block.
"After schooling in Singur, I enrolled in a degree course in the Italian E-Learning Fashion School in Milan in 2015," Priyanka said.
That proved a turning point. She went on to win an international online design marathon in Milan, that required participants to design a dress on a theme given daily over seven days in 2019. She did a master's degree at the same institute and multiple online short-term courses at the University of Fashion, California, on women's wear, and from Stanford and Harvard universities on sustainable business.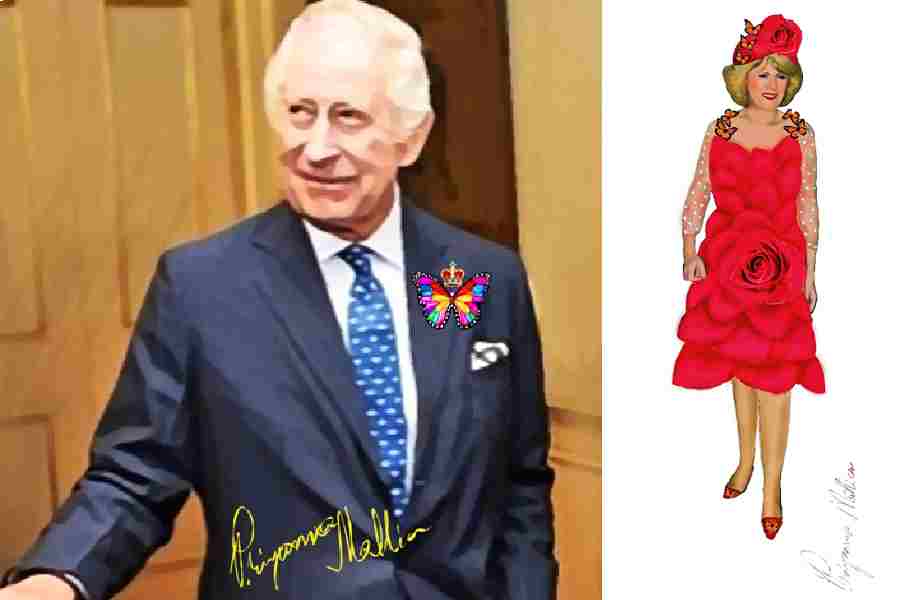 Graphic impressions of the Cosmic Butterfly Brooch on King Charles III and Queen Consort Camilla in the Eternal Rose dress designed by Priyanka Mallick
The village girl stood out even as a teenager in her choice of dresses, which had to be ordered from a shop in Chinsurah. "I wanted the kind of outfits the Queen wore. My favourite was what I called the Diana dancing dress. Neighbours commented on my skirts and blouses but I did not care," she said.
Her first brush with the British royalty was in February 2022 when she sent a design for the platinum jubilee of Queen Elizabeth II. The design was acknowledged by an e-mail from Buckingham Palace. "This time for the coronation, I wanted to do something for both the king and the queen consort," she said.
She got two emails, one thanking her on behalf of Their Majesties and the other on behalf of the Queen Consort. But her biggest high was when an envelope with the royal emblem landed at her doorstep.
The letter from Belinda Kim, deputy private secretary to the Queen Consort, read: "I would like to thank you, on behalf of The Queen Consort, for so kindly sending your lovely dress design. Her Majesty was touched that you would think of her in this way and would have me thank you for taking the time to send us your sketches. You are a very talented artist. This comes with The Queen Consort's warmest thanks."
"I could not sleep that night. My neighbours have no clue what fashion design is and only a vague idea about the British royalty. So it is an even bigger achievement for someone like me," she said.
Priyanka runs three fashion lines in her name. "I sell online, in collaboration with a manufacturer," she said.
She launched a coronation line for both sexes on Saturday where the coronation logo has been worked into the design. "Of course, I took permission from the palace for this. This is my way of celebrating the occasion," she signed off.