Destroying mosquito-breeding sites aggressively, killing infected adult mosquitoes and involving multiple government departments in the vector-control programme are the only way to curb dengue till winter sets in, entomologists and public health experts say. 
The Telegraph takes a look at the roles of agencies and individuals that have a direct bearing on the spread of dengue, which has assumed an alarming proportion and claimed a number of lives across the state this year. 
Civic bodies
At a time when dengue cases are being reported in hundreds every day, the civic bodies should aggressively implement vector-control programmes, said public health experts and state health department officials.
"In an area with a high prevalence of dengue, we recommend aggressive vector-control measures by the civic authorities," said a Delhi-based medical entomologist and vector-control expert, who requested not to be named. Apart from spraying larvicide to kill Aedes aegypti larvae and destroying breeding sites (where water accumulates for at least seven days at a stretch), the authorities must undertake fogging. 
The dengue virus is spread through the bites of Aedes aegypti mosquitoes, which can breed even in a spoonful of stagnant water. It takes a week after eggs are laid for adult mosquitoes to emerge. Any effective vector-control work must include draining out stagnant water at least once a week.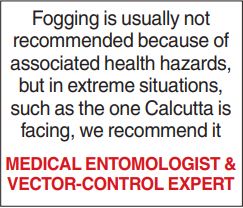 "Any area from where a large number of dengue cases are being reported must have a sizeable population of mosquitoes infected with the virus. So, along with destroying breeding sites and spraying larvicide, these adult infected mosquitoes need to be killed to curb the spread of infection," said the expert from Delhi.
"Fogging is usually not recommended because of associated health hazards, but in extreme situations, such as the one Kolkata is facing, we recommend fogging," the expert said.
A senior official of the state health department said on Thursday they had asked all civic bodies in West Bengal to aggressively take up scavenging work so that the breeding grounds are destroyed.
State government
According to the vector-control expert from Delhi, the state government must involve multiple departments to combat an epidemic-like situation.
"We have observed that one reason for a steep surge in dengue cases in many areas is a lack of communication among government departments," the expert said.
"Corporations, municipalities, panchayat bodies should work together with the PWD and the urban development, health and even education departments," the expert said.
Cleaning clogged drains and canals, preventing water accumulation at construction sites by slapping heavy fines on errant builders, making students aware of the need to wear uniforms that cover most of the body and keeping the compounds of educational institutes clean call for the involvement of multiple departments.
Residents
Residents, too, play a crucial role in fighting dengue, as several government officials, public health experts and the mayor of Kolkata, Firhad Hakim, have pointed out repeatedly.
"Fighting dengue is not possible without active participation of residents. They have to ensure there is no accumulation of water for more than a week in and around their houses," said a public health expert.
"People have to allow civic workers to enter their premises and check for larvae of dengue-spreading mosquitoes," he said.
However, many residents in Kolkata have alleged that despite several requests, civic workers do not visit their areas for months.
Weather
Weather is another crucial factor in the battle against dengue.
"Now that the monsoon is over, we are hoping there would be no spell of rain in the coming weeks. So, on Thursday we asked all civic authorities to take up scavenging work aggressively," said the health department official.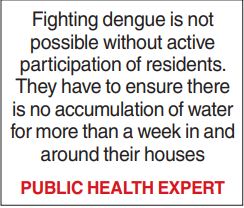 "Such cleaning drives were undertaken earlier, too. But fresh mosquito-breeding sites developed after every spell of rain. But now, we can get some respite from that and must destroy breeding sites as much as possible," he said.
Also, the onset of winter should see less breeding of Aedes aegypti mosquitoes, said experts.
"There is no temperature cut-off for the breeding of Aedes aegypti mosquitoes and also there is no limit to the duration an adult mosquito stays active, but it has been proved that their activities reduce significantly during winter," said the medical entomologist and vector-control expert from Delhi.
"Winter has become shorter because of global warming. So, we are apprehending that the dengue season would continue at least till early December in a state like West Bengal," the expert said.