Documents allegedly seized from minister Partha Chatterjee and his purported associate Arpita Mukherjee's houses suggest an array of businesses linked to the woman across the city.
Enforcement Directorate sources said their primary task now was to find out how these businesses were funded and what were her sources of income. The alleged seizures from Chatterjee's house include records of candidates' admit cards and proposed teacher postings -– some of which are as old as 2012. 
The central agency has reportedly seized 14 documents from Chatterjee's Naktala home, including deeds of properties out of which in 12 cases, Arpita Mukherjee is the title deed owner while documents related to two companies suggest that they were jointly owned by Arpita and her brother-in-law Kalyan Dhar. 
Dhar did not respond to calls and text messages from The Telegraph.
At least two seizures — related to a bunch of documents dealing with the transfer of teachers and candidates' admit card, and documents relating to "revised result of TET-2012... copy of chart relating to proposed teachers' posting…"-- were made by ED officers from the minister's house on Friday, the sources said.
An ED officer said it was suspected that the companies whose documents have been found were shell companies and had been set up for alleged money laundering. "We are pursuing the money trail and need to find out the sources of her income," said the officer.
Sources in the ED said one of the two companies were named Sentry Engineering Pvt Ltd, whose address is registered as flat 1A, first floor of Tower-II in Diamond City South. The other company named Echhay Entertainment Pvt Ltd, has its registered address at 95 Rajdanga Main Road in Kasba. The first company was established on January 16, 2001 while the second was incorporated on October 29, 2014.
 This apart, the central agency has reportedly seized several property deeds that have Arpita's name on them.  "The documents only suggest that this could just be the tip of the iceberg," an officer said.
The minister's android phone with dual-SIM facility was seized after ED officers apparently found some photographs in the phone that could establish a link between Partha and Arpita, sources said.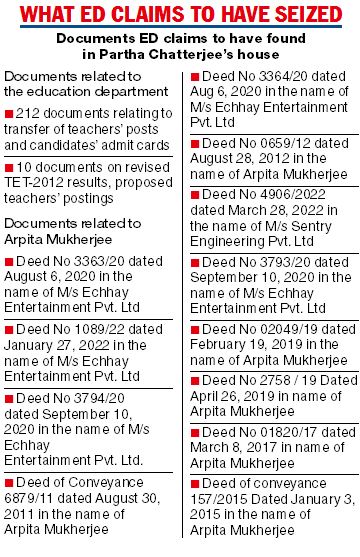 The entire data in Partha's mobile phone has been collected in a separate hard disk.
Among the seized documents, ED found a note by Manik Bhattacharya, former president of the West Bengal Primary Education Board.
The central agency has reportedly discovered that Partha was in touch with the owners of at least two Bengal-based textile companies who had possibly helped him in parking money allegedly collected as a part of the teacher recruitment process.
The directors of these two companies will be summoned for questioning, officers said, adding that they believe that some of the amount could have crossed Indian borders using the Hawala route.
Under the scanner is also a sari retail outlet in south Calcutta. ED officials said Arpita had once modelled for the store.
"We are also trying to understand the funding process of the school that has been built in Pingla in West Midnapore," said a senior officer.
The school has come up on three and a half acres of land and has been allegedly built by Kalyanmoy Bhattachraya, believed to be close to Partha. ED officers said they would want to know who funded the setting up of the school.