Around 10 senior citizens debuted as percussionists as they had a novel experience at the Book Fair in front of the office of the Publishers and Booksellers Guild on February 8.
Sitting in a circle, members of Saanjhbaati - an initiative of Bidhannagar Police for the senior citizens of Bidhannagar -- got a feel of djembe (a rope-tuned skin-covered goblet drum) in their hands as they joined Malabika Guha, a neuro-dramatic play practitioner, for a performance and a music therapy session.
Krishna Guha was happy to hold the drum for the first time in her life and try it out. "This is a very new experience for me. I do not remember having ever played a drum, leave alone participating in something on a platform this big. But with Saanjhbaati, we get to experience such new activities. Previously we had been given instructions for this but today we actually played the instrument. This was a fun experience." said the 71-year-old resident of HB Block.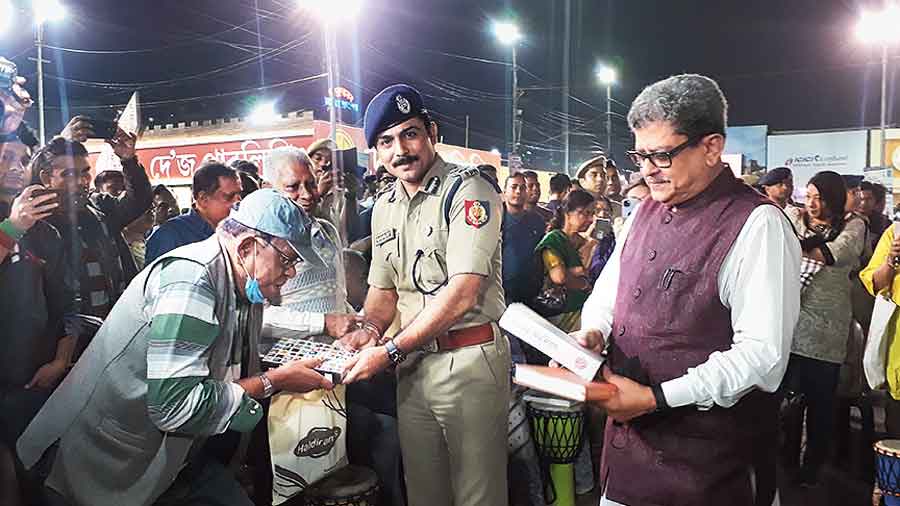 Police commissioner Gaurav Sharma distributes books among them.
Subhra Bose was all smiles as she tried her hand at the drums. "This environment, where everybody is surrounding us, looking at us, giving us so much importance, makes us feel as if we are the centre of attraction in the Book Fair. This feels so good. This is a completely new experience for us. I have always enjoyed music but drums are not something I have played before. The instructions were not that difficult to follow. I look forward to more such activities," Bose said.
"As we age, along with physical security, we also need to focus on mental well-being. Now worldwide as lifespan of people is increasing it is very important for us to keep our mental health strong. Today we are taking a new initiative, drum circle for seniors. Along with recreation, this is a brain exercise too. When practised regularly, it helps one deal with depression and anxiety, lower blood pressure, chronic pains. Also when we sit in a circle there is a sense of safety and when we are participating it gives us a sense of belonging. We connect socially. So with this drum circle, we are touching five elements of well-being – physical, mental, cognitive, social and spiritual health. Here spiritual means connecting with our soul," said Malabika Guha.
Police commissioner of Bidhannagar Gaurav Sharma distributed books gifted by the guild among the Saanjhbaati members.
"Book-reading expands our imagination and thinking," he said.