Kurta-pyjama, salwar-kameez, caps, perfumes, sweets; the shopping list was long and carried with it the scent of Eid.
Eid celebrations had largely been confined to homes for the past two years because of Covid. The removal of Covid curbs has multiplied the happiness this year, said people across the city.
The markets on and off Rabindra Sarani, New Market and other places teemed with shoppers on the eve of Eid.
Md Shafiq Alam, in his 30s, had taken an early leave from office in Chowringhee. In the afternoon, he went to Chitpore to buy kurtas, for himself and relatives. He bought two for himself, one for the Eid prayers in the morning and another for a feast at a relative's house in the evening.
"I am looking forward to getting Idi (gifts from elders) this time. I will also give presents to the children in my family," said Alam, who lives in Park Circus.
Klassic Kurta, a shop on Rabindra Sarani, had a beeline of men waiting to get kurtas around 7pm on Monday.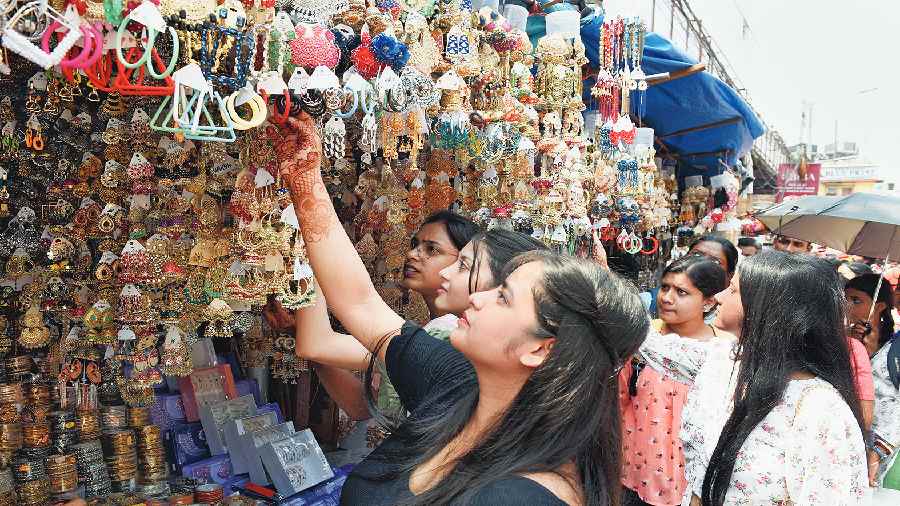 Eid shopping in New Market on Monday.
Pradip Sanyal
The stalls selling bangles in New Market were equally crowded.
Asif Ali and wife Shagufta Parveen had come to New Market with their four-year-old son Aftab. "I used to go shopping with my father. Now, I have brought my son," said Ali, a wholesaler of electrical equipment on Ezra Street in central Kolkata.
Kolkatans said the prospect of the first Eid in three years without the Covid curbs had them kicked.
"Eid is all about togetherness. The past two years did not allow that," said Kabir Azhar, the young director of Aminia Restaurants.
Like pre-pandemic times, Azhar's Eid will this time start with a prayer on Red Road, with his family members. After a family breakfast, the day will be spent visiting relatives and end with a dinner hosted by Azhar at his Ballygunge home for his friends.
This customary biryani party had not been held for the past two years. The Eid prayers also happened at a relative's place.
Over three lakh people had attended the namaz on Red Road in 2019. After a two-year gap, the Red Road namaz will be back on Monday. The prayer will start at 8.30am, said organisers.
At the last iftar before this year's Eid at Nakhoda mosque on Monday, thousands of people sat together to break their day-long fast.
The imam of Nakhoda mosque, Shafique Qasmi, said he would pray for peace.
"I will pray for peace, love and friendship. I will pray for my countrymen. I will pray for an end to polarisation and divisiveness," said Qasmi.
He stressed the spontaneous participation of non-Muslims in the Eid celebrations in Bengal.
"Eid is not just a religious festival in Bengal. It is a people's festival," he said.
Firdausul Hasan, a Kolkata-based film producer, was in Mumbai for most Monday for the screening of his new film.
But he had a return ticket on an evening flight.
"I cannot miss Eid celebrations in Kolkata this time. I want to share the celebrations with my family and friends," said Hasan.
Hasan was born and raised in a Muslim family. As a student, he went to missionary institutions and is married to a Bengali Hindu woman.
"I have never thought of Eid as a Muslim festival. I get equally enthusiastic for Durga Puja and Christmas," said Hasan.