Eastern India's largest hospital on wheels is all set to hit the road to provide healthcare services to people living in remote areas of West Bengal.
Launched on July 31, the Lotus TMT medical bus is a mobile hospital presented to people by BDG Ramesh Goyal Seva Sansthan. It has been constructed by BDG Metal & Power Ltd. and is supported by Anandalok Hospital, Salt Lake.
State agriculture minister Sovandeb Chattopadhyay, minister of state for fire and emergency services Sujit Bose, West Bengal Trinamool Youth Congress secretary Sayan Deb Chatterjee, Anandalok Hospital founder-director Dev Kumar Saraf, Goyal group chairman Ramesh Chand Goyal, Medica Super Speciality Hospital vice chairman Kunal Sarkar were present at the launch. 
This 32-feet-long medical bus will offer general check-up and eye, dental and ENT care and treatment to patients. Equipped with a pathological laboratory, general OPD, and ECG and X-ray facilities, the hospital will also give out medicines and eyeglasses to patients at affordable prices.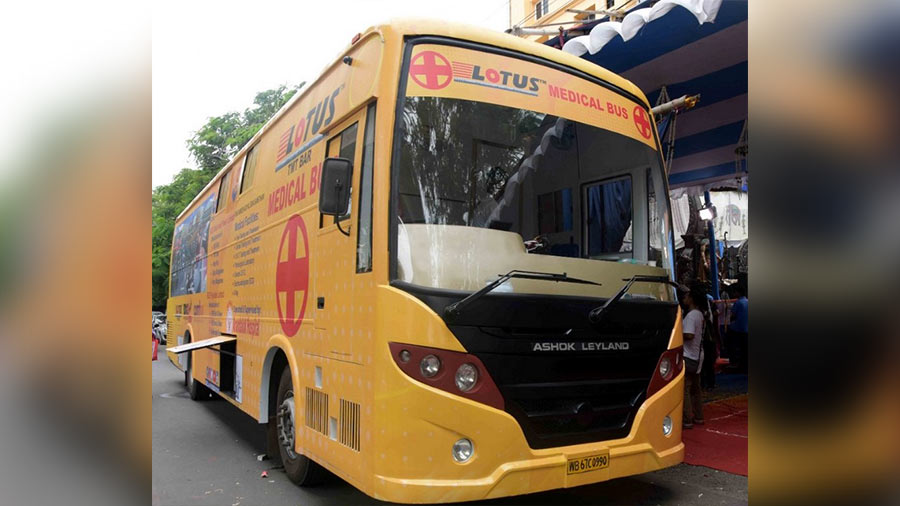 The Lotus TMT medical bus was launched on July 31
Anandalok Hospital
Goyal Group chairman Ramesh Chand Goyal said they launched the bus to serve vulnerable people living in rural areas.  "Our objective is to provide healthcare services in rural areas through technology integration and affordability. We are also exploring opportunities for cooperation with the West Bengal government and the state health ministry."
Medical consultations will be provided for a nominal charge of Rs 10 at the mobile hospital. Medicines would be given at free of cost for the first time and spectacles for Rs 20. Pathology, ECG and X-ray facilities would also be available for Rs 20. A team of four doctors, laboratory and x-ray technicians and a patient counsellor would be present inside the bus.
Alok Goyal, managing trustee of BDG Ramesh Goyal Seva Sansthan, said, "The purpose of this project is to promote value-based healthcare and provide primary and preventive care to high-risk patients. This initiative also aims to strengthen medical facilities at vulnerable places, where people do not have access to healthcare services."