The New Town authorities have decided that at least 2 per cent of the car parking space in upcoming buildings has to be kept reserved for electric vehicles, an official of the New Town Kolkata Development Authority (NKDA) said. 
The buildings must also put in place the requisite charging infrastructure for the vehicles, said the official of the agency, which provides civic services in the township.
Big housing estates — coming up on plots measuring more than 10 hectares — in all three action areas have to reserve 20 per cent of the parking space for electric vehicles and install multiple charging points.
In order to do this, the New Town Building Rules have been amended and a notification was issued earlier this week.
"This is being done to encourage residents to use electric vehicles, particularly family cars, in New Town," the official said.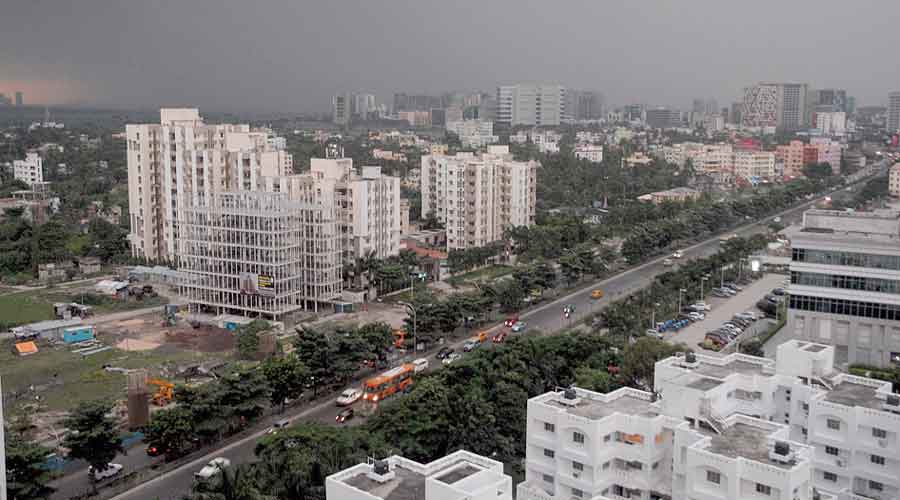 New Town.
The Telegraph
"Several vehicle manufacturers are coming up with electric models of personal cars and we want to popularise them as a viable and green mode of transport. We are also setting up fast charging points near offices and in public spaces. Several of them are already functional," the official said.
According to the official, the NKDA might scrap a building plan if the developer fails to set aside the stipulated space for parking e-vehicles and set up adequate charging points.
"The NKDA wants the provision for e-vehicles to be incorporated in the building plan itself, instead of being set up as an afterthought," the official said.
Debashis Sen, the managing director of Hidco, which builds infrastructure in the township, said they wanted to have as many options of e-vehicles as possible plying in New Town.
"These days electric cars have a decent range and we are also developing charging infrastructure all over New Town. These vehicles must be encouraged as their carbon footprint is lower compared to those powered by diesel and petrol," said Sen.
There are more than 30 charging stations - both high speed and low speed - for e-vehicles across the city. They are designed for two-wheelers, three-wheelers, cars as well as buses.
In New Town, electric buses have been running for four years.
Hidco has also set up 16 large and small solar energy plants that are generating 1.27MWp. There are three canal-top plants as well.
An app-based bicycle and e-bike system is also in place.