For thousands of street hawkers, this Puja has been a blessing.
Many people have squirmed about large crowds outside pandals. But the hawkers are not complaining. 
Last year, a raging pandemic meant almost zero business for these people during the most lucrative time of the year. This time, they are counting the gains from a festival of people.
Ismail Laskar sold balloons and plastic toys outside the Ballygunge Cultural puja pandal from Panchami to Navami. On an average, he sold stuff worth "around Rs 2,000" on all five days. 
Laskar, a resident of Magrahat in South 24-Parganas, took a train to Ballygunge and walked around 3km to the pandal off Southern Avenue on the Puja days. Last year, he could not come to Kolkata because the trains were suspended.
He sold balloons at markets in Sonarpur and Baruipur, his usual area of work.
"But the volume is nothing compared to sales in Kolkata during the Puja," said Laskar, who is the sole earning member in a family of seven — comprising his wife, three children and parents.
Surajit Adhikari, an ice cream seller who has been camping near Behala Friends' puja pandal, said his income during the Puja week had been decent, though not like the pre-Covid times. 
"But compared to last year, the volume is encouraging," he said. On the night of Ashtami this year, he sold stuff worth Rs 8,000. Last year, the volume was around Rs 12,000 from Panchami to Navami. 
The hot and sweaty conditions have helped his trade. But business has not yet reached pre-Covid levels because many people were wary of allowing kids to have ice cream, fearing a bout of cough and cold. 
Gauranga Das, a resident of Bolpur, comes with a few cartons of jute products and camps outside the Kumartuli pandal every year. The products — ranging from figurines to bags to other decorative items — are made at a production unit in his village.
Last year, he was at home.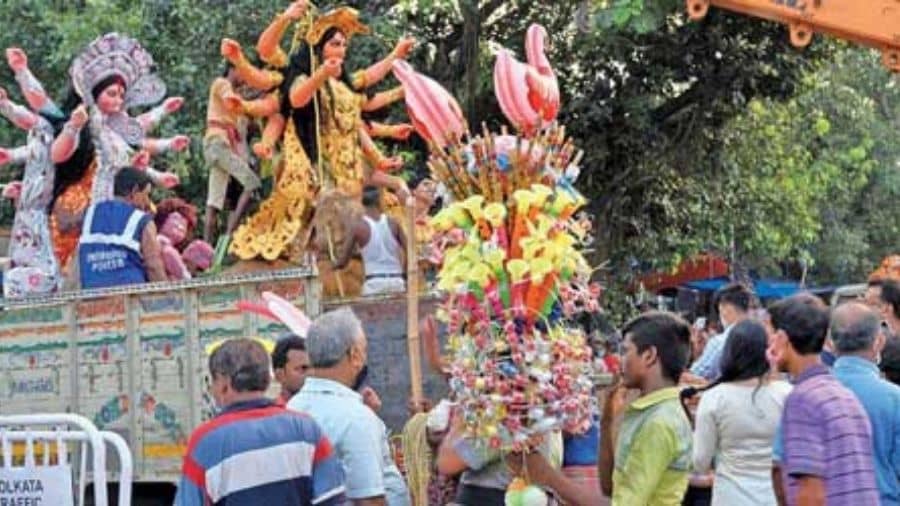 This year, business was steady, said Das. He sold stuff worth Rs 8,000-10,000 almost every day, from Chaturthi to Navami.
"Around a dozen women are employed at the production unit. A crippled business — like last year — means zero income for these women as well," said Das, who came to Kolkata on a train on Chaturthi and went back on Dashami afternoon.
He spent the nights in the courtyard of a house near the pandal.
Almost everyone The Telegraph interacted with had one thing in common. The rising prices of everything — from fuel to raw material — were eating into their savings. Therefore, the Puja earning was of utmost importance to them.
Laskar, who buys balloons and toys from Burrabazar, picked up stuff worth Rs 20,000 at the start of this month in two lots.
"I used to buy the same volume for Rs 15,000 a couple of years ago," he said.
Panchugopal Das, who sold conch shells outside the SB Park puja in Thakurpukur from Panchami to Navami, said the rising price of cooking gas hurt him the most.
"Paying close to Rs 1,000 for a cylinder is bleeding me," said the resident of Gangasagar, close to 100km from the heart of Kolkata.
Before hopping on to a bus on Dashami afternoon, Das bought a sari for his wife and a pair of new clothes for his son from a market in Thakurpukur.
"Last year, I could not buy new clothes for my family members. This time, the Puja season has at least allowed me to do that," said Das.