The South Dum Dum Municipality animal crematorium, situated in Pramodnagar in Dum Dum, has been declared open to the public from December 14. The electric crematorium was earlier inaugurated on December 2, 2020, but could not be made operational due to certain technical glitches, the authorities say.
Initiated by chief minister Mamata Banerjee, the animal crematorium has long been in the making after the foundation stone was laid in 2017.
On December 13, a trial run was undertaken by engineers from the Kolkata Metropolitan Developmental Authority (KMDA) and the municipality. The building has been constructed by the KMDA and all the security staff are being appointed by them as well. The day-to-day operations, however, will be run by the municipality.
Panchu Gopal Ray, chairman of the board of administrators, South Dum Dum Municipality, said: "If one comes with a pet's remains, he/she will be charged Rs 2,500 per cremation. But if one is here to cremate street dogs or any other animal that has died on the street, then that will be done completely free of cost. Also, if someone wants to cremate a couple of street dogs along with his own pet, then that will also be done free. The idea is to encourage people not to dump bodies of street animals but to take an initiative and bring them to the crematorium."
"We had a three-day trial run here before starting full operations on December 13. The building has been handed over to us by the KMDA. There are two ways to book a slot for creation. One you can get in touch with the municipality officials here. Or you can also go to the crematorium directly with your pet. The contact number is +91 7595096958. Last year it couldn't be made operational because something went wrong with the burners. It took a long time to get specialised technicians to come here and repair them. Finally, the machines are back in operation. Now things are in order and we are ready to start," said an engineer from the South Dum Dum Municipality, on condition of anonymity.
Situated near the dumping ground off Belgharia Expressway, the South Dum Dum Municipality Animal Crematorium has two electric furnaces with a trolley on the outside to carry the carcasses of animals. It can carry a maximum weight of about 500kg while the furnace coils can reach 800°C temperature. "We have spent Rs 4.5 lakh to build the crematorium. Some people have told me that the charges per cremation are quite high. But I cannot help it. Keeping the furnace ready and maintaining the whole place is a very expensive affair. We must recover costs," Ray pointed out.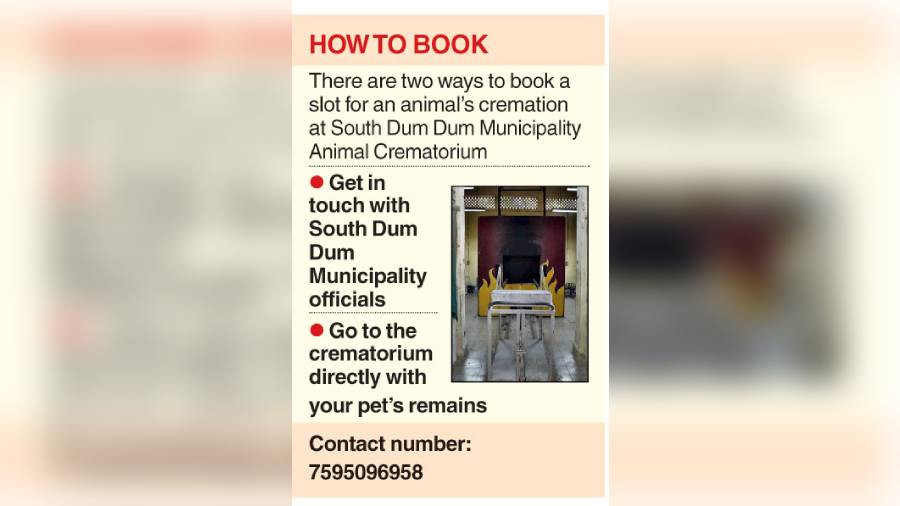 The furnace (inset)
Showli Chakraborty
Filthy ambience
New Town has a pet cemetery in Action Area III that is running out of space. So a crematorium is a need of the hour.
But if one happens to drive down to the place via Jessore Road along Dum Dum railway tracks, one will notice that the ambience around the crematorium is far from soothing. A pet owner pointed out that this was surprising as the state government is forever laying particular stress on beautification of the city and its suburbs. "The crematorium and its surroundings are full of filth and the very air stinks of rotten garbage. For someone who is grappling with the death of a beloved pet, this is bound to increase one's mental agony!" he said.
About 50 yards down the road, rag pickers and garbage collectors may be seen emptying their vans and burning garbage. This is chiefly because the place is surrounded by dumping grounds on all sides.
But beautification is off the cards, at least for now. "We have already spent enough money on the project and have no funds left. This place is meant for people to come and cremate their pets. We don't want to create an ambience where couples can come and spend time. Kukur porate eshe jodi manush mone kore ekhane prem kora jabe, bagane boshe badam khawa jabe tahole sheta hobe na. Pet crematorium is a utility service where one cremates a pet and goes home," he added.
When quizzed about what he intended to do to develop the surrounding slums and garbage dumps, Ray told The Telegraph Salt Lake: "The total area is 52 bighas. We are in the process of building a garbage recycling plant, a bio-gas plant and a holiday resort in the area. But that will take a minimum of three years' time. Hopefully, the ambience will change once the place is ready."