Two men were spotted leaving the Dum Dum house of the 62-year-old woman who died on Sunday after suffering a severe injury on her forehead, police said on Monday after scanning footage of CCTV cameras installed near the house.
Moon Moon Pal, 62, was found lying in a pool of blood in her Mordecai Lane home by neighbours and relatives, who rushed in after hearing her screams. She later died at a nursing home in Nagerbazar.
The police said they were trying to identify the two men who have been captured by CCTV cameras leaving the house moments before the victim was found critically injured.
A senior officer of the Barrackpore commissionerate said the preliminary post-mortem report mentioned that the injury on Pal's forehead was caused by a sharp object.
"Family members have said they suspect a gardener, who had been working in Pal's house for a few days, was involved in the incident. They have told us that two gold bangles which the victim would always wear were missing. Nothing else in the house seems to have been touched," the officer said.
The officer said they had obtained footage from CCTV cameras at two locations — one installed on a lamp post a few metres from the house and another at the crossing of Mordecai Lane and Dum Dum Road.
"The footage shows two men walking out of the house a few minutes before neighbours rushed in and found Pal lying in a pool of blood," the officer said.
Officers from Nagerbazar police station questioned till late on Sunday a man who received a call on the number provided by the gardener to the Pals.
The man has apparently told the police that he had lent the phone to the gardener out of compassion after he told him that he had been out of job for a long time and could not afford to buy a cell phone.
"We are verifying his statements," a senior officer of the commissionerate said.
Another officer said they had activated their sources based on the footage.
Monikonkon Pal, the elder daughter of the victim, reached the city from Pune, where she lives with her family, on Monday afternoon. She said her father Ashim Pal, a retired Indian Revenue Service officer, was at home when her mother was found injured, but he did not hear any noise as he was in a room upstairs.
"We have learnt that the gardener had been engaged a few days ago," the daughter said.
Monikuntala Pal, the couple's younger daughter, stays in Australia.
Tribute to the late president of Sri Sarada Math and Ramakrishna Sarada Mission Dakshineswar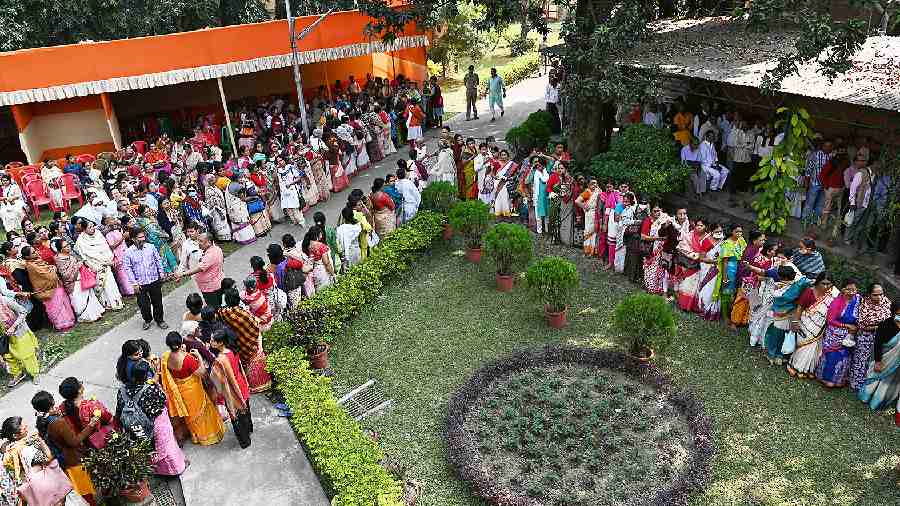 Bishwarup Dutta
Disciples wait at Sri Sarada Math and Ramakrishna Sarada Mission Dakshineswar on Monday to pay their respects to Pravrajika Bhaktiprana, fourth president of the Math and Mission, who passed away on Sunday night. She was 102.
"I pay my tributes to Pravrajika Bhaktiprana Mataji. She will always be remembered for her rich efforts to serve society through the Sri Sarada Math and Ramakrishna Sarada Mission. My thoughts are with all members of the Order and devotees. Om Shanti," Prime Minister Narendra Modi tweeted.
Chief minister Mamata Banerjee tweeted: "I bear a heavy heart upon hearing of the demise of revered Pravrajika Bhaktiprana Mataji, 4th President of Sri Sarada Math & Ramakrishna Sarada Mission. An incomparable loss for all the followers of the Order and the devotees at large... May she rest in everlasting peace."