Mounds of garbage on the streets of Dum Dum and Lake Town and stagnant pools of water by the roadside paint a picture of civic apathy even though three residents have died of mosquito-borne diseases.
On Saturday, a home guard posted at the Dum Dum police station died of dengue. A few days ago a 16-year-old resident of Motijheel died of the same disease.
Earlier last week, a 71-year-old resident of Dakshindari passed away at the Beleghata Infectious Diseases Hospital of malaria.
The South Dum Dum Municipality is in charge of providing civic services to these areas.
On Monday, Metro spotted piles of garbage on both sides of Bangur Avenue.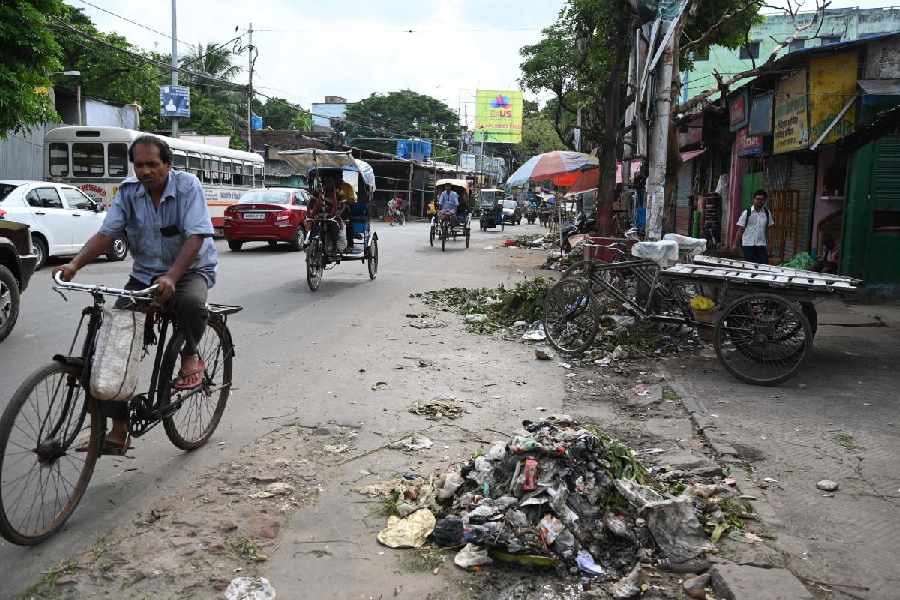 Mounds of garbage on Dum Dum Road, near Dum Dum Metro station on Monday
Gautam Bose
Mounds of garbage were spotted on the median divider of the road near the old Lake Town police station.
Mounds of waste were also found in several pockets of Block B in Lake Town. The piles of waste comprised small and big cups, plates and glasses, which could turn into mosquito-breeding sites once water accumulated in them.
The dengue-causing Aedes ageypti mosquito can breed in a coin-sized pool of water, according to public health experts.
Such piles of garbage were also spotted near Tetultala near the Kalindi Housing Estate.
Large tracts of the Jessore Road near the Patipukur rail bridge had stagnant pools of water on the sides where mosquitoes were spotted buzzing about.
More than 400 dengue cases have been recorded in areas falling under the 35 wards of the South Dum Dum Municipality according to figures released by the civic body.
However, these figures do not take into people who get tested at private hospitals, nursing homes, clinics and laboratories.
Residents of several areas in Dum Dum, including Motijheel, SK Deb Road, Madhugarh, Bediapara, Debendranagar said that several dengue cases have been reported from their localities.
Nagerbazar too is badly affected and many residents are down with dengue.
"Many residents in our neighbourhood are down with dengue. There are several empty plots in the area that have either turned into dumping grounds or have pools of stagnant water. Complaints to the municipality failed to yield any
results," said Debashis Ghosh, a resident of Nagerbazar.
Sanjay Das, the chairman council member who is in charge of health at the South Dum Dum Municipality, said that they were taking every measure to combat dengue and malaria.
"We are doing everything possible to counter dengue and malaria. We are spraying larvicide and have also released guppy fishes in water bodies and places where water has accumulated," said Das.