The students of International Institute of Hotel Management (IIHM) worshiped a Durga on campus who fought for as many as 17 objectives with her 10 hands.
The Puja was inspired by the United Nations' 17 global goals for sustainable development. "The city has seen so many themes down the years in pandals but this is the first time that this is being celebrated as a theme," said Sanjukta Bose, director of IIHM.
"Generally people take climate change, avoiding plastic, going green, clean air or the like as goals to pursue for a better tomorrow. But the 17 sustainable goals spelt out by the United Nations are much more than that. They embrace the entire planet. Sustainable food is a part of that vision as is zero poverty and no hunger. That is why 2023 has been declared by the United National General Assembly to be the year of millets as it is the most sustainable foodgrain. Again, gender equality is as important as physical environment. They encompass both Life Below Water and Life On Land. When we are celebrating sustainability through our biggest festival, we are celebrating all the 17 goals which are not known to everyone. Our aim is to make Durga puja a platform to let everyone know about these goals," said Suborno Bose, founder and chief mentor of IIHM.
The puja was held following all rituals by the book. While the idol was a traditional one, the 17 goals were spelt out on the chalchitra (pictorial backdrop).
First year students had created models on the sustainable goals which were exhibited adjacent to the idol. They had been encouraged to reuse throwaway material. Nandini Sinha, Siddhant Sharma and Srish Pramanik had created one on solar energy, using wool as sun rays.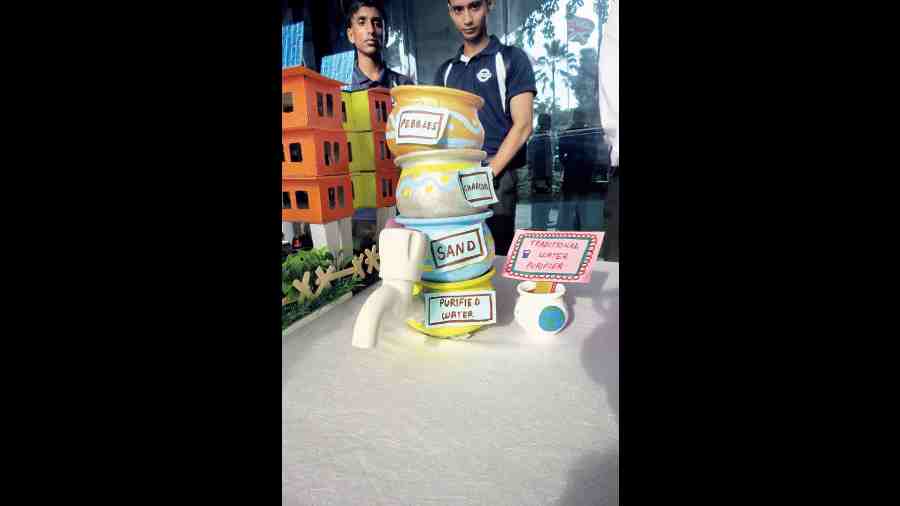 Arnab Banerjee and Jasmine Devi had chosen to highlight ocean pollution, drawing from the goal, Life under Water. They had used cotton to create algae and thermocol blocks to make rocks. One chamber of their ocean had polluted water, greenish in colour, while another contained deep blue, fresh water. "Some of the materials like corals I took from a defunct aquarium at home," Arnab said.
Another model on Save water, save life, by Vikas Yadav and Surbhi Jaiswal, showed how waste water from factories was being purified and reused in household uses like car cleaning and in toilets.
"We have chosen five goals and are working on them on the ground as well," Sanjukta Bose said. A zero hunger drive was undertaken by which a week's ration was distributed among 100 underprivileged families. Students were encouraged to work in the community, post pictures of what they were doing and involve friends. Mosquito nets and repellents were distributed in nearby slums to counter the ongoing threat of dengue to promote the goal of good health and well-being.
The hotel management institute also held a sustainable food festival. "The students came up with novel items like tart with tea leaves, a soup with the white rind of a watermelon that is usually thrown away, and other dishes using skins of vegetables," she added. There were plans to hold awareness camps on sustainable development goals in several schools.