More than half the total load of PM 2.5, a deadly air pollutant, in Bengal's air comes from beyond its border, according to a study by IIT Delhi.
PM 2.5 are ultrafine particles that can enter deep inside the lungs and cause a range of critical diseases, including cancer.
"About 51 per cent of the overall pollutant load (of PM 2.5) in the state comes from beyond its border, including 21 per cent from Bangladesh. We are working on the contribution of transboundary pollutants in Kolkata," Kalyan Rudra, chairman of the state pollution control board, said on Tuesday evening.
The IIT study, whose figures Rudra quoted, was commissioned by the board.
"Through modeling analysis we have found so far that a major part of the PM 2.5 entering Bengal has been coming from the Indo-Gangetic plains, particularly Uttar Pradesh, Bihar and Jharkhand, followed by Bangladesh," said Sagnik De, of IIT Delhi, who led the study.
Earlier in the day, Rudra formally inaugurated a network of 70 sensor-based air quality and noise monitoring machines installed across Bengal, including Kolkata.
The IIT team used data from the machines, which started functioning a few weeks ago, and other sources to assess the contribution of transboundary pollutants to Bengal's air pollution.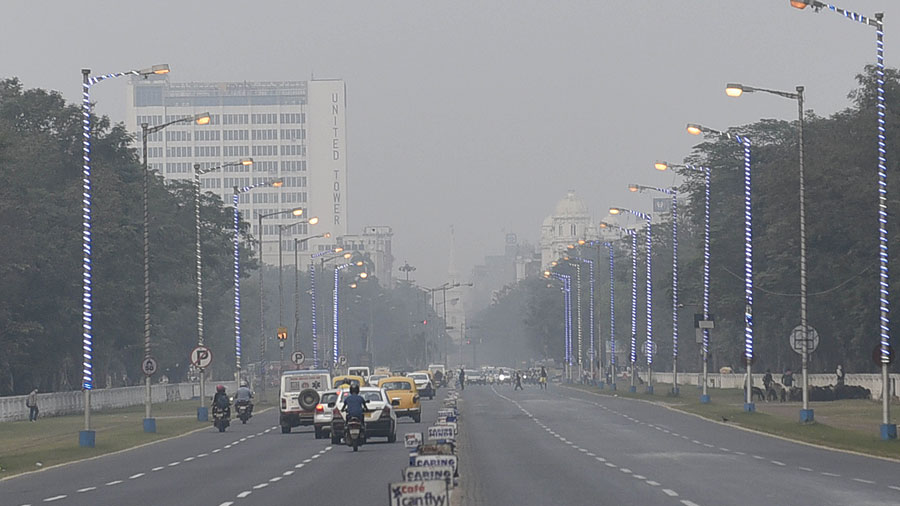 Fog over Red Road on Tuesday evening.
Bishwarup Dutta
The machines automatically measure around the clock the levels of PM 10, PM 2.5, sulphur dioxide and nitrogen oxides, as well as temperature, relative humidity, wind speed and noise pollution. The figures are displayed 24 hours, said PCB sources.
Rudra said another 80 such sensors will be installed soon. Once they are functional, he said, Bengal's air pollution measuring network will be the most extensive in the country. These machines are in addition to the existing network of 14 automatic and 79 manually operated air pollution measuring stations.
Rudra and police commissioner Somen Mitra distributed gas cylinders and ovens to nearly 50 people who run roadside eateries and ironing units. They were running their units with coal or wood-lit fire, which is a major source of air pollution.
"Climate change and global warming are posing an enormous challenge and Kolkata is no exception," Mitra said.
"We have geo-tagged the cylinders to ascertain whether they are being used properly," said a PCB official.