West Bengal's maternal mortality ratio is above 100 per 100,000 live births, compared with the national average of 97, according to the latest figures (2018-20) published by the Registrar General of India on Tuesday.
The state's maternal mortality ratio had dropped to 94 and 98 in the 2015-17 and 2016-18 figures, respectively, said a health department official.
It increased to 109 in the next sample registration system (2017-19).
In the latest findings — 2018-20 — the state's maternal mortality ratio was found to be 103, an improvement from the last figures but still some way to go to match the levels achieved towards the middle of the last decade.
An official of the state health department admitted that there were some problem areas.
"Caesarean deliveries in West Bengal account for 40 per cent of all deliveries. Ideally, it should be less than 20 per cent. Caesarean deliveries tend to create more complications. We are trying to reduce the number of Caesarean deliveries," said the official.
West Bengal, the official said, is the eighth-best state in India when it comes to reducing maternal mortality. "Our maternal mortality rate had reached 109 per 100,000 live births. It has since come down to 103. We have been able to arrest the decline and start a reversal. We are taking several measures to bring it down further. There are some problem areas and we are addressing them," the official said.
Doctors and government officials said late referral of critical cases to specialty hospitals was one reason for the death of mothers, especially in rural areas. Bleeding before and after delivery often turns critical.
In rural areas, there is often inadequate infrastructure in the hospitals to deal with such cases. A mother who is referred to a speciality hospital in such a situation may die before reaching the hospital.
An official stressed the need to prevent delay at three levels — in detecting a complication during pregnancy, in referring a critical case to a better hospital and in attending to a pregnant woman after she reaches a better hospital.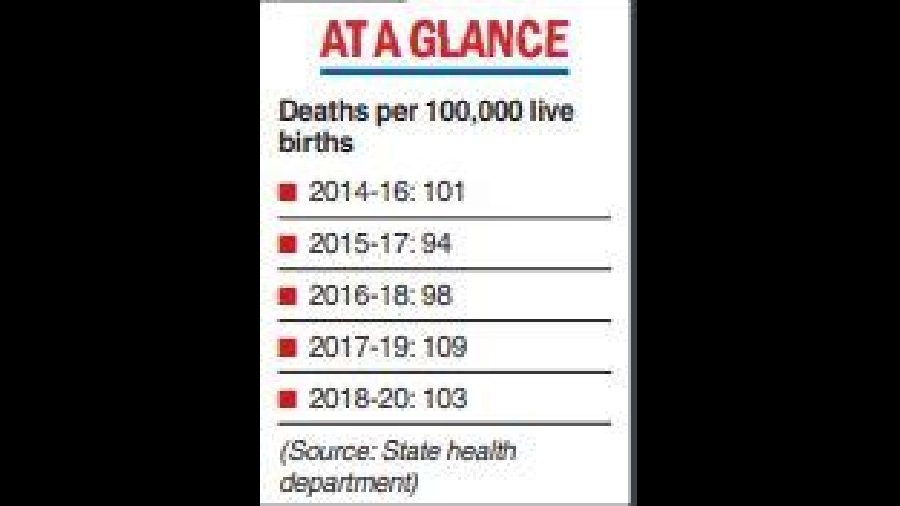 High blood sugar levels and hypertension need to be monitored closely, doctors said.
People from disadvantaged and poor backgrounds often neglect these factors and do not undergo regular ante-natal check-ups, which can help keep these conditions under control.
Field workers of the health department are supposed to identify and counsel such mothers.
Repeat pregnancy within three years of the previous one and anaemic mothers need to be monitored closely.
The bulletin published on Tuesday mentioned that "maternal mortality in a region is a measure of the reproductive health of women in the area".
The bulletin added that"many women in reproductive age-span die due to complications during and following pregnancy and childbirth or abortion".
The issue of maternal mortality has been bothering the state government for sometime. Chief minister Mamata Banerjee had recently lambasted health officials for the increasing trend of referring patients, even pregnant women, to hospitals in Kolkata and directed a review of all referral cases.
"You should prepare a report on how many pregnant women have been referred from the districts and how many lost their lives because of referrals," said the chief minister.