What was supposed to have been light to moderate rain from Tuesday turned out to be a spell of nearly heavy rain across the city on Monday itself.
Cyclone Asani started impacting Kolkata a day before the Met office had predicted. Clouds from the outer band of the system drifted towards coastal West Bengal, triggering widespread rain in Kolkata and several other districts on Monday morning, Met officials said.
In Kolkata, the rain started around 7.30am. According to the pumping stations of Kolkata Municipal Corporation, Topsia received around 65mm of rain till noon, Palmer Bazar got 48mm, Ultadanga 50mm, Patuli 38mm and Dhapa got 54mm. Ballygunge and Mominpore received close to 50mm of rain.
The Met office recorded 58mm of rain in Alipore and 61mm in Salt Lake till around 5pm.
In Met parlance, 60mm or more rain in 24 hours qualifies as heavy.
Similar spells are likely in the city over the next three days, said Met officials.
The official forecast said "heavy rain was likely in Howrah, Purba Medinipur, North and South 24-Parganas and Nadia between May 10 and 12".
On Monday, the sky became dark by 8am. Some areas infamous for waterlogging went through the ordeal but briefly.
Fortunately, the water level in the Hooghly even at the peak of high tide on Monday morning was not high enough to warrant closure of the gates of the drainage channels and the water receded quickly, said officials of the drainage section of the civic body.
Asked about the forecast of rain from Tuesday, Das on Monday said: "A cyclone is a dynamic system. There is always a margin of error. The impact started 24 hours earlier than expected."
Asani, which had turned into a severe cyclonic storm by Sunday evening, remained so on Monday. It is expected to keep surging ahead as a severe cyclonic storm for the next 24 hours, according to a Met bulletin.
Strong southeasterly winds that are part of Cyclone Asani pushed the clouds towards coastal Bengal, said a Met official.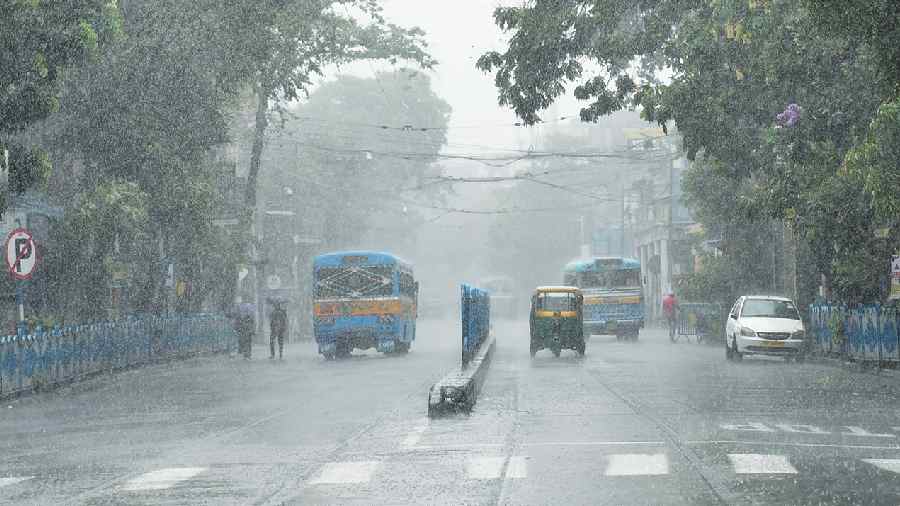 MG Road during heavy rain on Monday morning.
Bishwarup Dutta
"The clouds of the outer band of Asani rode strong southeasterly winds at the right forward sector of the system to drift away. Some of the clouds reached Kolkata. Some of them were headed towards Myanmar and Bangladesh. These clouds were behind the rain in Kolkata and neighbouring districts," said G.K. Das, director, India Meteorological Department, Kolkata.
Around 5.30pm on Monday, Asani was a severe cyclonic storm over westcentral and adjoining south Bay of Bengal. It had moved at 12kmph for the previous six hours and was 390km from Visakhapatnam (Andhra Pradesh) and 580km from Puri (Odisha), said a Met bulletin.
"It is very likely to move northwestwards till May 10 and reach westcentral and adjoining northwest Bay of Bengal off North Andhra Pradesh and Odisha coasts. Thereafter, it  is very likely to recurve north-northeastwards and move towards northwest Bay of Bengal off Odisha coast. It is likely to weaken gradually into a cyclonic storm during the next 24 hours," said the Met bulletin.
The storm is likely to start losing steam after May 10. By the time it comes close to the Bengal coast, on May 12, it is expected to have lost much of its strength. "The storm is likely to be a depression or low-pressure area by then," said a Met official.
Dry winds from northwestern India flowing into the system's core and a strong and vertical wind shear are likely to weaken Asani.
Eventually, the weakened system is likely to move towards Bangladesh along the coast, said Das.