Roads in several parts of Kolkata are in a poor state and the current spell of rain is likely to worsen their condition, residents fear.
The authorities said they had done some patchwork repairs and would do more whenever they got a window of dry spell. 
On Sunday, The Telegraph spotted poor roads across the city — stretches of EM Bypass, Southern Avenue and Sadananda Road (near the Rashbehari Avenue crossing), at the Hastings crossing and the stretch of Diamond Harbour Road between its intersection with Burdwan Road and Mominpur.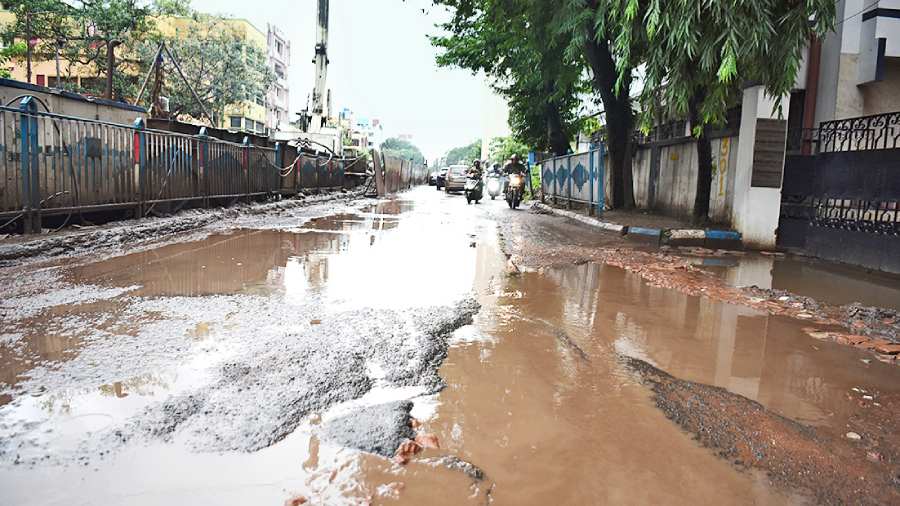 A crater-filled stretch of Diamond Harbour Road
A police officer said potholes had developed on SP Mukherjee Road and Deshapran Sashmal Road. Stretches of Tollygunge Circular Road, too, were found broken.
Stretches of Diamond Harbour Road looked more like a water body than an artery. The potholes and depressions were so large that after Sunday's rain, only a small portion of the road was visible. The rest was under water.
Motorists were wary of driving through the portions where the road was invisible because of the fear that the potholes could be deep and could cause damage to their vehicles. Drivers swerved and tried to stay on the surface that could be seen. A police officer said the poor road condition triggered long snarls every day, especially during rush hours, as drivers have no option but to slow down.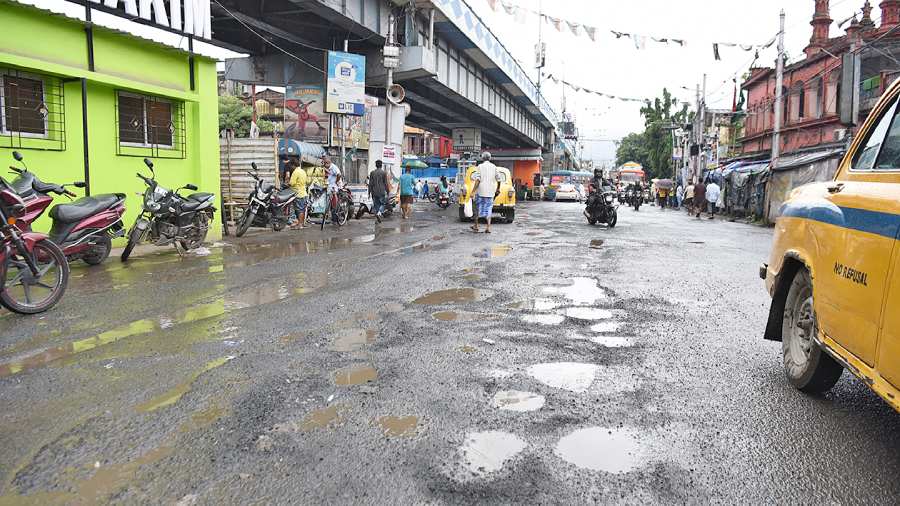 Potholes on a road near the Kidderpore crossing
Pictures by Gautam Bose
Amitabha Sengupta, engineer-in-chief of the PWD, which maintains the road, said: "I will try to ensure temporary restoration of the road surface." A stretch of Karl Marx Sarani, under the new Kidderpore flyover, is in a battered condition. Only a single lane is free of potholes and most vehicles move through it, leading to snarls.
The same is the condition of Southern Avenue, though very few buses and other heavy vehicles ply through it. The stretches in front of Lake Kalibari and near Tollygunge and Golpark are broken. "Between the Rabindra Sarobar crossing and Golpark, there are broken stretches almost every 150 or 200 metres," said a  man who lives along the road.
Avijit Mukherjee, mayoral council member of the Kolkata Municipal Corporation in charge of roads, said the civic body had completed temporary repairs on some roads. "This is a continuous process. Whenever we get a dry spell, we will resume temporary repairs," he said.
As for the Bypass, a KMDA engineer said: "We undertook some repairs last week. We are waiting for a dry spell."