The message for students and teachers from Saturday's awards show was the importance of asking questions and encouraging them in class.
The host, Barry O'Brien, told an auditorium full of teachers, principals and members of school management they were infamous for saying "Quiet, quiet, sit down, not now..."
"We as adults we need to stop filling their vessels with our own thoughts and ideas and start kindling a curiosity, a curiosity that will lead to a fire, a fire of knowledge, creativity and most importantly compassion."
To the children, teenagers and young adults, O'Brien said: "Don't hesitate to ask questions,  politely and at the right time."
It is the theme that came back throughout the programme and at the very end when ABP group chief executive officer Dhruba Mukherjee underlined how this curiosity has also been the driving force for the ABP Group for 100 years.
"It is curiosity which puts us in this never-ending quest to search for what we do not know and to challenge what we know. It helps us to kind of look for answers to questions... and at the same time scrutinise the answers facing us," said Mukherjee.
The desire to know, curiosity, has been the driving force in the lives of many of these individuals who went up on stage on Saturday.
Avaneeka Biswas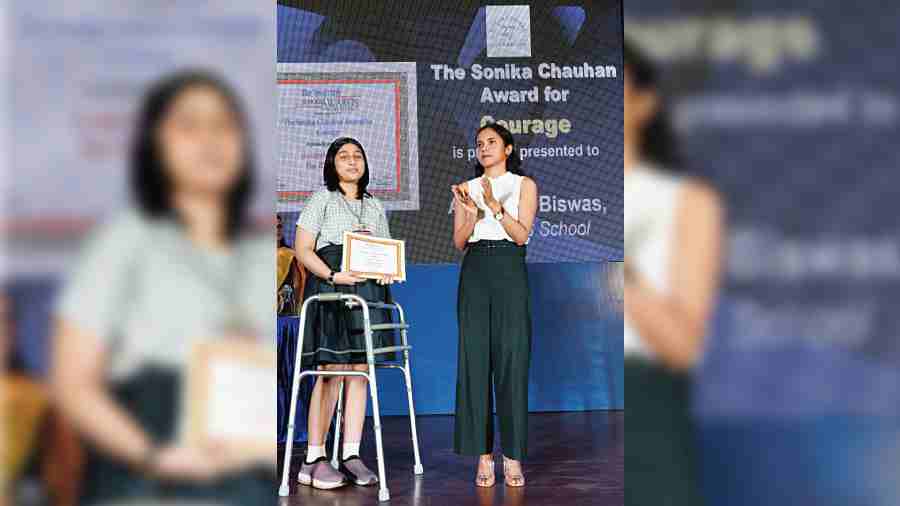 Avaneeka Biswas, who received The Sonika Chauhan Award for Courage from Sonika's friend Akshita Nigam (right).
A photographer was in tears as an 11-year-old went up to the stage with the help of a walker.
The photographer was a father who was kneeling down to take a photograph, trying to be stoic, as he remembered his wife who died in a road accident while the family was travelling in a car to Tamluk.
Gaurav Biswas was driving the car and while he could be "extricated" by local people his daughter Avaneeka and wife were still stuck.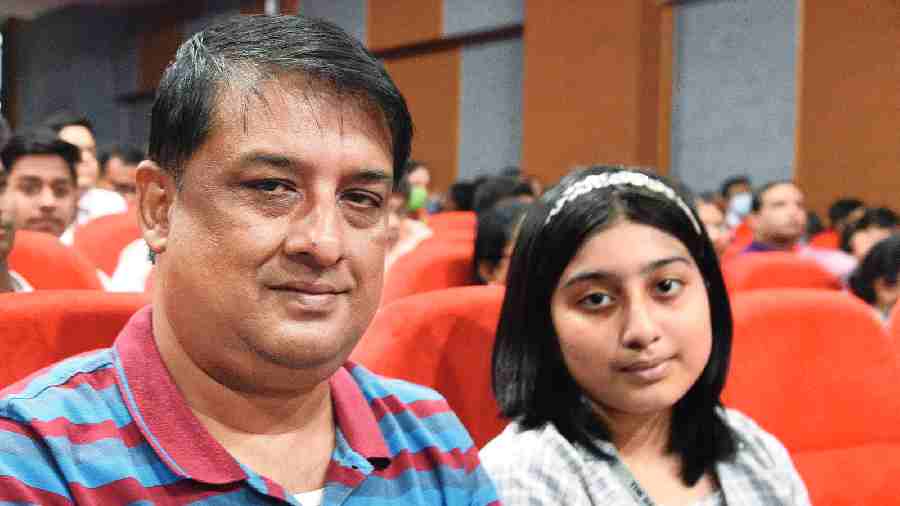 Avaneeka with her father Gaurav Biswas at the St. James' School auditorium on Saturday
Even in that crisis, as her mother lay lifeless, the curious mind of an 11-year-old remembered her uncle's number. The BSS School student borrowed a phone from the rescuers and called up her uncle to tell them their condition.
After three surgeries, she is still battling injuries. She needs support to walk.
Avaneeka received The Sonika Chauhan Award for Courage.
Srishti Mondal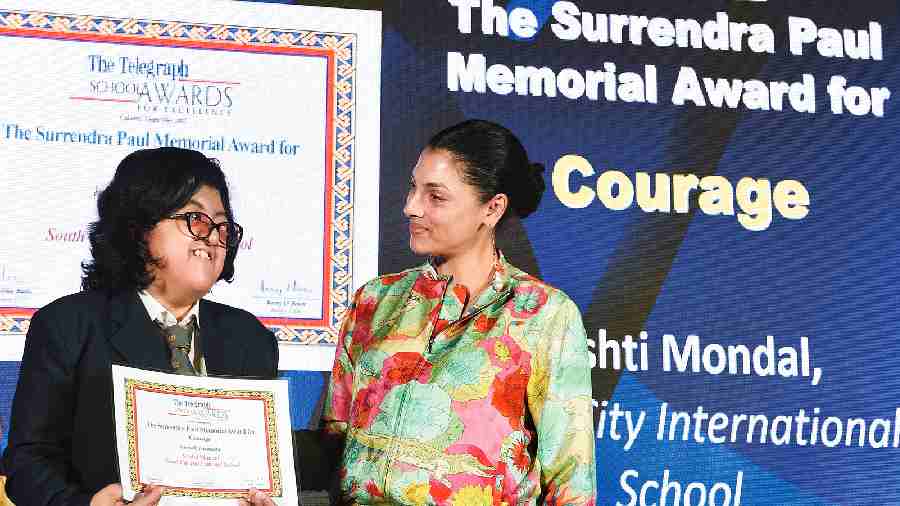 Srishti Mondal receives The Surrendra Paul Memorial Award for Courage from Indrani Dasgupta Paul, trustee, Apeejay Schools.
A Class XII student's webbed fingers in both hands, no interphalangeal joints and Apert Syndrome that has created problems in breathing, eating and speech, did not stop her curiosity to redirect her life, on her own.
Srishti Mondal's webbed fingers were partly corrected with the help of surgery and she decided to write on her own, play the synthesizer and the harmonium.
She refused a scribe for the ICSE examination because she "loves to write", her mother Piyali Das said.
Srishti scored 86 per cent in ICSE and chose to pursue science from South City International School.
"I told her that it would require more use of her hands and fingers in practical classes and so she could not take up science. But she said she wanted to do it on her own," said her mother.
Srishti received The Surrendra Paul Memorial Award for Courage from Indrani Dasgupta Paul, trustee, Apeejay Schools.
Swagata Saha
A couple, who earn their living by selling milk, has planted the seed of curiosity in their daughter's mind.Abhay and Apu Saha could not buy new clothes for her daughter as other parents do, could not take her to restaurants or movie, but they have nurtgered her curiosity.A curiosity that has helped the student of Jadavpur Vidyapith, Swagata Saha, to score 94.6 per cent in the humanities stream. O'Brien's message was not lost on all parents."Today it seems that all that we did for so many years stands validated," said father Abhay Saha. Swagata received The Telegraph Education Foundation Scholarship.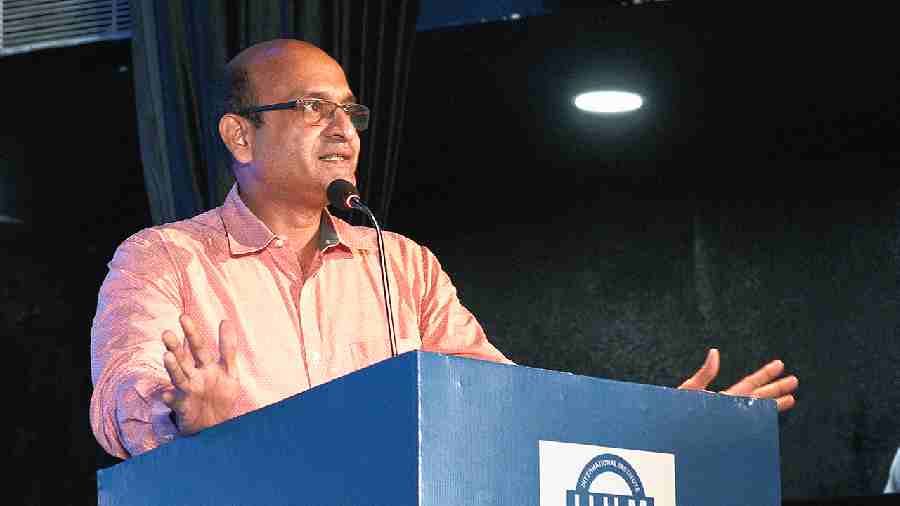 Dhruba Mukherjee, ABP group chief executive officer, speaks at the programme
Aloka Tudu
The Class XI student can barely meet her father. It happens only when he is in parole.
He is in a correctional home serving a sentence. But that has not stopped Aloka Tudu, a Class XI student at Rajhat High school, from pursuing her studies and her mother earning their bread as a daily wage labourer.
Aloka, is a first generation learner from Santhal tribe and she received The Purushottam Bhagchandka School Scholarship, instituted by Lakhi Parmatma Charitable Trust.
O'Brien offered the mother and daughter to stay in a safe environment in Tollygunge Homes, administered by East India Charitable Trust.
Subal Chandra Laha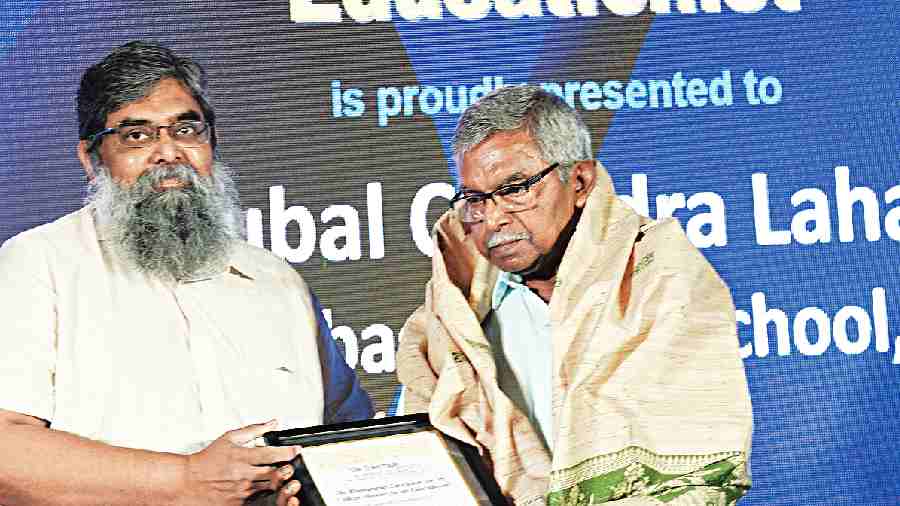 Subal Chandra Laha, who received The Bhawanipur Education Society College Honour for an Educationist
The mastermoshai in a village in Bankura stoked the curiosity of children by going from house to house urging them to come to school and ask questions.
The teacher of Nabasan High School in Bankura became the "driving force" for the children in Nabasan, because he would drive all children to classrooms from different corners of the village.
Laha was born in a poor family of farmers in 1943 and despite the financial struggle he ranked third in college. He got a job in Durgapur Steel Plant but left the lure of a good job and came to his village.
"I feel humbled after coming here and looking at the achievements of the young girls and boys," said Laha.
He received The Bhawanipur Education Society College Honour for an Educationist.