Keeping the upcoming festive season in mind, green activists and volunteers of Sabuj Mancha on Thursday handed over their 11-point charter of demands to the senior officials of the state pollution control board seeking action to curb noise pollution. They laid emphasis on DJ music and firecrackers.
Despite mentioning the steps taken so far, the PCB officials admitted that violation of rules was rampant.
The activists, who came from across Bengal, narrated several incidents in their respective areas and alleged that the police hardly acted against the offenders.
"We repeatedly informed the local police station about violations but in most cases, no effective action was taken," alleged Goutam Sarkar, a noise activist from Hooghly.
'Inactive' police
"Though there's a standing norm about using sound limiters in microphones, the rule is hardly followed and police remain a mute spectator to such offences," alleged Naba Dutta, secretary of Sabuj Mancha.
"Even in a few cases where they intervene, policemen try to mediate and reduce the noise level rather than acting against the violators," alleged a green activist.
According to the Noise Rules, 2000, police must act against the violators with the active participation of the PCB.
"We have sent advisories to all superintendents of police and the commissionerate," said PCB chairman Kalyan Rudra while admitting that the DJ music was a major cause of concern in several areas.
"We have also made it mandatory for all puja committees to give declarations on maintaining noise norms failing which they are not supposed to get permissions," said PCB member secretary Rajesh Kumar.
Kumar also said they have asked the police to make sure that the vendors supplying microphones and loudspeakers follow the noise norms.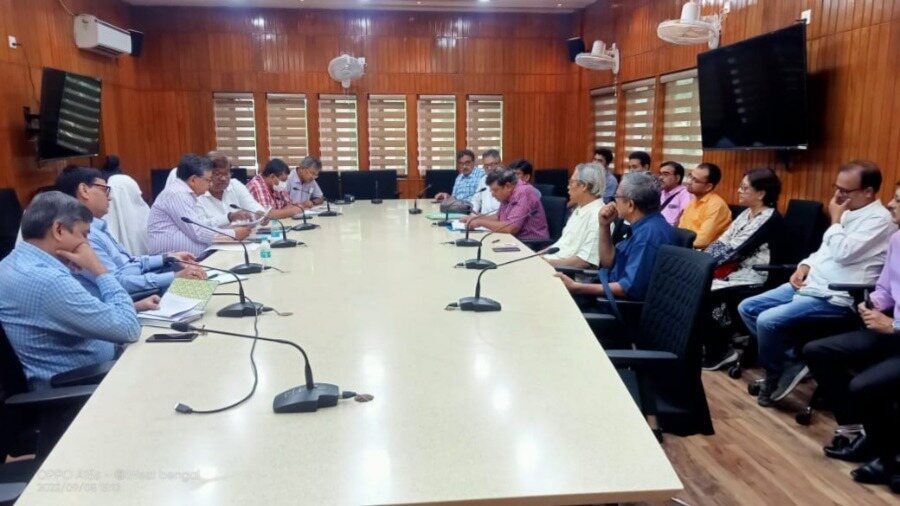 Green activists of Sabuj Mancha and the senior officials of the state pollution control board at the meeting held on Thursday.
The Plurals
The DJ menace
"There may be several directives but the ground reality is completely different. There should be clear directives and communication from the PCB and environment ministry about banning DJ music and mandatory use of sound limiters," demanded Datta.
"Regarding DJs, we shall soon issue a comprehensive direction in accordance with judicial directives and also see with respect to our earlier orders how sound limiters can be made mandatory," added Rudra.
"It's difficult as there are around 25,000 people in the state who supply such gadgets but we are trying to find a way out," observed Kumar.
Fireworks fracas
Activists also demanded strict action against all firework units, excluding those manufacturing green fireworks.
A senior PCB official said it's actually difficult to have green fireworks as all fireworks have some polluting properties.
An activist claimed that even if green fireworks arrive here from other states or are manufactured here, they need to be tested in Kolkata for the noise level.
Fireworks need to comply with the government directive and judicial order.
"We are compiling a list of firework units operating in the state, and so far have not given consent to any unit to manufacture green fireworks in the state," informed Subrata Ghosh, chief engineer.
Sasanka Dev from Sabuj Mancha presented the 11-point demands which are as follows:
Implement standing Govt Notification and High Court orders and fix accountability
Close down illegal firework units and stop trans-border movement of illegal fireworks
Pass a strict and categorical order about blanket banning DJ music system in the open
Need strong regulatory action from police and PCB
Make noise pollution control mandatory in all permissions
Zero tolerance for noise norms violation beyond hours
Ensure Docket number and Action Taken Report on each complaint
Test green fireworks for both constituents and noise level
Take actions against air horns
Ensure noise norms in ceremonial houses
Constitute joint monitoring teams with civil society