Many deep potholes have turned some of Sector V's roads dangerous for motorists and pedestrians.
Sector V has a road network of around 25km, including arteries like Sector V Main Road, Ring Road in front of Godrej Waterside and the roads inside various blocks of the tech township.
The Telegraph drove around Sector V on Wednesday and spotted giant potholes dotting almost every major thoroughfare.
At the intersection near Wipro — one of the township's busiest crossings — motorists are greeted by multiple craters.
Some of the craters are as wide as the entire flank of the road that leads to the College More crossing.
A little ahead, small craters dot the road in front of Techno India College.
At the College More intersection, there are various undulations on the road where the surface dips suddenly, taking motorists by surprise.
At least four large craters have been filled with rubble and rubbish to reduce their depth.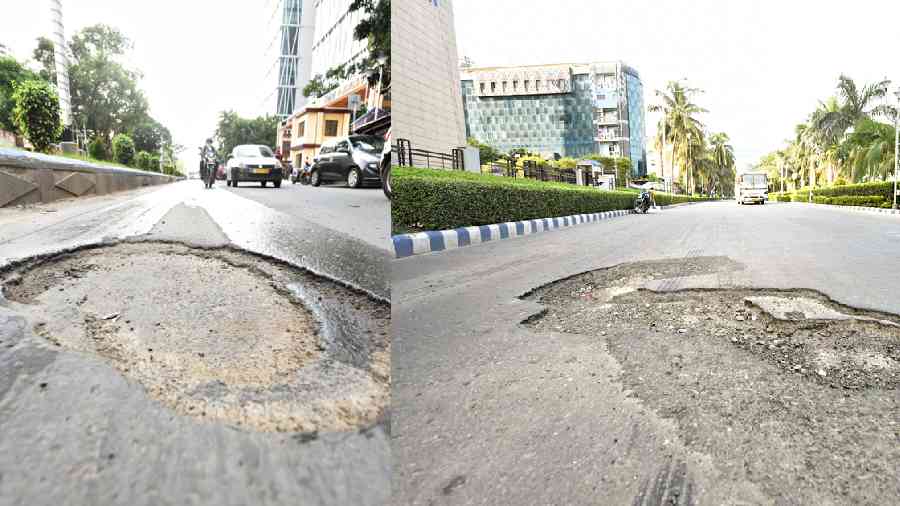 Cratered stretches in front of Webel and (right) on Ring Road, in front of Godrej Waterside, in Sector V on Wednesday
A traffic policeman posted at the crossing said that they had requested the Sector V authorities to level the craters out because of the risk they were posing to commuters.
The situation is worse on Sector V's Ring Road in front of Godrej Waterside, where the entire road surface has chipped off exposing the red brickwork underneath the blacktop.
Suprakash Chakraborty, who works in a Sector V IT firm and drives to work daily, said that on Monday, the axle of his hatchback broke after his vehicle landed in a pothole.
"I was returning home at night and could not gauge the depth of the pothole. As the front wheel of the car hit the edge of the pothole, there was a loud noise after which the car stopped," he said.
A senior NDITA official said that at the crossing near Wipro, rainwater from the elevated Corridor of the East-West Metro line had weakened the blacktop because of which the potholes had formed.
"We have already commissioned repairs and they are scheduled to start from next week," the official said.
Every day, more than 30,000 vehicles enter and leave the tech township, an official of the Sector V traffic guard said.