The West Bengal State Handicrafts Expo is back at Eco Park Gate no. 1 with its array of hand-crafted decorative items and wearables. The opening took place on Friday.
"There are over 5,500 crafts people from various districts of West Bengal who have already taken up space in the pavilions we have built in the ground diagonally opposite to the parking lot," said an official of the micro, small and medium enterprises (MSME), and textiles department before the inauguration. 
The mood is upbeat and expectations are high. "We had enjoyed bumper sales in last year's edition. Usually we host six state-level fairs and numerous local level fairs every year. Sales also take place at the urban haats round the year. But because of the pandemic, nothing could be done the year before and the 2021 edition was the first big fair that we could hold. Customers gave so much support that we registered sales worth Rs 58 crore, that too by conservative estimates. The actual figure might have been as high as Rs 80 crore," said another official, adding that average sales recorded in the pre-pandemic years would hover around Rs 35-40 crore.
With the department minister Chandranath Sinha being late to arrive, his senior colleague finance minister Chandrima Bhattacharya went ahead with the inauguration. "Some people criticise our support to fairs. But they fail to realise and appreciate how crucially they contribute to employment generation. West Bengal is leading in the MSME sector. We are also giving pension to retired craftsmen," she said.
Director and member secretary of the West Bengal State Export Promotion Society Debjani Datta pointed out that other than holding fairs to provide a sales platform, the department organized workshops for capacity building of craftspeople. "We have given identity cards to over five lakh craftspeople. Last year, 3,175 retired ones drew pension from us," she added.
Bidhannagar mayor Krishna Chakraborty, minister of state of the department Tajmul Hossain and Uluberia East MLA and former footballer Bidesh Bose also attended the inauguration.
The fair will continue till December 18. Entry, from 1pm to 8.30pm, is free.
The Telegraph Salt Lake takes a tour of the fair ground on the inaugural day. Here's what caught out eye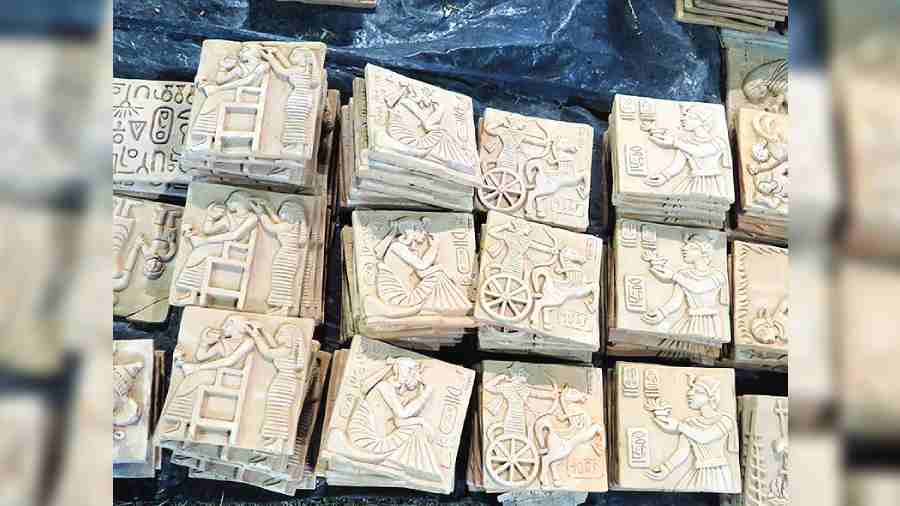 Terracotta tiles: The tiles, measuring six inches by six inches, are inspired by paintings of Jamini Roy and Rabindranath Tagore's linocuts in Sahaj Path. "These sell the most," said Susanta Kumar Ray from Sonarpur. He has also added another line to his product range. Curiously, there are some tiles depicting Egyptian royalty. A Pharaoh riding a chariot, holding a bowl of fire, getting his headgear fixed… all of that are topics for the tiles to depict. "I saw these pictures on the Internet and deemed them ideally suited for my tiles. Many customers are liking them," he said.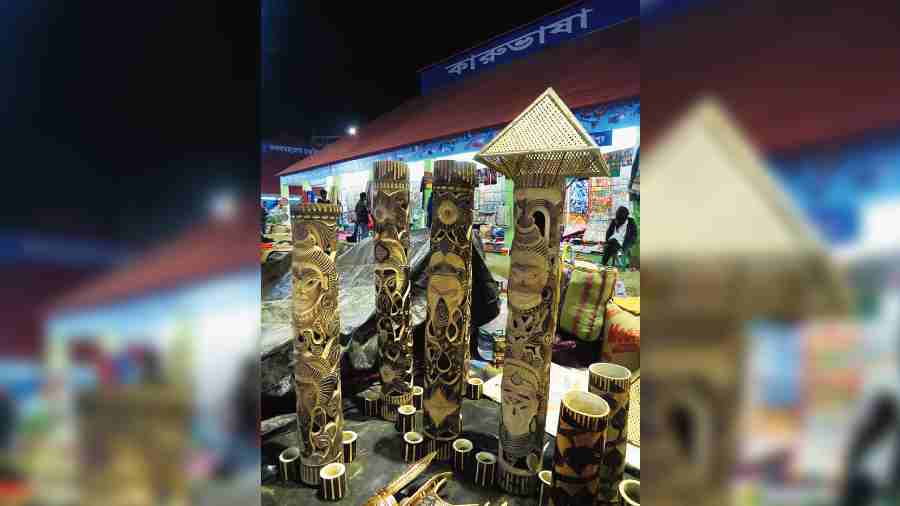 Bamboo lampshades: These bamboo poles are so thick and so tall that the lampshades they make are not fit to be put on the centre table in the drawing room. Standing at a height of over three feet, the lamp shades are carved out of the tolla variety of bamboo, found in Assam. "Those bamboo poles are very tall. We can make 10-12 pieces of lampshades with one. The bamboo is first heated in piped gas fire to get a burnt surface. The carving is then done of the desired design, be it tribal faces or floral designs," said Bubai Baishya from South Dinajpur.
The lampshades cost Rs 2000. He also sells the much smaller flower stands at Rs 150 and tribal masks at Rs 300 a pair using the same principle.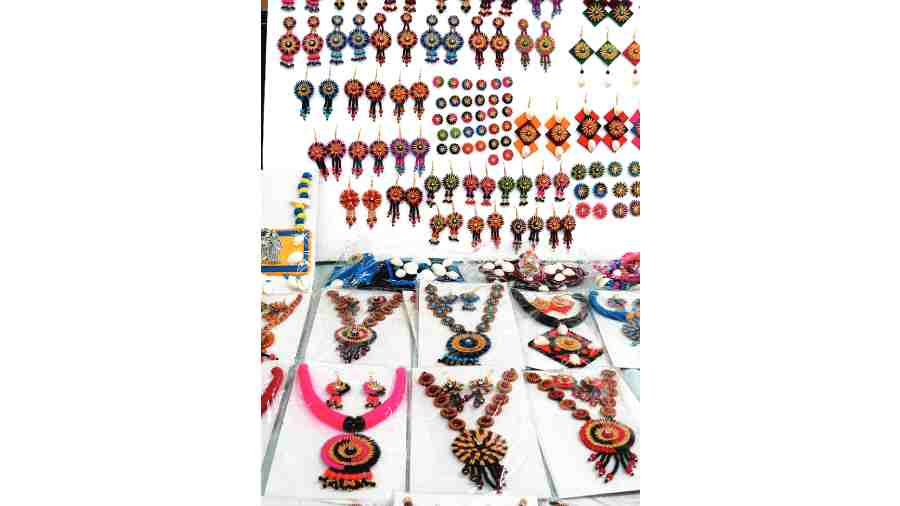 Paddy jewellery: Precise and colourful, paddy grains have found a new use in the hands of Shyamali Mondal of Birbhum. Some she leaves in the natural golden yellow state but the rest she paints grain by grain. "I have been making statuettes using paddy of the Gobindobhog variety for 26 years now. I had even got an award from the department for creating a Kali statuette using paddy grains," she says. It is about 11 years now that she has focused on jewellery. A set of necklace and two earrings costs Rs 150 to Rs 250. Only earrings cost Rs 20 to 100.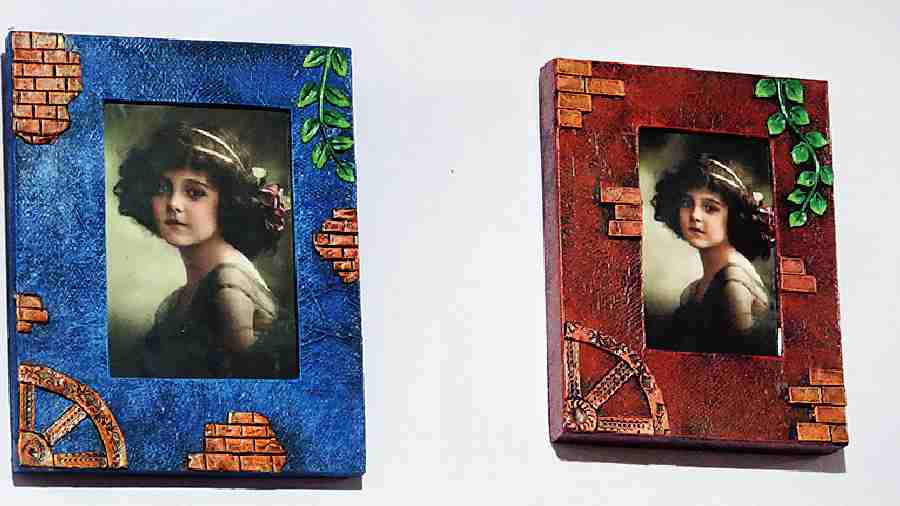 Photo frames: Frame of wood on masonite boards have created photo frames that look smart and pleasing. On the wood, pieces of clay have been stuck, shaped like a section of a brick wall, a leaf or section of the Konarak wheel. Raju Das of Birati charges Rs 220 for frames for frames sized 6x8 inches and Rs 200 for 4x6 inches. He also makes lampshades and bases of clocks with the same materials.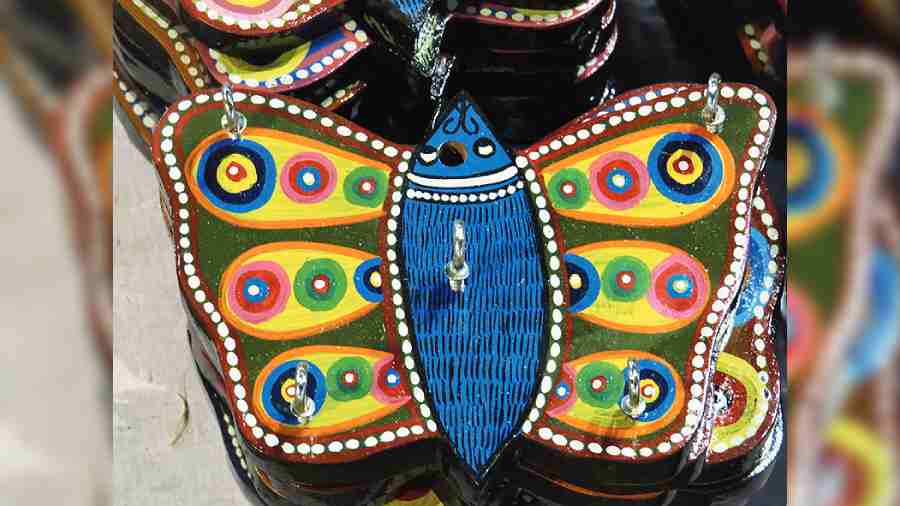 Key hanger: Brightly painted fish or guitar or ??? could add a dash of colour to the wall next to your door by holding up the vital keys in your household. Sanjoy Chitrakar of Pingla, West Midnapore, started bringing those to fairs since last year. "I was unsure of response so I had brought only a few. But on seeing them getting sold out so fast, I have brought more pieces this year," he said. "Earlier, we used to paint only patachitra. But with changing times, we are having to think and diversify," added the young artiste.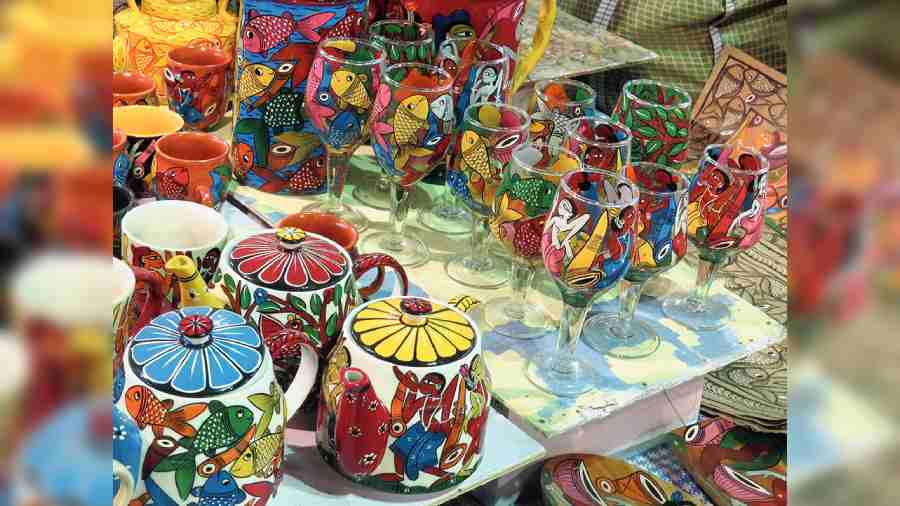 Painted glasses, tea pots and cups: There are several craftspeople sitting with hand-painted drinking artifacts in the open air but Champa Chitrakar's work cuts through the clutter due to finesse of the strokes. "I have come first in a contest held by the department," the lady from Pingla, West Midnapore proudly informs on being complimented for her work. Her stock is the fruit of labour of over five months.