The booster dose against Covid for healthcare and frontline workers and senior citizens started on Monday. Besides immunity, the jab was a booster of confidence, the recipients said. Metro shares three such accounts
Saurindra Mohan Kolay, senior citizen
Kolay, 82, took the third dose of Covaxin from a private hospital in Dhakuria. The Jodhpur Park resident had called up the hospital before. He was asked to visit around 11am. He had informed his driver accordingly and reached the hospital on time. He was done by noon.
"The virus is evolving. So is the treatment. I am a God-fearing man and think God is guiding me well. But I also trust science and am reasonably confident that the third dose will go a long way in fighting the pandemic," said Kolay.
The former director of a subsidiary of Coal India lost his wife to Covid in the second wave in May last year. He has been living alone since then. Their son lives outside Calcutta. "Both of us were infected last year. I managed with home isolation while my wife had to be hospitalised. She did not return," said the octogenarian.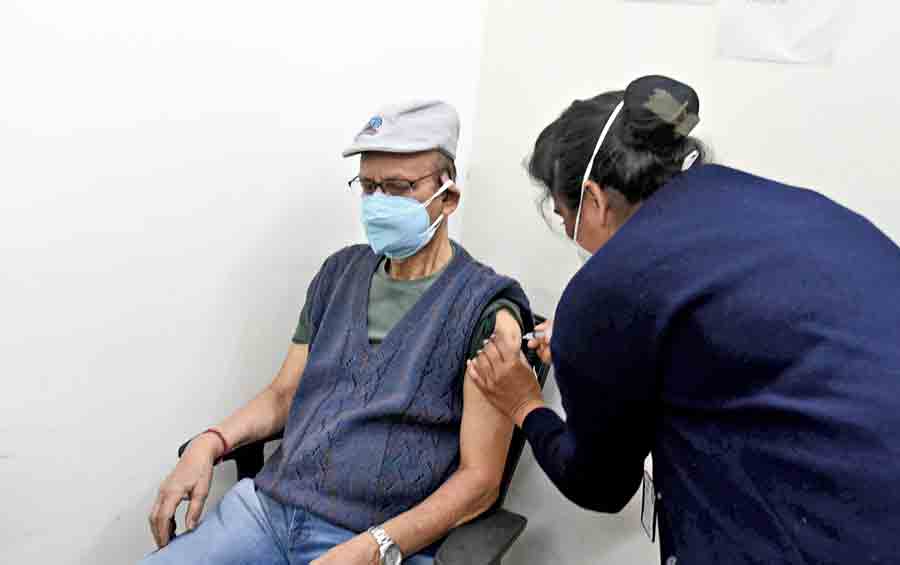 Saurindra Mohan Kolay, 82, gets the booster dose of Covaxin at a private hospital in Dhakuria on Monday.
Bishwarup Dutta
Debjani Sarkar, senior citizen
Sarkar and her husband took Covishield booster shots from the same hospital as Kolay. The 61-year-old resident of Ganguly Bagan was "looking forward" to the third dose amid the surge in Covid cases.
"In almost every family, someone is affected. It is scary. The booster shot has at least instilled some confidence in me," said Sarkar, who has not contracted the virus so far. Sarkar, who lives with her husband, two sons, daughters-in-law and a grandchild, is torn between the "lives or livelihood question" that the pandemic has brought to the fore.
"Our domestic help comes from Sonarpur (in South 24-Parganas). She has stopped taking the train again... For the past few days, she has been cycling between home and work. There are so many others like her, who have their livelihood under threat," said Sarkar.
The homemaker is still optimistic. "The booster shots should be made available for all. I believe we are going to win this war," she said.
Alok Sanyal, cop
Sanyal, an assistant commissioner of Calcutta police, took a Covishield booster shot from a clinic in Phoolbagan. For Sanyal, being in charge of traffic in some of the busiest parts of Calcutta like Sealdah, EM Bypass and Beliaghata means daily interactions with a lot of people and a high exposure to the risk of infection.
In September 2020, Sanyal spent 22 days in hospital ith Covid. The recovery was "extremely painful". He is "well aware" of the hit that a person's confidence can take because of Covid-related complications.
He spent most of the last Christmas and New Year on Park Street and was gearing up for another big rush around Sealdah station for the Gangasagar Mela.
"The booster dose gives me confidence to carry on with my duty. I feel a layer of protection on me, a much needed one considering my exposure to risk," said Sanyal, who is in his mid-50s. "I urge all other frontline and healthcare workers to take their booster doses."