Darjeeling tea: Magical herb with health benefits
According to a Japanese research it has a relaxing and calming effect on the central nervous system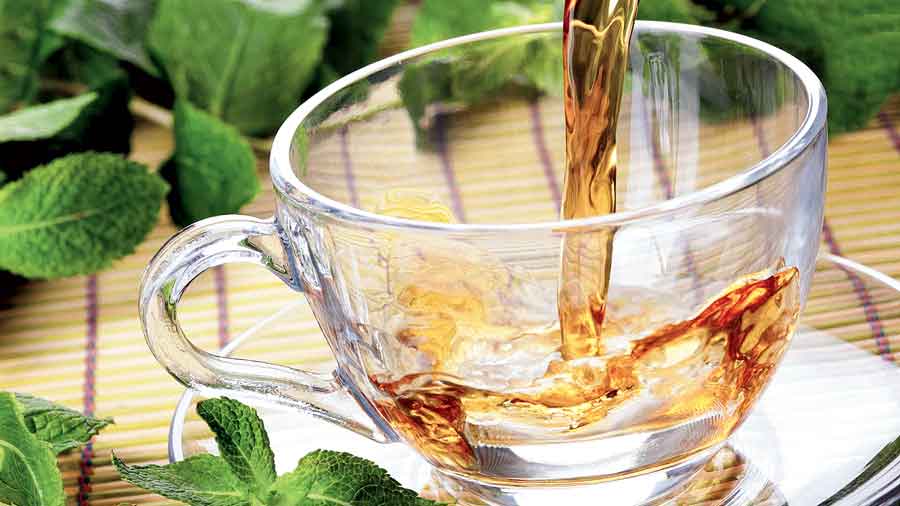 Researchers Atsuko Ohno and Yukihiro Yada, found out that inhalation of the aroma significantly reduced subjective stress, depression and hostility.
File Picture
---
Calcutta
|
Published 12.01.22, 01:53 AM
|
---
Tea has been consumed for centuries as a drink that appears to refresh the mood and elevate spirits. While such attributes were perceived based on collective experiences of generations, a recent research conducted in Japan seems to provide scientific foundations to such impressions.
Studying the effect of aroma of second flush Darjeeling tea, arguably the finest black tea in the world, researchers Atsuko Ohno and Yukihiro Yada, found that inhalation of the aroma significantly reduced subjective stress, "depression/anxiety" and "hostility".
In a published research paper, it was also found that the aroma from second flush Darjeeling tea, adored for its muscatel flavour, has a sedative effect on the central nervous system and the effect is not co-related with the preference of the aroma or its psychological effects.
While there has been studies which established the health benefit of drinking black or green tea and the stress busting effect of a hot cuppa on the palate, a specific research on the aroma of second flush Darjeeling variety is a first.
Ohno, a part of the R&D unit of Mitsui Norin Co Ltd, and Yada, who is from School of Integrative and Global Majors PhD Programme in Human Biology, University of Tsukuba, Japan, published their research paper in the Journal of Japan Association of Odor Environment.
Commenting on the study findings, Rudra Chatterjee, director of Luxmi Tea, which owns the celebrated Makaibari tea estate in Darjeeling said: "High grown second flush tea is the greatest beverage in the world, and it isn't surprising that it makes us happy and pleasant — this research proves what connoisseurs have known through their palate, that Darjeeling tea is a magical herb with untold benefits."
The study was conducted on 18 women who are around 30 years of age because there were concerns that different sensitivity to aromas depending on sex and age could have an influence on the psychological and physiological effects.
In the study, the researcher duo performed psychological and integrative physiological evaluations to determine the effects of second flush Darjeeling (SFDJ) tea aroma on psychological and autonomic and central nervous system activities in a resting state.
"In the experiment to investigate the psychological effects of SFDJ aroma, decreases in negative emotions, namely "subjective stress", on the mood VAS (visual analogue scale) score and "depression/anxiety" and "hostility" on the MMS (multiple mood scale) score, were observed, while positive emotions increased, as was evident in "invigoration" on the mood VAS score and "inactivity" and "affinity" on the MMS score," Ohno and Yada wrote.
The results also suggest that the psychological effects of SFDJ aroma, such as the pleasantness and displeasure of the aroma, are not the only factors that contribute to its sedative effects on autonomic nervous system activity.
In fact, studies suggest that the psychological effects do not necessarily have an influence on physiological effects.
Commercial aspect
The study is published at a time the Darjeeling tea industry is looking for ways to survive. Political crisis and climate change have led to crop loss and the loss of market share in lucrative overseas markets in the last four years. "Production cost is rising and much of the crop is being sold below cost. It is not sustainable," said Vinod Mohan, former president of the Darjeeling Tea Association.
While Darjeeling gardens produced about 6.5 million kg in 2021, the production of second flush was about 2 million kg. Only a limited quantity of this very precious tea is sold locally as it is in high demand abroad.
Atul Asthana, managing director of Goodricke Group, said the Tea Board must come forward and promote the qualities of Darjeeling tea to make it more popular in India. "This (research) is a good finding and could be utilised for the benefit of the Darjeeling tea industry," Asthana said.