News of the lifting of the night curfew has come as music to people's ears. They have reclaimed the night — partying, dining and watching movies till well after 12.30am, that marked the beginning of the curfew till last weekend. The merry-making has, by extension, set cash registers ringing across industries.
"I dare say sales are better than before the pandemic and I attribute it to revenge pubbing!" says Moloy Dutta, partner at Opium Bar & Restaurant. The Sector V address has seen a 20 to 25 per cent hike in sales since the night curfew was dispensed with. "Since the Covid restrictions had restricted revelry, they have taken to partying with a vengeance now, to make up for the lost months."
Longer hours
Ramesh Agarwal of Refinery 091 says they had been waiting eagerly for the curfew to be lifted. "Now the timings are comfortable with both guests and the management. Initially the guests would go home by 11pm but now they can stretch their stay till midnight. We are even looking to extend our timings till 2am."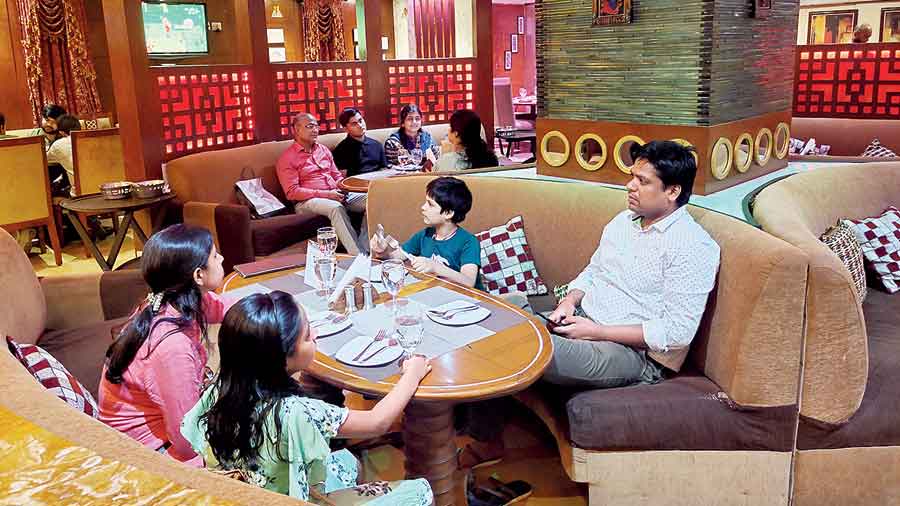 Customers at Orko'ss in City Centre on Sunday night.
Picture by Debasmita Bhattacharjee
Sector V, he says, draws revellers from all over town and those coming from afar can drive back without rushing. "The sales graphs are now headed north," says Agarwal.
Malt in New Town has extended its timings by an hour after the government order. They now shut at midnight on weekdays and 1am on weekends and are looking forward to robust footfall over the Poila Baisakh and Easter weekends. "Most people don't finish work by 9pm after which they want to go home, freshen up and dress up before going out to party. There is just no time for so much if one has to keep curfew hours in mind," says the director, Abhinav Shandilya.
The Anytime Fitness gym in Salt Lake has resumed round the clock timings while their branch in Chinar Park is open 19 hours a day. "We would have kept open for 24 hours too but there are building rules preventing us from doing so," says Mou Karmakar of the centre. They are now open from 5am to midnight. "Till last week we were shutting down at 10pm but now a few clients are finding it more convenient to come even later."
City Centre bustling with visitors on Sunday night.
Picture by Debasmita Bhattacharjee
Throttle Shrottle Moto Cafe has also gone back to its pre-pandemic timings — from Monday they are open 24x7. "Being a bikers' cafe, we have always drawn a niche crowd. Riders would come from as far as Murshidabad, lounge the night, and head home at 4am. Artistes and musicians come with their guitars and jam all night too. Often, half of our 150 seats are occupied till dawn," says Souhik Dey.
When the city was opening up after the second wave-induced lockdown, he says they were swamped with calls asking if they had opened all night again. "Such was the demand that our owner's phone would drain out answering calls and he would have to forward them to us, staffers." From Monday, he says customers have started staying till 2am again.
Midnight pangs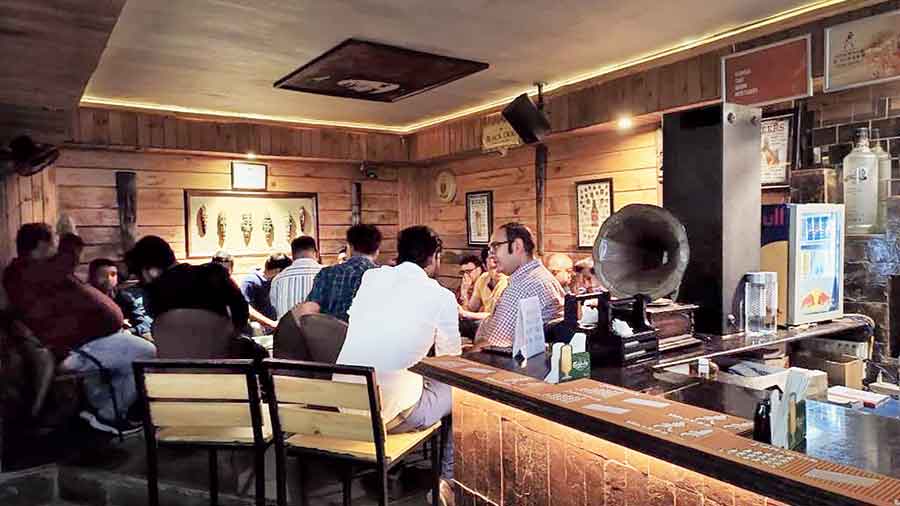 Late-night revellers have returned to Opium in Sector V
Souvik Mukherjee of Karim's recalls the state of hapless customers who would arrive at their AD Block branch close to curfew time. "They were full of panic. Diners would gobble up the food, glancing at the watch; those taking away parcels would be too scared to even come inside and wait, lest they spill into the curfew hour."
Fine-dining is a leisurely affair spread over at least an hour, says Mukherjee, who is now as delighted as his customers. "After their year-ending chores, many bankers came to us on April 1. They were no longer tense about their work or missing the curfew deadline," he says.
The crowd is making a comeback at Goutam's on the EM Bypass too. "We have always been a late-night haunt for motorists on long drives. Such customers step out after 11pm and they were missing during the curfew months. We had to make up for their loss through takeaways and home deliveries. But people are once again returning at night," said Nitesh Sharma, a member of the staff.
The curfew discontinuation is a welcome change for dhabas that traditionally stayed open till pretty late. "While the curfew was on people preferred to have house parties and order food instead of coming over. Even then we were delivering only till 10pm. Now we are working till midnight," says Krishna Balaram of Veg Dhaba on Bangur Avenue.
Changing habits
The curfew hours have altered the partying habits of some revellers. "The weekday crowd has always wanted to leave early as they have office the next day but due to the curfew, family crowds on weekends would also have to pack up early," says Sudhir Ahuja of
Bakstage.
To help people party late into the night, Bakstage opened a whole floor of rooms in the building, that houses the pub, refinery and restaurant. "People wanted a safe place to party so we offered them rooms to stay back in after hours. Customers used them as stay-cations where they spent Friday night partying with their friends and left the next day after a spa and breakfast."
Opium has noticed another change in customer behaviour. "Previously Thursday to Sunday used to be the party days but of late even the first half of the week is drawing revellers," says Dutta of Opium.
While this can partially be attributed to the curfew lift, he says it's because of IT companies calling employees back to office. "How do colleagues catch up when they meet after two years? Why, they grab a beer after work, of course! And they drink at leisure when there's no
Cinderella hour to fear."
At Abcos Food Plaza, manager Samiran Mitra says despite the curfew lifting, customers are preferring to pack up by 11.30. "In fact after 10.30, it's only local customers, maybe students of NUJS and NIFT who come for a while. Those living in far-off places are moving out despite the free movement of traffic," says Mitra. "In fact, whenever curfews are on, dine-in customers reduce and home deliveries increase so they can eat late at night."
Big screen time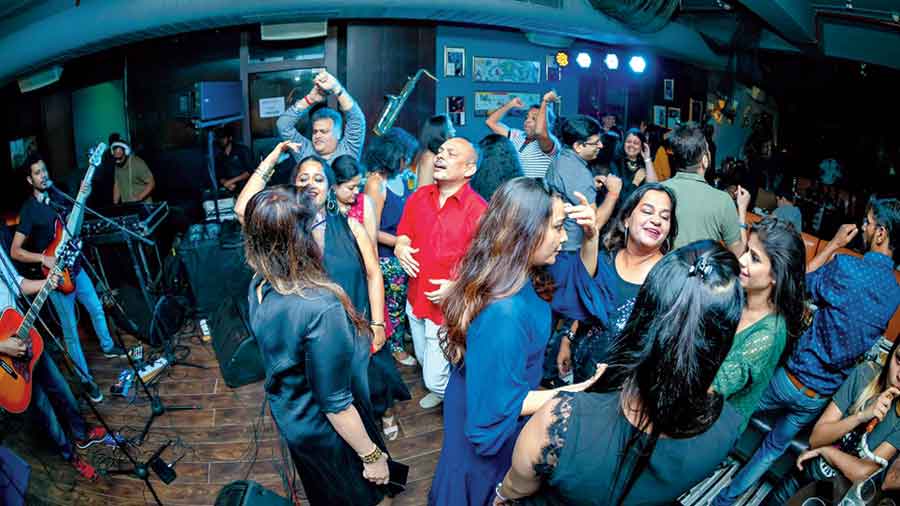 Guests hit the dance floor at Bakstage in Sector V
The malls are keeping a close eye on multiplex ticket sales as it is linked to their total business. "The crowd was already getting bigger with the night curfew in place. With the curfew being lifted, the night shows are back. Multiplexes with four screens were so far having a maximum of 17 to 18 shows. Now about 22-24 shows are getting screened, with the last show ending at 1.30-1.45am. The business community likes to go home, freshen up and then come for films with family. So night shows draw premium crowd. They compliment the food and beverage business. Multiplexes contribute over 20 per cent of a mall's footfall," said Ramesh Pandey, director, Ambuja marketing and events, which runs City Centre.
Indeed on Sunday the Inox City Centre queue had three siblings discussing their plans for the night. They were planning to watch both The Kashmir Files and RRR back-to-back that day and were mulling their dinner options afterwards, at 1.30am.
Pandey said The Kashmir Files and RRR had proved to be money spinners. "People are fed up of watching web shows on small screens. Earlier multiplexes and restaurants used to suffer during IPL. For the first time, people are coming out to watch films even while IPL is on," he added.
The regional director of Inox Leisure, Amitava Guha Thakurta, said this neither the first time during the pandemic that they were screening late night shows, nor was it the first time halls were going house full. "As per government norms, we were screening late night shows during Durga or Kali puja but those were for too few days to make an impact. As and when the government allowed 50, 70 and 75 per cent occupancy in halls, too, we had got housefuls shows. But right now, there are new films with good content and at hours that are convenient to watch them at. So even some of our late night shows are getting sold out," said Guha Thakurta. Inox runs the multiplexes at City Centre 1, 2 and Swabhumi in the vicinity.
Multiplexes not attached to malls are doing bumper business too. "The Kashmir Files and RRR are doing extremely well, especially in the weekends and our late night shows are getting some 30 per cent occupancy too. This is great news after such a long slump in business," said Debanjan Mallick at Carnival cinemas in the building above Big Bazaar in IB Block.
Not so soon
While some businesses believe this is the beginning of the end of the pandemic, others won't speak too soon.
Crucible, the non-alcoholic pub in BF Block, has not reopened after March 2020. "Well, we own the building so we can reopen it whenever we want but we are wary of the fourth wave, predicted in June. We can't refurbish the two storey premises, recall 25 to 30 staff members and kickstart the pub only to be slapped with another lockdown order in two months," says Aditya Agarwal of Crucible.
The same management runs Terminal 11 on the ground floor of this BF Block building and this cafe has reopened. "While business has picked up, word is yet to spread about the curfew lift. It should take another week or so after which we may extend our hours till 11pm," he says.
The cafe is expecting good crowd on Poila Baisakh too and has invited a band to perform that evening.
Input from Sudeshna Banerjee