Puja is over and the night curbs are back as Covid cases are on the rise.
But late-night revelry shows no signs of abating in the city.
On Saturday night, this newspaper criss-crossed the city for a couple of hours from 11pm, when the night curfew sets in.
Police prosecuted many but by and large, Kolkata's night revellers seemed to be oblivious of the night curfew, which back in force since October 21. Here's what we saw.
Eateries buzzing
On Saturday, many dhabas were buzzing with diners even after 11pm. Some places had their shutters down but served food on the sly. Some others did so openly, making a mockery of the night curbs, reimposed to check the surge in Covid cases reported after the Puja.
Around 11.20pm on Saturday, a dozen cars were parked outside Azad Hind Dhaba on Ballygunge Circular Road.
The shutters of the restaurant had been pulled partially down but waiters hurriedly moved between the kitchen and the cars parked outside. The diners sat inside the car and enjoyed their meals.
Around 100 metres away, opposite Ballygunge Army Cantonment, Sharma Dhaba looked busier. The shutters were down there, too, but the number of cars on the road outside ran into scores.
Most cars had people eating inside but some diners stood outside and ate from plates kept on the bonnet of the vehicles.
The owner of Azad Hind Dhaba, Rajesh Sharma, said he was not aware of any violation of night curbs. "I have told my staff to abide by the regulations. I will ensure strict compliance," he said.
Vicky Sharma, an owner of Sharma Dhaba, said: "We will follow the government's guidelines. We will only allow online orders beyond 11pm."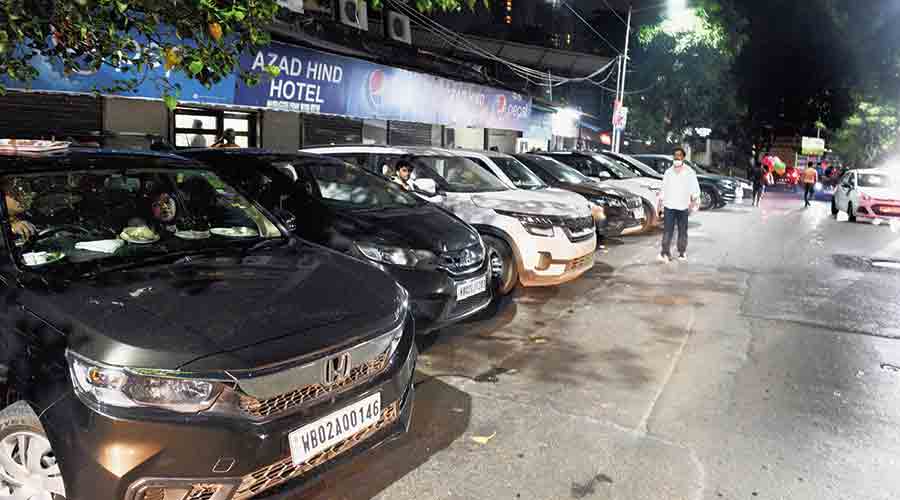 Cars parked outside Azad Hind Dhaba on Ballygunge Circular Road at 11.30pm on Saturday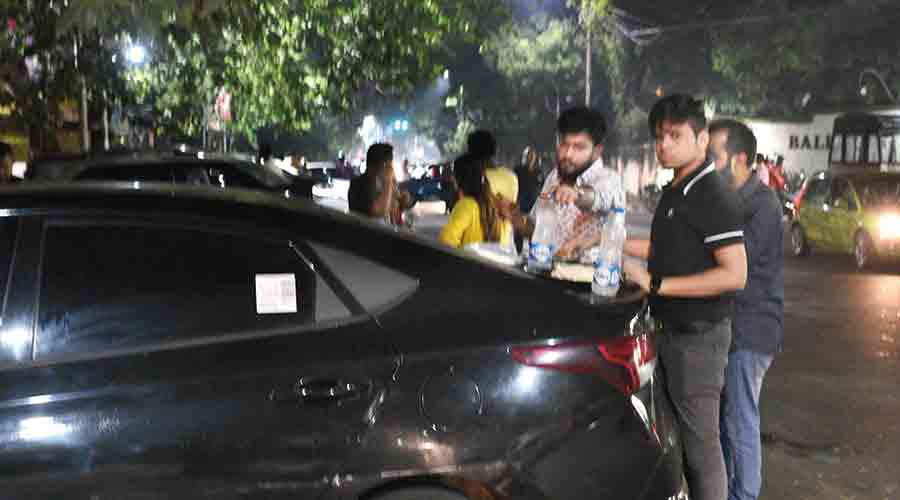 Diners outside Sharma Dhaba on Ballygunge Circular Road at 11.20pm on Saturday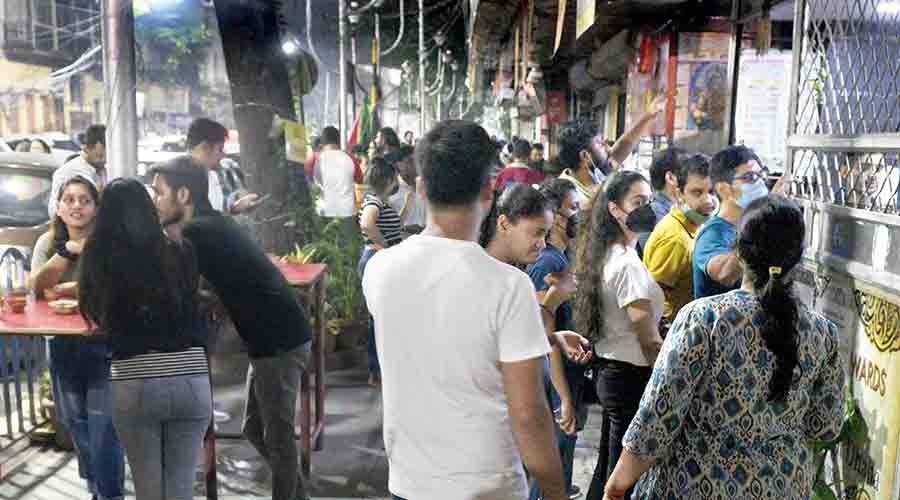 Balwant Singh Eating House on Harish Mukherjee Road at 11.30pm on Saturday.
Pictures by Pradip Sanyal
What curbs?
Balwant Singh Eating House near the gurdwara on Harish Mukherjee Road was buzzing with people well after 11pm.
A couple of large tables were laid outside. People stood around them and sipped tea and gorged on food.
Many others sat inside their cars and enjoyed their meals.
Ditto at Jai Hind Dhaba on Sarat Bose Road. Dozens of groups stood outside the restaurant around midnight.
Waiters constantly served food to diners in cars.
The inside of the restaurant was crowded, too.
Manish Singh, owner of Balwant Singh Eating House, said the police had asked him to abide by the night curbs.
"Last night was an exception. Too many people had turned up. The police came last night and we closed immediately after that. From tonight, we will strictly follow the guidelines," he said.
An employee at Jai Hind Dhaba said the rush was "too much" on Saturday night.
Cops at work
A team of officers stopped bikers and motorists at the intersection of Park Street and Loudon Street and sought documents to justify their presence on the road during the night curfew.
Some of those who were intercepted showed their identity cards, while others pleaded ignorance of the rule. At the intersection, most motorists had masks on. The few who did not were made to cover their faces with a cloth or a handkerchief by officers.
Policespeak
A senior police officer at Lalbazar said 270 people were prosecuted across Kolkata on Saturday night for not wearing masks and 46 people in vehicles were fined for failing to abide by the night curfew norms.
"There may be a few violations. That is why naka checks and special raids are being organised."
EM Bypass
A police van stood outside Byepass Dhaba, which has remained a favourite with those out at night, on EM Bypass.