The Covid numbers in West Bengal have remained low even after the Pujas, a big difference from what the scene was in 2021, said hospitals and health department officials.
However, unlike last year, dengue has become a cause of major concern for the doctors and hospitals.
Most private hospitals in Kolkata have one or two Covid patients admitted and many did not have a single admission after the Durga Puja. But the number of dengue patients admitted are much more at all these hospitals.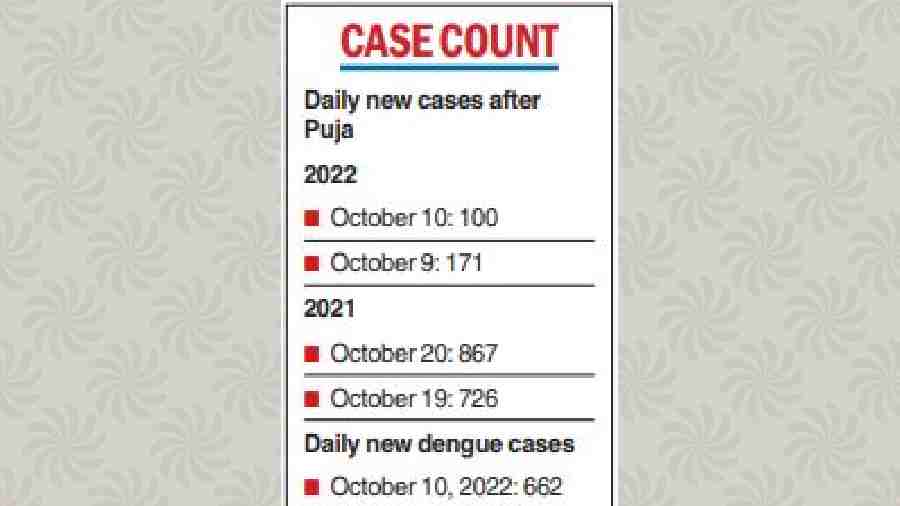 According to the state health department data, West Bengal had 100 new Covid cases on October 10, five days after Dashami. The number of new cases on October 9 was 171.
In comparison, the state had 867 new cases on October 20, 2021, five days after Dashami. A day before, on October 19 last year, the number was 726.
On Monday, West Bengal had 662 new confirmed dengue cases, the health department has said.
"We are hoping that there will not be another surge unless a new virulent strain arrives. At this moment in Kolkata, dengue is of more concern than Covid," said Chandramouli Bhattacharya, infectious diseases expert at Peerless Hospital.
"If any patient is now coming with fever, for majority of them, we are not getting Covid test done....we are doing dengue and malaria tests for most people who are coming with fever," said Bhattacharya.
The hospitals said they had seen a spike in Covid admissions before the Pujas but it has gone down after the festivals, despite the crowds at the shopping hubs and later at pandals.
AMRI Hospitals had five dengue patients admitted at its Dhakuria and Mukundapur units on Monday. The hospital chain's Salt Lake unit had no Covid patient, said an official. However, the hospital had 71 dengue patients admitted at its three units, said the official.
Peerless Hospital had only one Covid patient admitted. The number of dengue patients was 24 on Monday. "There has been no Covid admission since October 3," said chief executive Sudipta Mitra.
RN Tagore International Institute of Cardiac Sciences had three Covid patients admitted, the last admission being three days back. "We have eight dengue patients admitted now. Covid admissions has reduced after the Pujas but dengue has gone up," said R. Venkatesh, COO, east and south of Narayana Health that runs the RN Tagore hospital.
Belle Vue Clinic had two Covid patients on Monday while the number of dengue patients admitted was 18, said Pradip Tondon, CEO of the hospital.