Many idols were immersed on Dashami because the organisers did not want to prolong the spell of large assemblies in their neighbourhoods. 
An official of Kolkata Municipal Corporation said usually family pujas and a few others would immerse their idols after Dashami. This year, many others did so to avoid gatherings amid the pandemic.
"The longer the idols are kept, the bigger the crowd. Many want to avoid it amid a raging pandemic. So instead of waiting for the weekends, many organisers immersed their idols on Friday (Dashami)," the official said.
Covid cases have registered a spike amid the festival.
The organisers of a puja in south Kolkata said they observed that many of the visitors were not wearing masks though they were carrying the protective gear. 
They blamed the hot and humid condition for not putting on the face coverings.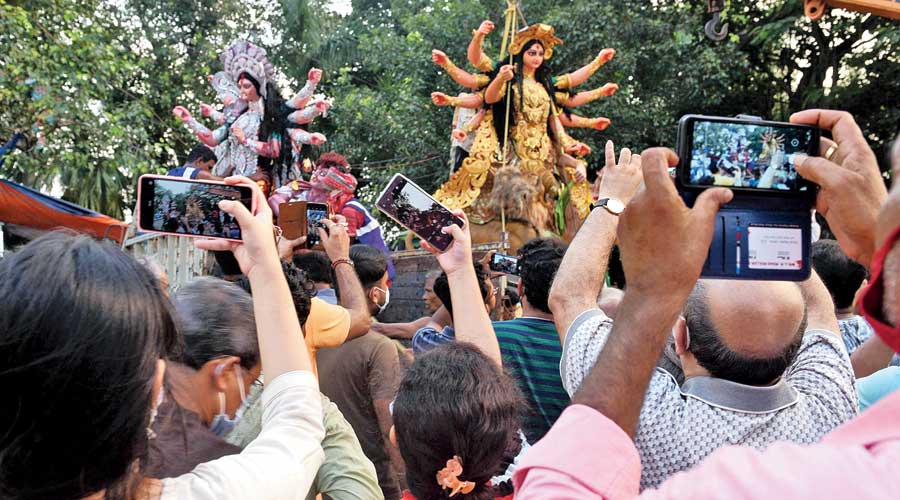 "A longer stay of the idols will keep attracting crowds and many people will not be wearing the mask. We do not have adequate volunteers to persuade the visitors to abide by the norms," an organiser said.
Another reason why a large section of the organisers wants an early immersion is keenness to cut expenses at a time when Covid has greatly weakened the economy, a KMC official said.
"Longer stay of the idols will result in swelling the budget. Expenses on illumination and maintenance will keep adding up. Leave alone advertisements, even collections through donations have not been satisfactory," he said.
A puja held in a park in the Tollygunge area has scaled down the festivity because of lack of support from potential advertisers.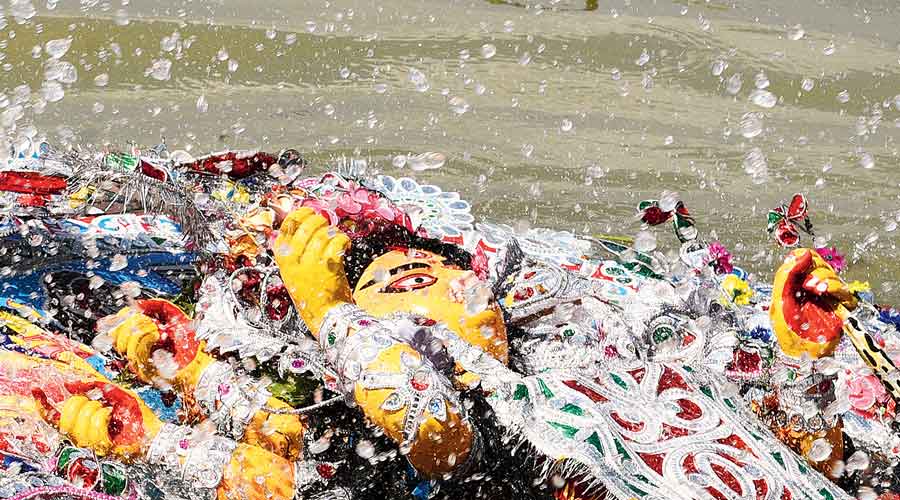 A Durga idol being immersed at Bagbazar ghat on Dashami afternoon.
Pradip Sanyal
A member of the puja committee said they were organising the puja on a shoestring budget over the past two years and could not afford to take any more burden.
"Only big-ticket pujas succeeded in drawing support from sponsors," said the member.
Some of the puja committees said they immersed the idols on Dashami because the state government had not been holding the carnival on Red Road because of Covid.
Arjit Maitra, the general secretary of the Samaj Sebi Sangha puja on Lake Road, said: "In 2019 we had waited to take part in the carnival. But now that the carnival is not being held, we are immersing the idols on Dashami. A concern for avoiding the large assembly of pandal-hoppers is another reason."
Anjan Ukil, secretary of the Ballygunge Cultural Association, said that since the carnival was not happening, they had decided to immerse the idols on Friday.
The KMC has announced that elaborate arrangements had been made for immersion at 16 ghats of the Hooghly.
"The maximum number of immersions will take place at Baje Kadamtala ghat. Adequate number of cranes to remove the structures after immersion and pay-loaders to carry the structures to the dumping site at Dhapa have been deployed," said a KMC official.