Chief minister Mamata Banerjee addressed the annual pre-Christmas programme at St Xavier's College, Park Street, on Wednesday and urged everyone to "think, speak and work with unity" so the "poor, marginalised and the downtrodden" can be reached out to.
"We don't divide people. We like to unite people. Let us think with unity, let us speak with unity and let us work with unity. Let us work with strength, inspiration and blessings from Jesus Christ to work for the poor, for the downtrodden and the marginalised," the chief minister said.
"May God bless all the teachers, all the students from all the communities and all sections," she said.
Mamata said she believed in rendering service to the "farmers, workers, youth and students". "I love all my students. They are the future of this country."
Father Dominic Savio, principal of St Xavier's College, also spoke of the inclusive character of Christmas.
He said: "Christmas promises to do loving things for others. Not just for those we love, or our families and friends, but for reaching out to those who have nothing to celebrate, the poor, the outcaste."
The spirit of togetherness that accompanies Christmas in Kolkata kept coming back through the evening.
Opening the Kolkata Christmas Festival at Allen Park, a couple of blocks from the college, Mamata paid her respect to all religions and said "divide is dangerous".
"We pay our respect to all because we celebrate all the festivals together. It is our collective family. We don't divide but we unite. And unity is our strength, divide is dangerous," she said to applause from the audience at Allen Park, all lit up for the festival season.
Bengal is "our pride", Mamata said. "Each one has their own religion but here, a festival is everybody's (dharma jar jar apnar, utsav kintu sabar)."
"We go to the temple, we go to the mosque, we go to the gurdwara, we also go to the church," Mamata said.
"Please remember all festivals are our festivals. This festival also let us celebrate together. Observe December 25... Those who can please visit the church," she said.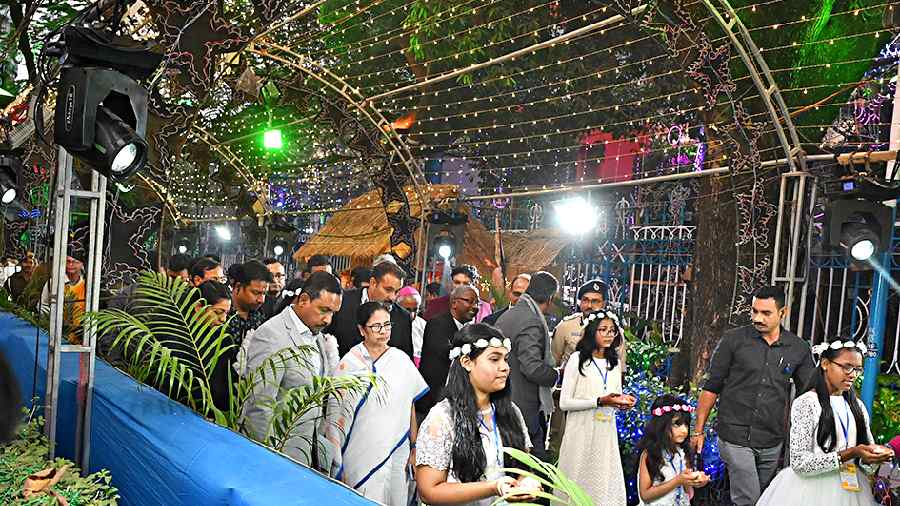 Mamata Banerjee at Allen Park on Wednesday
At St Xavier's, Mamata reminded the audience, which comprised students, teachers, former students and many members of the Jesuit family, that this year, her government had declared a Christmas holiday on December 26 because Christmas is on a Sunday.
This, she contrasted with the Centre's attempt to scuttle the December 25 holiday. "December 25 was a national holiday earlier. But the present government of India has cancelled that holiday. This year, Christmas will be celebrated on Sunday. So, we gave Christmas holiday on December 26 (Monday). So, you can celebrate more," Mamata said.
The Narendra Modi government, which came to power in 2014, has been celebrating December 25 as good governance day since 2014. The decision to organise events on good governance day often necessitates physical attendance of students and employees in institutions and offices.
At the Allen Park programme, Mamata said: "Wishing a Merry Christmas and Happy New Year in advance to all my brothers and sisters, in my state, country and all over the world... Peace must exist in the world."