Chodup Lepcha, the 28-year-old police constable who allegedly fired indiscriminately killing a person and injuring two before shooting himself, was a "jovial and smiling person", recalled an officer who knew the cop from his training days.
"He was extremely polite and obedient. Language was a problem. He could not communicate with us in Bengali, he would speak Hindi well. I will always remember his smiling face," the officer said on Friday.
Lepcha was with the fifth battalion of the Kolkata armed police.
Originally from Tanka Gumba village in Kalimpong, Lepcha had got the job in the Kolkata police on "compassionate grounds" after the death of his father in 2018, said an officer at Lalbazar on Friday.
According to official records, Lepcha was inducted into Kolkata police on August 16, 2021. His training at Kolkata police training academy in Howrah continued till February this year.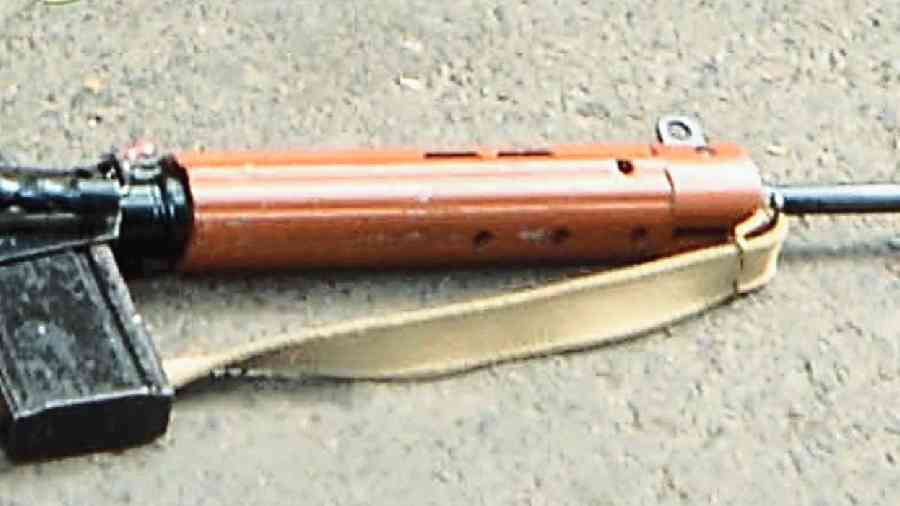 The service rifle of Kolkata police constable Chodup Lepcha, who allegedly fired indiscriminately on Friday, killing a woman and injuring two men
Sourced by The Telegraph
His parent unit was the traffic department, from where he was inducted into the special task force of the city police. He was transferred to the fifth battalion of the armed police recently, another officer said.
Lepcha, who Kolkata police commissioner Vineet Goyal said resumed duty after leave on Thursday, was posted at the police kiosk outside the Bangladesh deputy high commission in Beckbagan on Friday.
Goyal, who visited the spot, said the police would "investigate the cause behind the incident and his suicidal tendency".
A hole in a car caused by a bullet allegedly fired by constable Chodup Lepcha.
Pradip Sanyal
Lepcha had left the kiosk telling his colleagues that he was taking a tea break. Minutes later, his colleagues heard gunshots at a distance.
A purported video footage has emerged that shows a man in uniform taking aim but not many around him seem to be taking him seriously. There are people walking past and bikes moving slowly, some slowing down even further for a closer look at what he is doing.
An officer in the special task force who has worked with Lepcha said: "He was emotional and soft hearted. We could never understand if he was under pressure. He did not share his problems with us."