Alarms on mobile phones and bedside clocks started ringing at dawn on Mahalaya as residents of Elita Garden Vista in Action Area III woke up with the sun. Soon after, with the Mahishasuramardini programme playing softly on the amplifier followed by the blowing of conch shells, women dressed in red-bordered white saris and a few men in kurtas had gathered at the first floor level.
At 6.30am, they took out a prabhat feri to welcome the goddess, walking across the hanging garden which connects all the towers. For 20 minutes, they walked and then broke into a dance to the beat of a dhak that was being played live.
The most enthusiastic were the children. "My 11-year-old daughter Srinika was so excited that she woke up at 6am on a holiday. She attends this Mahalaya event every year," said Munmun Ganguly, a resident of Tower 15.
The biggest draw was a Chhau performance later in the day, depicting the story of Devi Durga vanquishing the demon king. The dancers had come all the way from Purulia.
Residents whistled and cheered as the goddess finally killed the demon. "The chhau dance was mesmerising. This seems to be such a difficult dance from. I had never seen it live earlier. This dying culture should be revived for the next generation," said Urmi Nandy, a resident of Tower 16.
While the elders clapped and cheered, the kids sat transfixed. "I was very sleepy in the morning but when I heard about this event I woke up. I really enjoyed the chhau performance. I could make out that the story was about Goddess Durga and how she killed Mahishasura. Though their masks were big, I did not get scared," said Aradhika Chatterjee, a seven-year-old from Tower 6.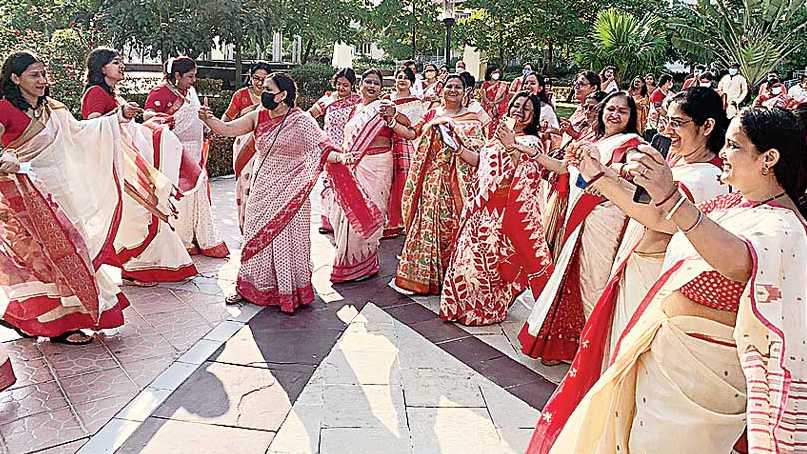 Dance after prabhat feri.
Picture by Shubhi Tandon
"We wanted to host a performance that reflects our culture. Apart from other things, we are distributing masks and sanitisers to all those in need. We even have drones covering the event," said Shyamal Sen, president, Elita Garden Vista Cultural Association.
The event was organised in association with the Eastern Zonal Cultural Centre within a span of just 15 days. The organisers ensured that all the performers were vaccinated. "We had to stand all night in a queue to get the vaccine. It is not so easy to get it in our village. But if we are not vaccinated no one will call us to perform," said Harindranath Kumar, leader of Trambok Club Chandan Smriti Chow Dance Party.
The dancers, who had set off from their village the previous evening, said that the booking for this performance came as a relief to them. "We had just two performances in the last two years. Every time we got a booking, it got called off due to some reason or the other. Even this year, we have just this one performance. We do farming as well but this used to be our main source of income," said the 44-year-old Kumar.
They grow rice, potatoes and some vegetables. And it has not helped that they have often had to go for distress sale. "At one point, we sold brinjal at Rs 2 per kg and ladies finger at Rs 5 per kg," lamented Kumar.
No matter how few performances they get called for, practice for them is a must. "Today we had all performers above 18 years as everyone needed to be vaccinated but generally our group consists of dancers from 14 to 50 years of age. We have to keep practising the art, whether there is a stage show or not," he added.
The event created a buzz among the recent settlers in the complex. "This is all new for me. I am very excited to spend the Pujas here. Before today, I never thought that Mahalaya could be celebrated so beautifully. The Puja fever is intoxicating. The chhau dance was really awesome," said Paulami Podder, a resident of Tower 8 who has shifted to the complex just a week ago.
The chhau dancers gave a second performance in the evening. There was also an Anandamela, in which residents showcased their culinary skills at stalls.