His centenary year may have passed by under the shadow of a raging pandemic but in the first Book Fair free of Covid concerns, Satyajit Ray is a towering presence. Every other book stall has a bit of Ray on its racks, be it books, souvenirs or accessories.
Simika Publishers at stall 311 has brought out as many as five books on Ray. "We had targeted the centenary but could not get all the titles ready in time for last year's book fair. Nor did so many people come then as they are doing now. Interest around Satyajit Ray has skyrocketed in recent times. People have read his stories. Now they come looking for something new on him," says Suman Banerjee of Simika.
The pandemic had indirectly fuelled this craze. "People did things they had stopped doing or never did earlier - listened to music, binge-watched audio-visual content and read books. They finished reading unread titles at home. That is why online sale of books had increased in that period. Now we have more readers as also more authors," he says.
Agrees Pritam Sengupta of Bhasa Venture, which runs the bookstore Read Bengali Books in the Lake Market area: "Interest in Ray was always high but there was nothing new coming in the market for a long time to feed that interest. A lot of research work was commissioned around Ray keeping his centenary in mind. Those works are reaching the press now. Critical essays and reminiscences, unpublished writings… all kinds of things are coming out. Even the OTT space bears his footprint with several recent and upcoming Feluda releases," he says.
His stall 496A is selling two volumes of Comics-ey Satyajit, each volume telling three short stories each of Ray. There is the new graphic novel on Khagam too. Apart from this, they have a full rack on Ray.
Post-Covid, Sengupta says, demand for books has peaked among students of classes XI-XII, college-goers and those on their first jobs. "Even five years ago, they did not read so much."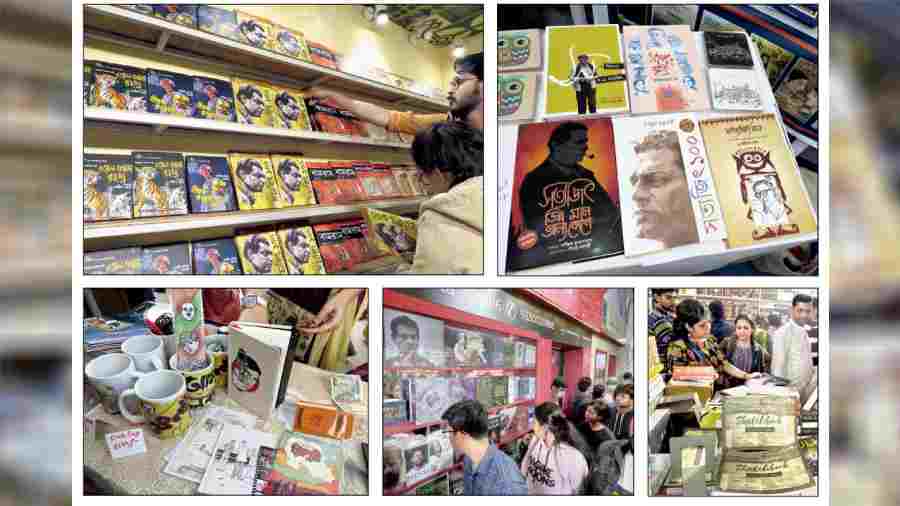 Books and merchandise on Satyajit Ray on sale in various stalls at the Book Fair.
Pictures by Sudeshna Banerjee
Not content with keeping Ray on the racks, one stall is making a lot of noise about its releases. Announcements are being made on a sound system placed outside about three new titles. Several boards outside announce a Feluda exhibtion inside. "Ray is such a selling point that we have invested in screenplays of Baksho Rahasya and Heerok Rajar Deshe. Screenplays usually have a very niche readership but we took the risk as it is Ray. His writing is so cinematic that readers can almost visualize the scene. We have added so many film stills that it has a storybook feel," says Sougata Sarkar of 356 Din, a publication founded in 2019, adding that the Ray titles are accounting for 30 per cent sales at his at stall 303.
Parents who are Ray fans are trying to inculcate that feeling in their children, aged 12 to 18 years, Sarkar points out. "The books on Ray they are buying for their children they will read themselves as well."
Older entities like Cine Central at stall 284 close by had published the screenplay of Pather Panchali on the 20th anniversary of the film's release. "He was made the vice-president of our organization when it was founded in 1965. We still have his consent letter framed in our office."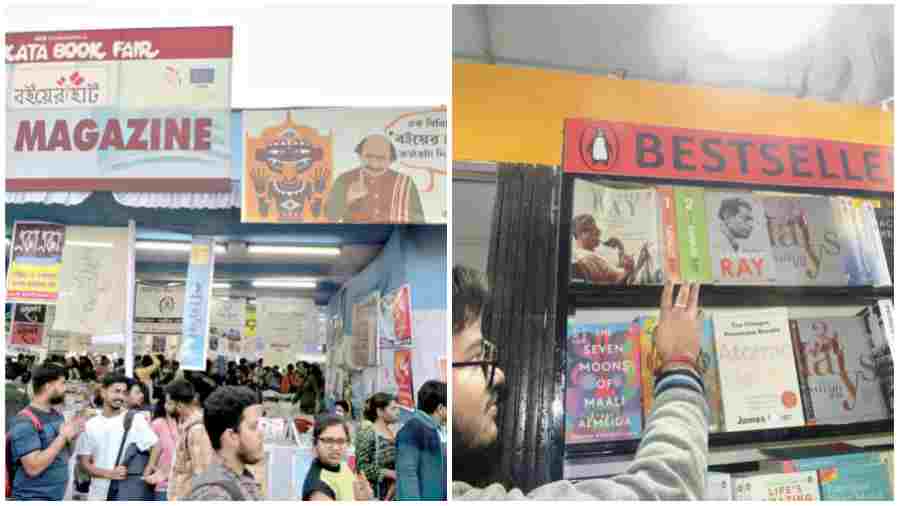 Satyajit Ray is the inspiration behind the banner of the Little Magazine corner. (Right) Ray titles at a stall.
Pictures by Sudeshna Banerjee
The stall has editions of magazines like Ekhan Satyajit other than several books including Soumtra Chatterjee's reminiscences on Ray titled Manikdar Songe. One magazine has the screenplay of Seemaboddho as its cover feature while the screenplay of Ghare Baire is available as well. Another book drawing attention is on Ray and Rabindranath Tagore, titled Rabikirone Satyajit.
Some have taken a fictional route, like Full Feluda. The author Rajib Chakraborty was present at stall 275, Khasra Khata. "I have treated Ray's characters as actual people and the book carries their interviews, as if done in the present times," he says.
"There are so many books coming out on Ray that if the first four have original research matter, the fifth will be a compilation of the findings of the first four. Satyajit charcha barchhe, gnojamil-o barbe," laughs Saurav Mukhopadhyay of Saptarshi Prakashan.
In another tongue
Ray is selling in translation too. Harper Collins has brought out a Pather Panchali sketchbook.
The Penguin Ray Library is the most prominent collection of Ray in English, which is a result of a collaboration inked in 2019 with the Ray Society. "We have three new titles. A compilation titled 3 Rays has Satyajit Ray's translations of his grandfather's, father's and his own works. There is also a hardbound box set called Best of Satyajit Ray. The third is Satyajit Ray Miscellany. "We could have displayed our bestsellers and the Penguin Ray Library titles better if our stall allocation was not reduced from 1600sq ft to 1200sq ft this year," said Pinaki Sarkar, regional sales manager of Penguin Random House India.
In other avatars
It is not just books that are selling. There is a huge demand for merchandise too.
Starmark is witnessing brisk sales of its desk calendar featuring covers of the magazine Sandesh that completed a century, designed by three generations of the Ray family and a few others. "People are walking in specifically asking for the calendar," said a salesperson.
Bhasa Venture brought out a Feluda factbook cum diary in 2021, which is selling in several stalls. "We have sold over 5,000 copies since then. For this Book Fair, we have added Hatyapuri-specific post cards of illustrations and promotional materials for the Sandip Ray directorial venture in the form of a booklet and a bookmark with scenes from the film. We also sell calendar, fridge magnets and posters from our store," said Sengupta.
Apart from this, they are selling official merchandise of the Ray Society under the brand name AdmiRaytion. One such is a notebook with the cover on Durdharsh Dushman, a Jatayu novel named in a Feluda story, with dialogues of Jatayu from Sonar Kella printed in Satyajit Ray's own handwriting. There is also a collection of 24 postcards of covers of the magazine Ekkhon, that Ray designed, with a 'Shatobarshey (centenary) Satyajit' logo.
"While the earlier generation was content reaching and watching Ray, this new generation of Ray fans wants other consumables too," said Banerjee of Simika, where Feluda table mats sold out even before the first weekend of the fair.
Did you buy any Satyajit Ray product at the Book Fair? Write to saltlake@abp.in