Two men have been arrested for allegedly cheating a person with the false promise of getting him a job in the aviation industry against payment, police said on Sunday.
Officers of Bowbazar police station said they arrested Biplab Sinha Mahapatra, 38, and Subhajyoti Chatterjee, 33, from a restaurant on the 20th floor of a building in Salt Lake Sector V on Saturday night.
"The duo had lured the complainant into paying money with the false assurance of providing him with a job in the aviation industry. They had taken from the complainant what they called application fees, security deposits and other processing fees for maintaining the Covid protocol," said an officer of the police station.
According to the complaint, the victim had paid the duo Rs 1.73 lakh in multiple instalments between December 2019 and September 2022. In return, he got an appointment letter that turned out to be fake.
"When the applicant realised that the appointment letter was fake, he demanded a refund," said the officer.
The complainant alleged that when he asked for his money, he was threatened with dire consequences.
"Based on the complaint, we have arrested two persons," said deputy commissioner (central) Rupesh Kumar.
Forest wing to hire elephant watchers
The state forest department has decided to recruit around 600 elephant watchers from villages and tea estates on the fringes of reserve forests and elephant corridors across West Bengal.
According to sources in the department, there are around 700 wild elephants in West Bengal.
Named the "Gaja Mitra (friend of elephants)", these contract workers will monitor elephant movements and inform foresters in case an animal strays inside human habitat near elephant corridors and forests.
PUJA MUSIC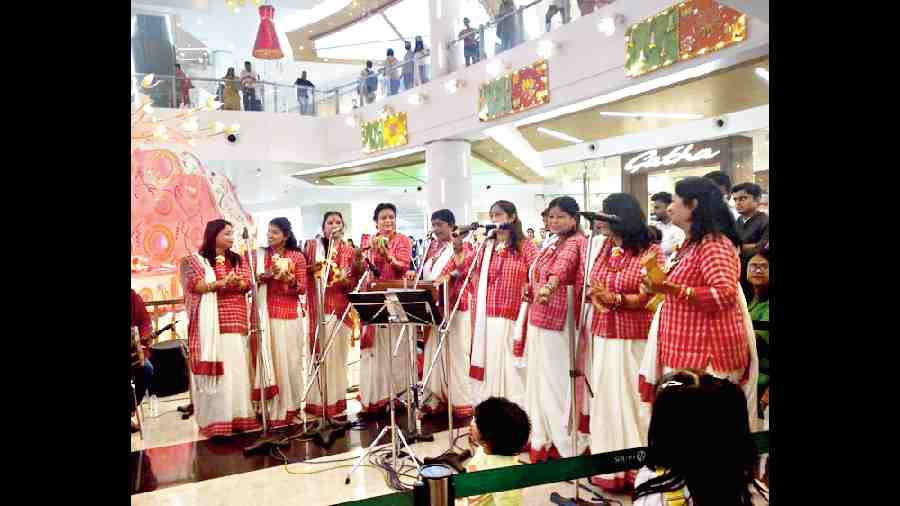 A group of teachers teamed up with a singer-composer and released a song based on Durga Puja at South City Mall on Panchami. The song "Pujor Gondho Eseche" is sung by Rongila Nao, an all-women folk music group from Kolkata. They were mentored by folk singer and composer Jyotsna Mondal. The lyrics are by schoolteacher Amita Mukherjee. "We want to take the folk music of Bengal and other states of India to the world in its true spirit," said Mukherjee, a computer science and chemistry teacher. "This is a breathing space for us and we find time for it despite our schedule otherwise," Mukherjee said.