Two plastic tables joined end-to-end and draped in a blue-and-white satin cover, three green chairs placed behind them and a wooden scaffolding done up with decorative flowers in front.
The all-glass showroom of The Dutta Brothers Jewellers on 101 BB Ganguly Street in Bowbazar comprised a temporary structure with the shop owner operating from a footpath on Dhanteras on Saturday.
The showroom's shutters remained downed after a team of structural experts declared it "unsafe" days before.
Saturday's temporary structure stood in front of the shop with lights glowing on the table that had a few gold and silver jewellery items on display.
A few stopped by. Most walked past.
Debasis Dutta, the shop's owner, had decided to operate from the footpath outside his shop. That was his way of protesting the manner in which the Kolkata Metro Rail Corporation (KMRC), the agency implementing the East West Metro, has gone about with its tunnel-boring work in Bowbazar.
"This is the first time in the 45-year-old shop's history when we had to set up a temporary structure on the footpath outside the shop on BB Ganguly Street on the occasion of Dhanteras," Dutta said.
"We had set up a few items on display as a token. The number of gold items was few. A footpath is not the same as a shop," he said.
Dutta's was among the 18-odd showrooms that a team of structural engineers led by Himadri Guha, a former professor of civil engineering at Jadavpur University, had visited on Wednesday. The team scanned several shops to check cracks on walls, floors and ceilings that surfaced following the recent subsidence on Madan Dutta Lane because of the underground  tunnelling work.
The team found the condition of 17 showrooms in and around Madan Dutta Lane and on its opposite lane fit to accommodate buyers on Dhanteras.
The team had reservations about one — The Dutta Brothers Jewellers. The shop adjoins the entrance to the crack-riddled Basta-patty in Bowbazar.
The cracks on the floor, walls and on the ceiling of the showroom, which has ornate glass panels, could pose a threat to customers if they walked in for Dhanteras shopping, the members said before declaring it "unsafe".
"My family members, including my mother and elder sister, were all present on the footpath. A few of our loyal customers turned up to say they would return only after we have found an alternative space to operate from. A few of them even bought some items as a token," Dutta said. "We will continue to operate out of this temporary structure over the next two days."
Dutta had gone around hunting for 170 sq ft of retail space in different locations since Thursday but failed to find any. KMRC told him it would pay rent for a month for an alternative accommodation but no one was willing to let out space for such a short term.
On Saturday, Dutta said, KMRC officials had visited his temporary set-up and even made a few token purchases.
DHANTERAS SHOPPING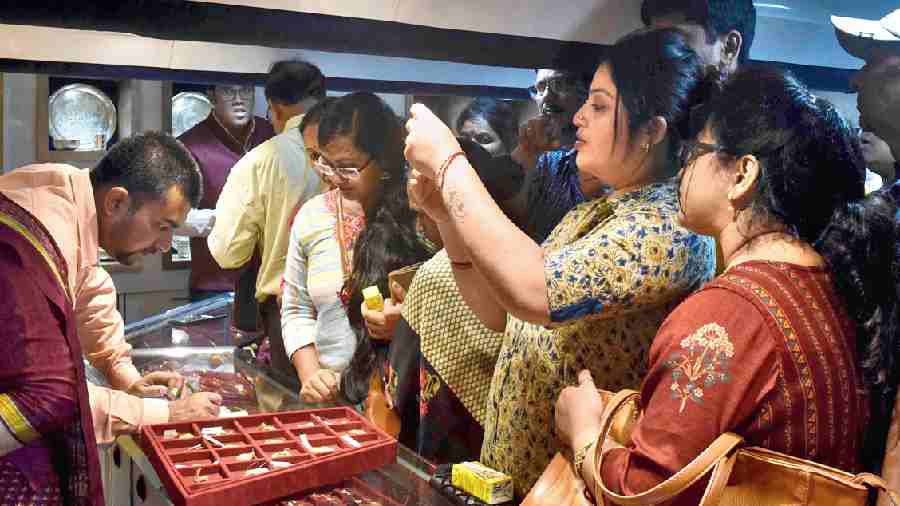 Sanat Kr Sinha
Earrings to electronic appliances, Kolkatans welcomed many forms of "dhan" on Dhanteras on Saturday. From the gold lane in Bowbazar to jewellery showrooms on Camac Street and Gariahat, the crowd peaked as the evening wore on. Buying gold on Dhanteras is an age-old tradition but the demand for diamond and platinum is on the rise, jewellers said.
Around 6pm, space was the costliest item inside the Senco Gold outlet on BB Ganguly Street (in picture). "Footfall has grown between 20 and 25 per cent from last year. But around 70 per cent of the demand is for light jewellery that can be worn to work.
Wedding jewellery is contributing to the rest," said Suvankar Sen of Senco Gold. Television sets sold fast at showrooms, with retailers pointing to the upcoming Fifa World Cup in Qatar. Refrigerators and microwave ovens were also in demand. The demand for cars has been timid, said Federation of Automobile Dealers Association (FADA). "Sales have been almost 40 per cent down compared to Dhanteras last year," said Soham Mishra, chairman of FADA eastern region. "Retail sales have been down across original equipment manufacturers (OEMs)... It has been a difficult year for us," he said.